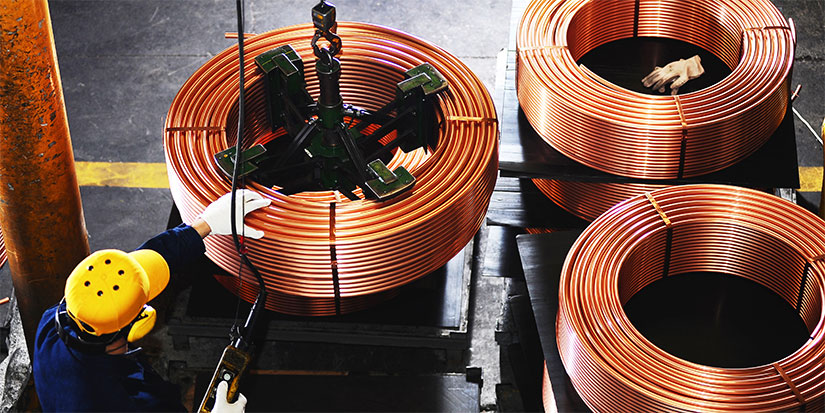 Ring the Register—Plus, Where to Park Your Profits
---
Sometimes an investment works out a lot quicker than expected.
That's the case with my July 2022 pick, Freeport-McMoRan Inc. (FCX), the fourth-largest copper mining company in the world.
Since recommending the stock, shares are up over 57%, while the S&P 500 is near flat over that same period.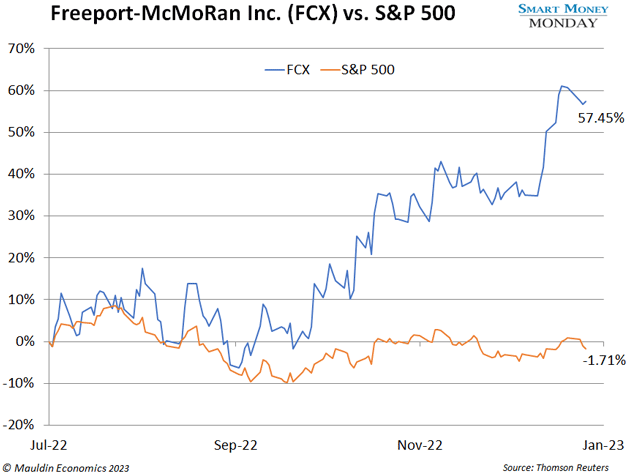 The thesis for buying Freeport was straightforward:
It successfully survived COVID, which nearly killed the company. In fact, many analysts expected the company to go bankrupt. It didn't.

The supply/demand dynamics for copper are strong. Demand is expected to grow from EVs and power grid upgrades. Supply is flat to declining. Economics 101 says copper prices must go higher. That's starting to happen, but they still have a long way to go.

Its valuation: In July 2022, Freeport traded for just 10 times 2023 earnings estimates. That's cheap.
Now, however, it's time to ring the register and sell your Freeport-McMoRan shares.
Analysts are forecasting earnings per share of around $2.70 for 2024. At today's $44 price, that's 16 times earnings. That's not expensive, but it's also not cheap either.
Regardless, a 50% return in just six months is a heck of a result. So, if you bought Freeport, it's time to grab your profits!
Even better, here's where you can put that cash to work…
A High-Quality Business with Temporary Issues
A year before writing about Freeport, I recommended Smart Money Monday readers buy shares of German conglomerate Bayer AG (BAYRY).
Since pitching the idea, the stock is up 12.19%.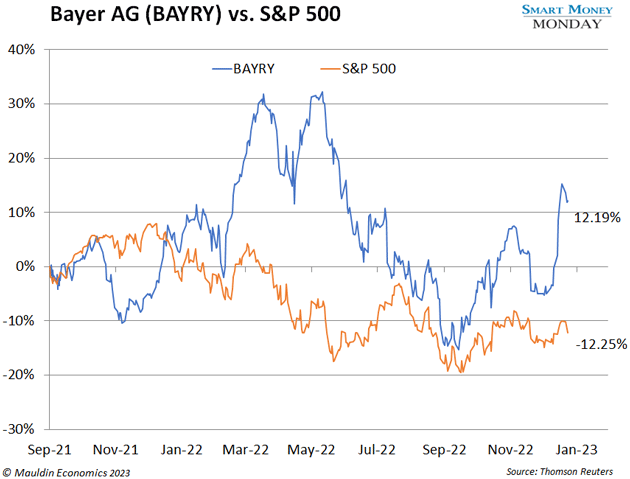 And guess what? It's still cheap.
The thesis then was simple—and it remains that way. Bayer is a high-quality business facing setbacks. I called it the "Chipotle moment." Great company, temporary issues.
In this case, Bayer's issue is Monsanto. It acquired agrochemical company Monsanto in 2018 for over $60 billion. The deal has turned into a nightmare for Bayer.
The Wall Street Journal called the deal "one of the worst corporate deals" in recent times. Can't say I disagree.
Immediately after closing on the deal, Monsanto—and now Bayer—ran into massive litigation surrounding Monsanto's Roundup weed-control product. Roundup contains glyphosate, a controversial chemical that may or may not cause cancer. The lawsuits have put a cloud over Bayer's stock and have also cost the company billions.
Now, even though this is a real issue, I still believe it's a temporary one.
For one, Roundup isn't a major part of Bayer's business. It accounts for maybe 1% of revenue. On top of that, Monsanto isn't the only business at Bayer, which is a conglomerate with three main divisions: Crop Science, Pharmaceuticals, and Consumer Health.
Enter the Activists
Bayer has been in the headlines lately. And that's not just related to Roundup.
Cheap companies with temporary, fixable issues are prime activist targets. And today, Bayer has the activists swarming.
Three, to be specific:
Elliott Investment Management, which is pushing Bayer to spin off its divisions. Maybe the firm read my May 2022 piece on Bayer suggesting the exact same idea?

Bluebell Capital Partners. This large-cap European activist is pushing for a breakup through an overhaul of Bayer's corporate governance.

ValueAct Capital. Led by Jeff Ubben, ValueAct has been at the activist game for decades. It, too, is likely pushing for spinning off one or two divisions of Bayer.
Add to Your Bayer Position
Analysts are forecasting EUR 5.80 for 2024 in earnings per share. That implies the stock trades for 10 times forward earnings.
Crop science company Corteva Inc. (CTVA) trades for 20 times 2024 earnings per share. And Johnson & Johnson (JNJ), a competitor to Bayer's pharmaceutical division, trades for 17 times 2024 earnings per share.
In short, Bayer is quite cheap. Plus, it's a catalyst-rich stock.
So, after you ring the register on Freeport-McMoRan Inc. (FCX), add to your position in Bayer AG (BAYRY).
Thanks for reading,

—Thompson Clark
Editor, Smart Money Monday
Tags
Suggested Reading...