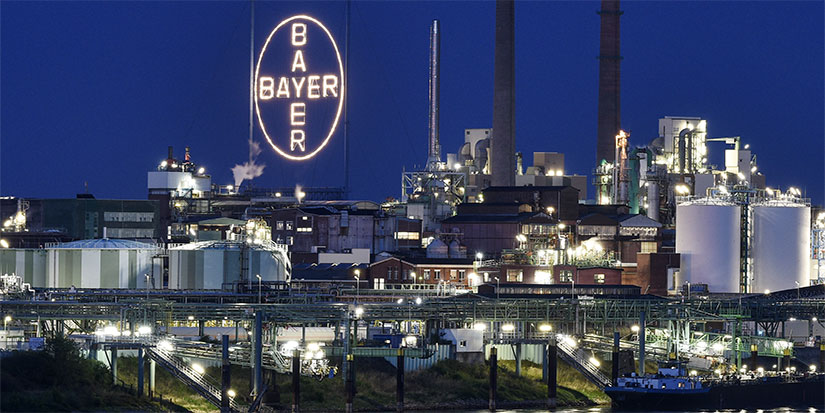 Three Stocks to Buy in This Bear
---
There's a silver lining to the current bear market…
Like I said last week, it's created great buying opportunities. By that, I don't mean profitless tech and speculative crypto. If a company can't make money in good times, it's tough to imagine how it would make money now.
Still, there are plenty of quality, profitable companies available at cheap prices. Here are three I like right now…
I call my first recommendation "Canada's answer to Berkshire Hathaway."
Fairfax Financial (FRFHF) is a Canadian insurance conglomerate. It follows the same model Berkshire has with insurance: It owns a slew of insurance companies, and it puts the premiums it collects in higher-growth investments.
Toronto Life once called Fairfax's CEO, Prem Watsa, "the richest, savviest guy you've never heard of." Watsa owns 9.8% of the company, which is a positive sign. It means he wins when shareholders win.
I first recommended Fairfax Financial in Smart Money Monday last summer, and it's done well since. The stock has climbed 17% in the past year, while the S&P 500 has slipped 3%.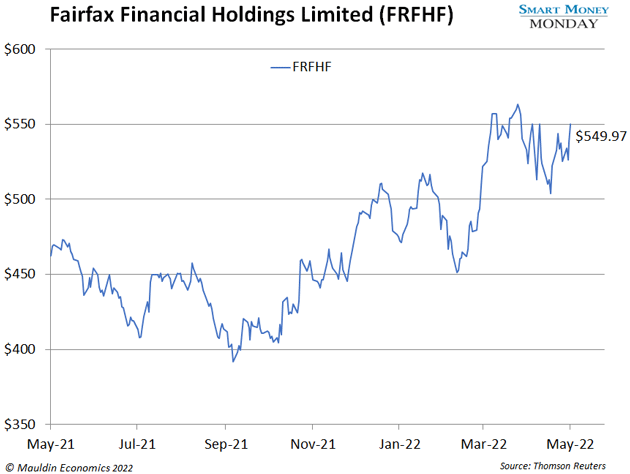 Even so, Fairfax is still cheap. It trades at less than 0.9X book value per share.
For perspective, Berkshire bought a similar insurance company, Alleghany (Y) in March. It paid $11.6 billion. That's 1.26X book value per share. I'm not suggesting Fairfax is up for sale—this just shows how cheap it is. At a similar multiple of book value, Fairfax would be worth $789 per share. That pencils out to 47% upside from here.
If you don't own Fairfax Financial, you're not too late. I personally own shares. And Fairfax Financial has plenty of room to run.
[Video Exclusive] Years in the making. I'm releasing a list of 585 stocks that ran for more than 100% returns last year, and lifting the lid on the market's most overlooked trend.
Regular readers know I like companies where insiders have skin in the game.
We're getting that with Fairfax Financial. And we're getting it with my favorite bank stock, First Citizens BancShares, Inc. (FCNCA). Chairman/CEO Frank Holding and his family own 27% of the company. It's the largest family-controlled bank in the country.
During COVID, First Citizens began a home-run acquisition of CIT Group (CIT). The deal took a while to complete, but it finally closed in January. The combined company is now one of the top 20 banks in the US by assets.
I like the CIT deal a lot. First Citizens can strip out costs to streamline the two businesses. And it gives First Citizens exposure to some interesting niches, such as railcar leasing. (First Citizens now owns and leases over 120,000 railcars.)
The market doesn't appreciate this yet. First Citizens is trading just north of 1X tangible book value. (Tangible book value approximates liquidation value.) Meanwhile, peers like Fifth Third Bank (FITB) trade for nearly 2X tangible book value.
Looking out to 2023, First Citizens should earn around $76 per share. At today's price, that's under 10X forward earnings.
I first recommended First Citizens here in February. It's been pulled down with the broader market, but it's starting to recover. Shares are up 5% in the last month.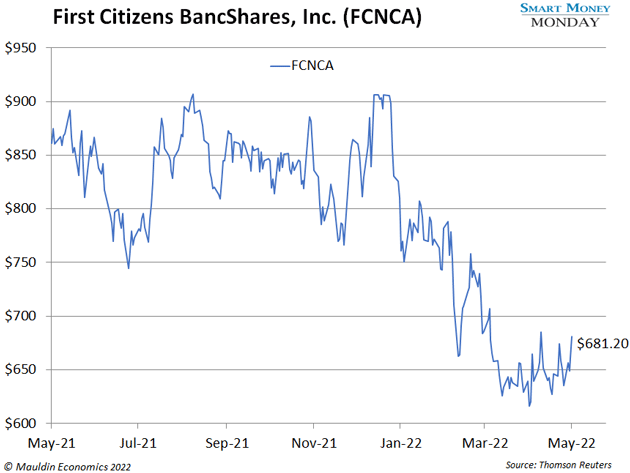 First Citizens is a cheap bank stock with profitable earnings growth. I like it (and own it) here.
Finally, I recommend buying shares of chemical conglomerate Bayer AG (BAYRY).
I pitched the idea for Bayer in September 2021. The stock is up 27% since, while the S&P is down 8%.
The idea behind Bayer is simple. It's a high-quality conglomerate with temporary issues around Monsanto, the agricultural business it acquired in 2018. Right after the acquisition, Monsanto was sued for health problems stemming from its weed-control product Roundup. Bayer settled most of the lawsuits in 2020 for about $11 billion total.
Today, Bayer is trading around $17, or just 9X expected 2022 earnings. And it's a high-quality business that throws off lots of free cash flow.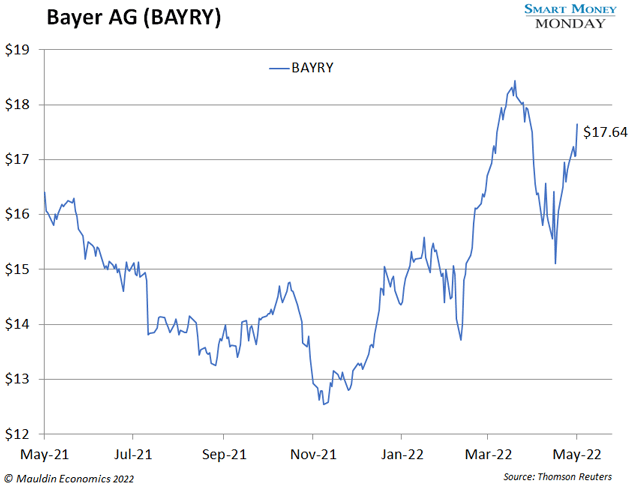 Bayer is also approaching some positive catalysts. First, the remaining Roundup lawsuits should be resolved soon. That will clear the gray cloud over Bayer.
The second catalyst is a potential plan to shrink the company via spin-off. Bayer might do this once the final Roundup cases are over. At that point, it could spin off its pharma business, its crop science business, and its consumer health business. Nothing has been announced yet—I'm just speculating based on my research and experience.
The market rewards smaller, more focused businesses. For example, Dow Chemical and Du Pont merged in 2017, only to spin off into three companies. Today, we have DuPont de Nemours (DD), Corteva (CTVA), and Dow Inc (DOW). Two of the three have done well since their spin offs. Corteva is up 117%, and Dow Inc is up 40%.
Something similar may happen with Bayer, which would mean even more upside. But even if it doesn't, I like Bayer at current prices. I own shares, and you should consider buying some as well.
So, there you have it: Fairfax Financial (FRFHF), First Citizens BancShares, Inc. (FCNCA), and Bayer AG (BAYRY). I should add the usual caveat—while I like and own all three stocks, I save my highest conviction, biggest upside trades for my small-cap focused premium service, High Conviction Investor. Learn how to become a member here.
Thanks for reading,

—Thompson Clark
Editor, Smart Money Monday
Tags
Suggested Reading...