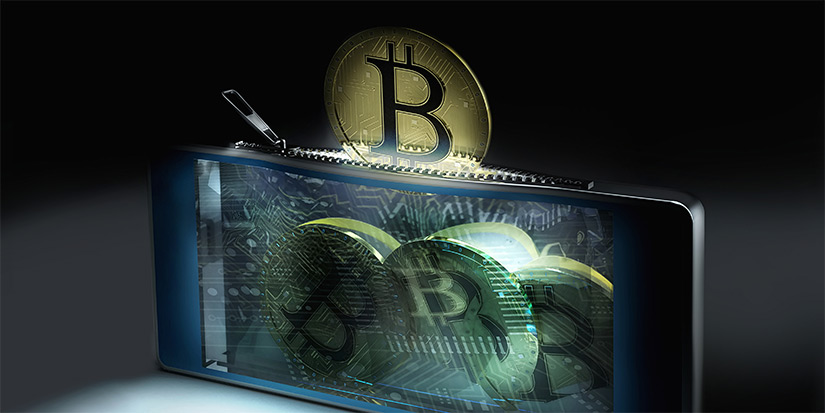 2 Low-Risk Ways to Profit from Bitcoin
Robert Ross
|
|
January 6, 2021
---
When you hear stories about a mom asking her son if she should sell her car to buy Bitcoin, you know an asset is hot.
The son—a professional trader—told his mom to keep her car. With its record-high price tag above $30,000, she'd be lucky to get enough from the sale to buy one bitcoin.
But that doesn't mean she will miss its next run higher.
If you want to take a stake in Bitcoin, too, there are more traditional investment vehicles (pardon the pun) that will let you do that. Even better, you won't need to think about selling off your other assets.
Happy Birthday, Bitcoin—What a Party!
Bitcoin is the best-known of thousands of different cryptocurrencies that have sprung up in the past decade.
It's called the "King of Cryptos," and there are a couple of reasons for that: It celebrated its 11th birthday on January 3, making it the first to the party. And just like gold, there is only a finite supply… which gives a big boost to demand.
Bitcoin soared as high as $34,000 recently. Consider that it took more than three decades for Warren Buffett's Berkshire Hathaway (BRK) to hit $30,000.
Buffett famously referred to Bitcoin as "rat poison squared." He's not alone. Some economists think Bitcoin's value should be $0.
But even they have to admit that it is charting a path higher… one that is as unique as the asset itself.
The Bitcoin Bull Is Bucking Up
I own a few bitcoins in my speculative portfolio. But its wild price swings are not for the faint of heart.
Bitcoin once shot up 1,882% in a little under a year. It went from $998 in January 2017 to $19,783 in December 2017.
One year later, Bitcoin dropped around 83% to $4,935.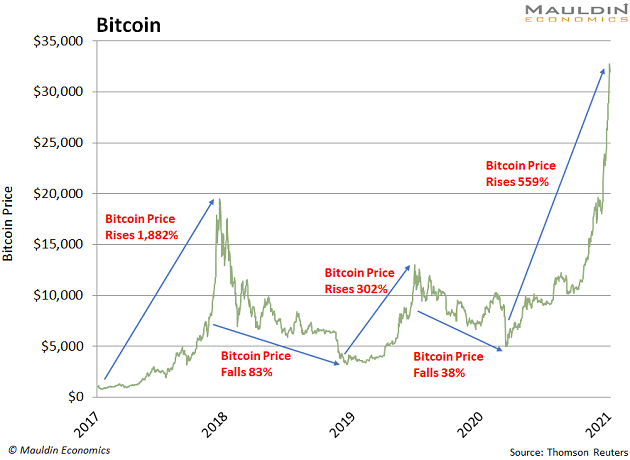 Now we're back in a Bitcoin bull market. Since the March 2020 lows, Bitcoin's price has rallied over 500%.
I'm not sure about you, but most people can't stomach that much volatility. And frankly, they shouldn't.
Plus, the crypto markets trade 24/7. And a lot of the wildest action happens when other markets are closed and most investors are away from their desks.
All this makes buying Bitcoin too risky for most investors.
That's why we're coming at this from a different angle…
The Safest Way to Profit from Bitcoin
You are familiar with financial exchanges. These are companies that facilitate the buying and selling of stocks, bonds, commodities, and now—you guessed it—bitcoin.
Some of these exchanges support futures trading. At its simplest level, futures contracts let people bet on how much the price of something will rise or fall.
Futures contracts also act as a form of insurance. For example, say you own one bitcoin. You don't want to sell it. But you want to protect yourself in case the price falls. A futures contract lets you lock in gains and limit your losses.
With an asset like Bitcoin, where the price could go up or down dramatically, having the option to lock in gains like that is a big plus.
Now, I'm not recommending you trade Bitcoin futures. That's another market that never sleeps. But you can make money off the trading action there.
When Bitcoin's price is on a run, as it is right now, futures exchanges make a lot more money.
See, every time someone buys or sells a Bitcoin futures contract, the exchange takes a small fee. So when trading volume goes up, so does the bottom line of the exchange.
These 2 Companies Can Help You Benefit from Bitcoin Volatility
CME Group (CME) operates the leading Bitcoin futures exchange. And business is booming.
The company reported record volume on its Bitcoin futures exchange on May 13. It processed 33,700 contracts, equal to $1.35 billion.
And this is a sliver of its $5 billion-per-year business. That's why CME Group can pay a safe and stable 1.6% dividend.
Then there's the cherry on top: The company has a history of paying a special dividend every year. So a special dividend could more than double CME's dividend yield.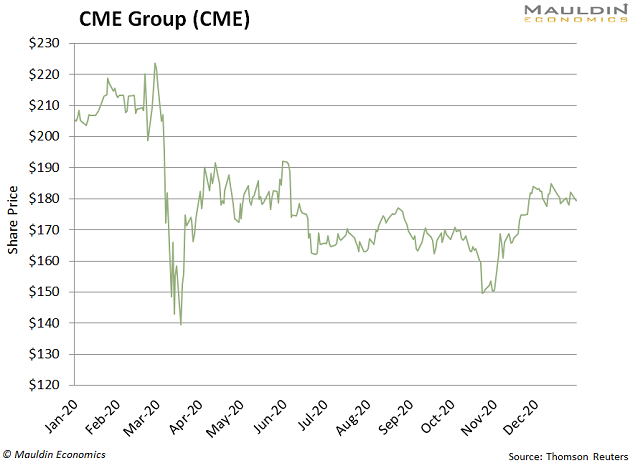 The second company on my list is Intercontinental Exchange (ICE).
The company introduced its bitcoin exchange in September 2019. It's been a huge hit, as the company saw 16,000 contracts trade on a single day in September 2020.
That was 36% more than the previous record set in July 2020.
While ICE's dividend is small at 1%, it's rock-solid. The company has strong free cash flow and has a five-year average payout ratio of 27%.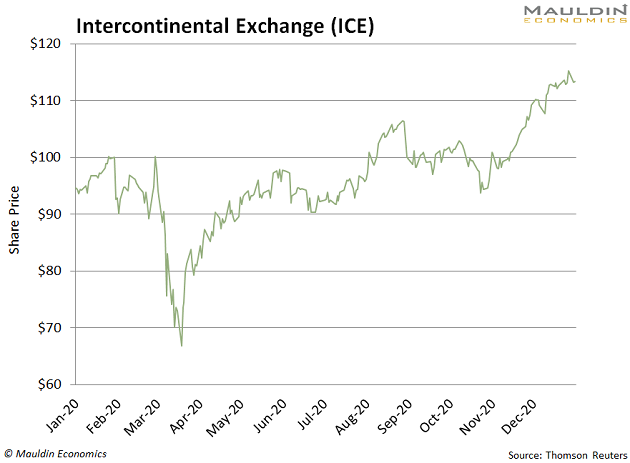 I think Bitcoin is going to smash a lot more records in the future when it comes to the price of this cryptocurrency and the trading volume on exchanges like CME and ICE.
Both of these stocks are trading in the triple digits—CME is at $178 and ICE is at $113. Not only is it a less expensive way to bet on big-ticket Bitcoin, but you get paid to wait even as the King of Cryptos takes a breather before the next leg higher.
For even more safe ways to play today's top trends, complete with timely alerts telling you the best time to buy and when to take profits, click here.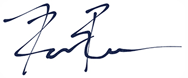 Robert Ross