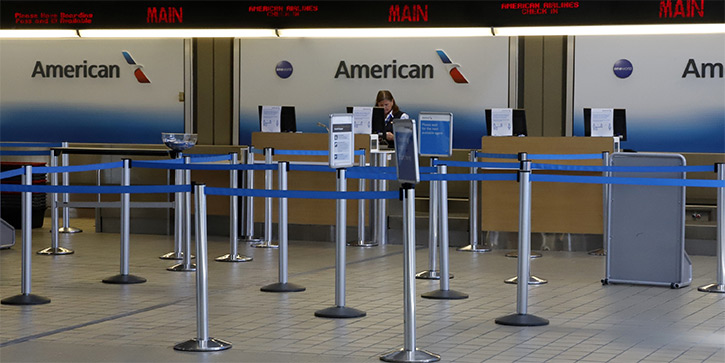 Boeing Says an Airline May Go Bankrupt. I Think It's This One
Robert Ross
|
|
June 17, 2020
---
Buying bankrupt stocks is an easy way for an investor to go broke. And yet, last week we saw the stocks of bankrupt companies surge as much as 300%!
Defunct car company Hertz Global Holdings (HTZ) saw its shares surge over 600% after filing for Chapter 11 bankruptcy protection in late May.
It was the same story for Whiting Petroleum (WLL) and J.C. Penney (JCP), which filed for Chapter 11 in April and May, respectively.

When companies go bankrupt, they're admitting they have more debt than they can pay off. Filing for Chapter 11 gives them an opportunity to restructure their debt.
Hertz is looking to sell its 700,000 rental cars at a discount. It also obtained the bankruptcy court's approval to sell 246.8 million unissued shares to investment banking company Jefferies.
But if you're a Hertz shareholder, don't look for this equity to benefit you. Any value in the stock that's left over gets diverted to pay its bondholders.
To be clear, there's very little chance a bankrupt company's stock will be worth anything.
If you own a bankrupt company, it can be tempting to hold on to see if it can engineer a turnaround. After all, Apple (AAPL) and General Motors (GM) came back stronger than ever from theirs.
But Enron and Lehman Bros. shareholders who rode their stocks down to zero would probably tell you to jump out of that rental car while it's still moving.
Former Hertz subsidiary Advantage Rent A Car also filed for bankruptcy in May… for the third time. But that's not the only sector running out of gas.
Airlines Could Be the Next Sector to See a Bankruptcy
Most investors don't know a company is going bankrupt until the day it files for Chapter 11. But there are almost always signs.
Rental cars are collecting dust in airport parking lots because people aren't flying. And industry experts are taking note.
The CEO of Boeing (BA)—the premier manufacturer of commercial airplanes—recently said he expects a major US airline will go bankrupt.
He didn't say which one. But using one simple metric, I'll show you which one I think he meant. I'll also tell you which airline has the longest runway of growth ahead of it.
Times Are Tough for the Airline Industry
Casinos, cruise ships, and airlines are all distressed industries. But while many of these stocks have roared back over the last month, the fundamental picture remains weak: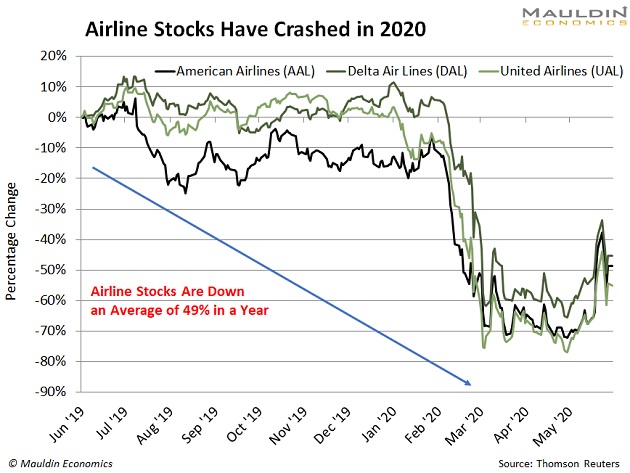 Delta Air Lines (DAL) expects a 90% decline in sales next quarter. That's actually better than global airline volumes, which are down 95% since last year.
It's the same story for American Airlines (AAL). America's largest airline—which famously went bankrupt in 2011—has seen its operations crumble. The company said it would operate 55% fewer flights compared to last year's schedule.
And then you have United Airlines (UAL). The company's domestic flights in June were down 87% from a year earlier. While this number is set to be down "just" 70% year over year in July, that's still the hallmark of a terrible business environment.
Their recent stock surges aside, these companies are all in dire financial straits.
But are they at risk of going belly-up? Here's how we can tell…
The Easiest Way to Spot a Stock That's About to Go Bankrupt
It's called the Altman Z-score. This mathematical formula shows the likelihood a company will go bankrupt in the next two years.
The system uses a combination of financial data to see if a company is in the "bankruptcy zone."
Generally, a score below 1.1 means the company is in danger of bankruptcy.
A score between 1.1 and 2.6 means the company is at risk, while a score above 2.6 means a company is in the "safe zone."
Auditors, management accountants, courts, and other actuaries use this metric to determine whether a business—public or private—is at risk of bankruptcy.
And with so many companies currently on shaky financial footing in the aftermath of COVID-19, the Altman Z-score has never been more important.
Let's See How the Airlines Stack Up
According to the Altman Z-score, there's only one airline in the bankruptcy zone: American Airlines (AAL).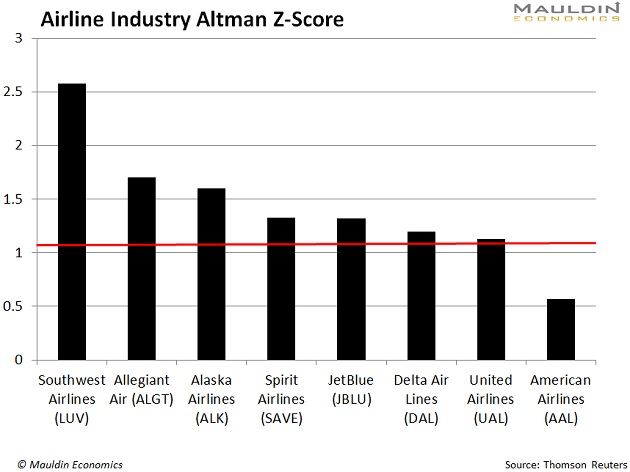 This doesn't mean American will go out of business. But if you hear of a debt restructuring in its not-too-distant future, don't be surprised.
On the other hand, Southwest Airlines (LUV) is the only US airline in the safety zone.
If you want to try bottom-feeding in this beaten-down sector, Southwest may be your best bet. But it's far from the best way to play a long-term rebound in air travel.
But just like with all my best ideas, I need to save it for premium readers of my In the Money newsletter. Those readers just got a trade to take advantage of the reeling airline market. The best part: They instantly earned $500 to do so.
There's still time to get in on this instant-money trade. Click here to discover how.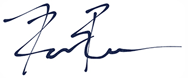 Robert Ross