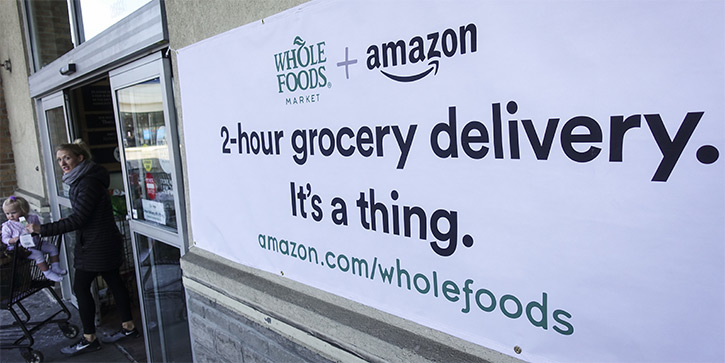 This New E-Commerce Boom Is Already Delivering for Investors
Robert Ross
|
|
June 24, 2020
---
"Your groceries will arrive tomorrow."
I'm worried about my parents these days. They are healthy, sharp, and active, but these are extraordinary times. So when I see an opportunity to help keep them safe, I pounce on it.
One easy way we can do that is to order groceries online. While my mother was annoyed she couldn't pick out the exact peaches she wanted for her cobbler (always an ordeal at the supermarket), the risk of being in a confined public place is too great for people of a certain age.
You see this all across the e-commerce universe. US online spending went up 49% in April. According to Statista, nearly four out of 10 shoppers say they will spend more money online because of COVID-19.
Some of these e-commerce "pockets" will revert to the mean… but I expect groceries to stick. Not just through the "second wave" of the pandemic in the US, but long afterward.
And with only a few big players, those who invest early should make a lot of money.
A New Crop of E-Commerce Customers
Research firm CORE Insights says that 90% of people age 60 and older are avoiding malls and shopping centers during the pandemic. This makes sense, as this is the highest-risk age group for contracting the coronavirus.
Baby Boomers (those born between 1946 and 1964) are a large part of this demographic.
Before now, Baby Boomers have not shifted much of their shopping online. Today, however, with few available alternatives, these "Perennials" are increasingly turning to online retailers to get the goods and services they need.
And groceries are at the top of that list.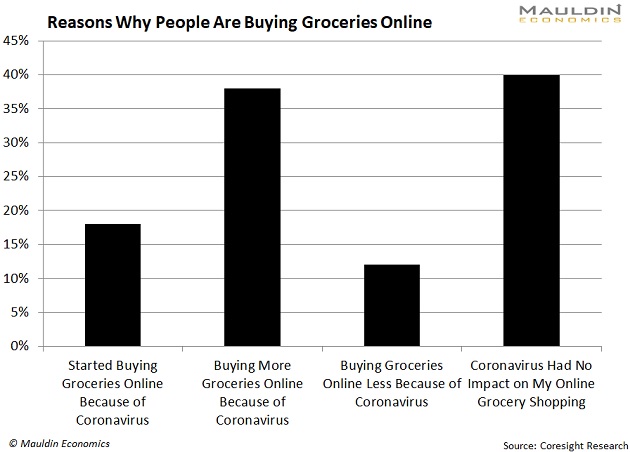 Mom was happy with her peaches, by the way. And her cobbler turned out as delicious as it always does. So, she's willing to shop for groceries online again.
She's in very good company, because…
The Online Grocery Trend Is Accelerating
The online grocery experience arrived long before COVID-19, but it is still in its infancy. And that's good news for investors because we're just in time to see its adoption rate explode.
The market is now worth $27 billion, but it's expected to quadruple by 2023, according to market research firm Packaged Facts. That means investors buying into this industry early on have the potential to earn massive profits.
And there will be tons of profit.
Sales in the online grocery market have tripled in the last five years. In fact, grocery e-commerce has grown 27% per year since 2009. And that growth is accelerating: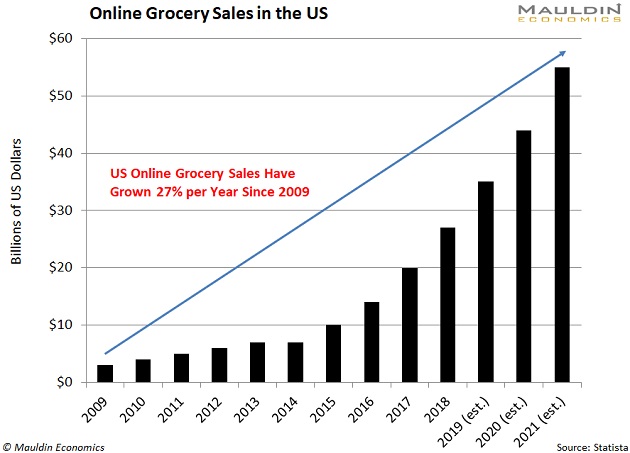 And like any high-growth industry, it's attracted many players…
The Biggest Player in a "Sticky" Business
Nearly half of respondents in the Coresight Research survey said they tried online grocery shopping for the first time during the COVID-19 quarantine. And according to a separate report from UBS, these shoppers should continue ordering groceries online: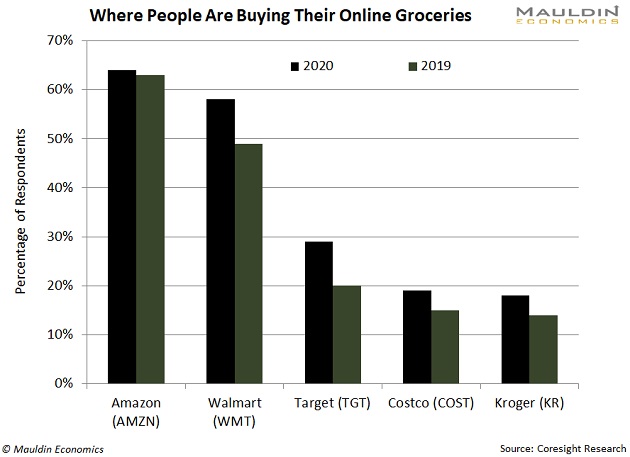 Prior to COVID-19, online groceries made up a mere 2% of all grocery sales. But according to this UBS report, that figure is expected to grow to 16% by 2025.
This explosive growth potential is attracting all the major supermarket and e-commerce companies to this booming space.
The most obvious is Amazon.com (AMZN). The largest e-commerce company in the world accounts for 50% of all online sales. So it's not a huge surprise that they're the largest online grocer.
In 2019, the US e-commerce juggernaut accounted for 36% of all online grocery sales via its Amazon Fresh service.
I've personally used Amazon Fresh here in Venice Beach, California. If you order more than $40 in goods, they will deliver your order for free in under two hours. But this is only possible because I live in a densely populated city.
That fact opens an opportunity for other companies at the juncture between e-commerce and groceries.
Two More E-Commerce Grocers Will Ride This Trend Higher
The unsung hero of the e-commerce grocery market is Walmart (WMT). The company has seen the fastest online grocery growth in 2020. While Amazon has maintained its 36% market share, Walmart nearly doubled its share of the market from 15% in 2018 to 29% in 2019.
And the company is seeing its online grocery sales surge.
And for income investors, it's hard to name a better stock than Walmart. It's part of an elite group called the Dividend Aristocrats—companies that have increased their dividends every year for 25 years or more. In fact, Walmart has increased its dividend an impressive 31 years in a row.
But they aren't the only traditional retail player getting in on the action. Target (TGT) has made inroads in this lucrative market. According to a survey from market research firm TABS Analytics, Target accounts for 16% of online grocery sales.
And while sales have not surged to the same extent as Walmart and Amazon, Target's 22% online grocery sales growth in 2020 is nothing to sneeze at.
And since Walmart and Target both scored a perfect 100 out of 100 on my proprietary Dividend Sustainability Index (DSI), you can rest assured these dividends are safe.
In my brand-new issue of Yield Shark that hits subscribers' inboxes yesterday afternoon, I recommended another stock that earns a perfect score on my proprietary Dividend Sustainability Index. There's still time to get your name on my mailing list. Click here and fill out the short form at the bottom of that webpage, and you'll be all set.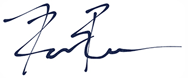 Robert Ross