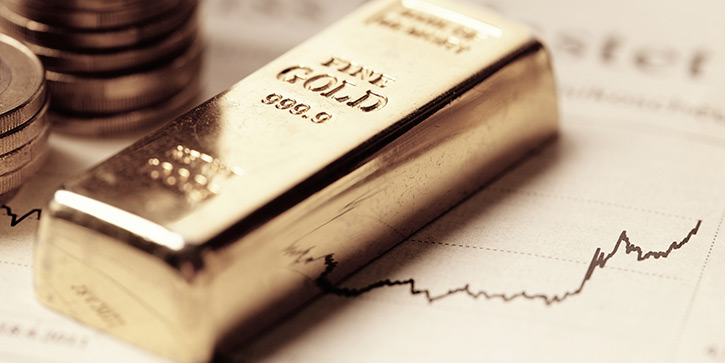 Gold Is Red Hot… and These Gold Stocks Are Even Hotter
Robert Ross
|
|
July 29, 2020
---
Have you seen what's happening in gold?
This week, the price of gold took a rocket ride to a record high. It's trading near $1,975 per troy ounce.
Longtime Weekly Profit readers know, I'm not a "gold bug." But this big breakout shows us that gold sure has a lot to offer these days.
There are three reasons for that…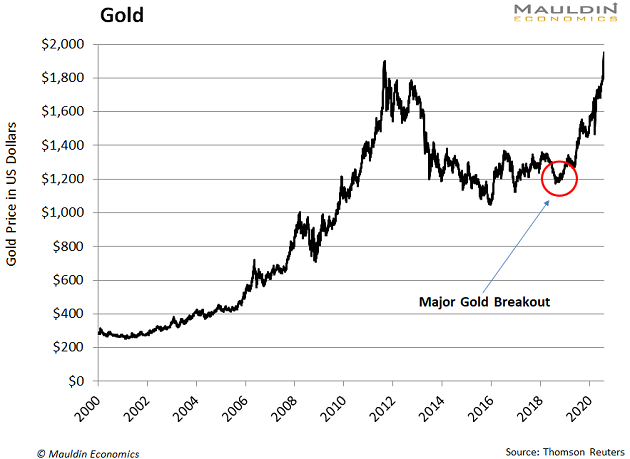 First, the money-printing presses are on fire. We have a global pandemic that's shut down huge segments of the global economy. In response, governments are spending money at an unprecedented rate.
Second, inflation is coming our way. That means we're going to see prices go up on a lot of things. Gold should also see its value get a boost. And people want to buy in before both of those things happen.
And, of course, gold is a classic safe haven asset. Investors buy gold when risks are on the rise. And with COVID-19 still strangling the US economy, risks have rarely been higher.
If there were ever a time to have some physical, tangible wealth on hand, this is it.
What's Good as Gold Might Even Be Better
You've probably heard about the recent surge in trading activity thanks to millions of coronavirus relief checks that arrived this spring.
Now, a second round of $1,200 checks is set to arrive before year-end.
I don't want to guess that all these new investors will be buying bullion this time. After all, the price could move above $2,000 in fairly short order.
But paper gold—in the form of gold stocks and Exchange Traded Funds—can turn a much-smaller sum into something closer to a king's ransom… in a fraction of the time.
And that could happen even before the IRS dashes off the next round of relief payments.
How to Profit with Paper Gold
The most common way to invest in the booming gold market is to buy the SPDR Gold Shares ETF (GLD). This is a great, low-cost way for novice investors to get exposure to the yellow metal.
I own a few gold-related positions in my own portfolio… including GLD. But it's not my preferred way to profit from rising gold prices.
We talked about gold miners back in April. And for good reason… at the time, oil prices were crashing. In fact, oil futures had just hit -$40!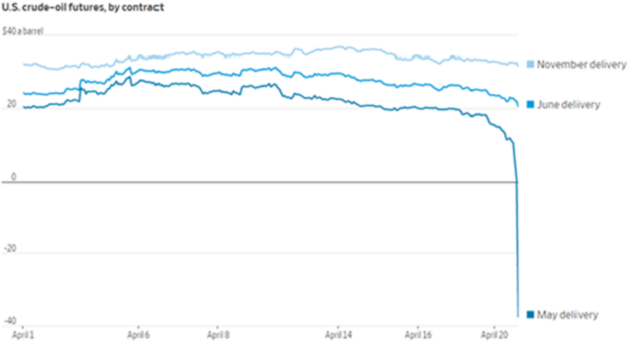 Source: Wall Street Journal
Since oil prices account for 20% of gold miners' expenses, this was a tailwind for gold mining stocks. That's why we've seen the VanEck Vectors Gold Miners ETF (GDX) rise nearly 30% since then: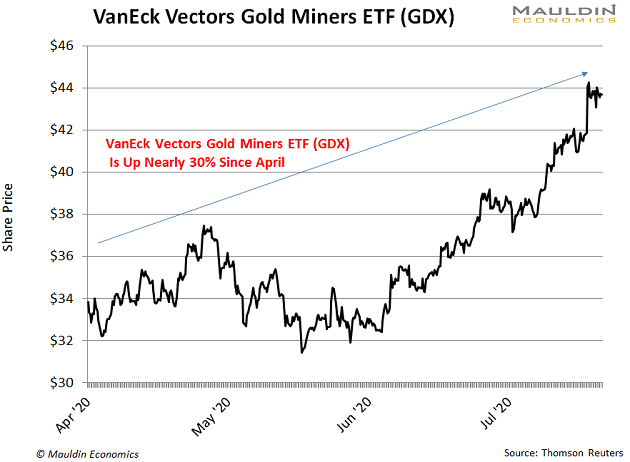 I told you GDX—which holds a basket of gold miners like Newmont Corp. (NEM), Barrick Gold Corp. (GOLD), and Agnico Eagle Mines (AEM)—was a good buy back in April.
While this was a great trade, I actually gave you a better way to profit from the gold market a few months earlier.
And It's Almost Doubled Since…
See, I'm a huge fan of gold royalty companies. These are firms that make an upfront payment to gold mining companies like Newmont.
A royalty company becomes a "silent partner" in the mining operation. In return, the royalty company gets a fixed percentage of a mine's future gold production.
This gives royalty companies all the upside of the gold market, without all the headaches of actually digging the gold out of the ground.
I told you to buy a handful of these gold royalty companies back on March 4. That was back when the S&P 500 had crashed 12% in two weeks: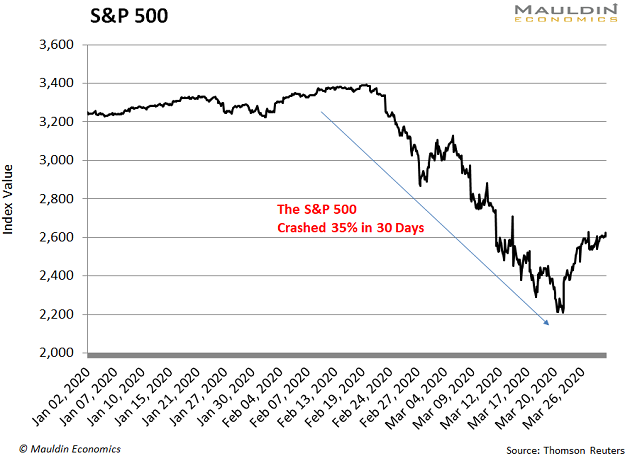 Amid all the COVID-19 chaos, I told you how to profit. And it was with gold royalty companies.
So with gold charging higher, I wanted to give you an update…
I'm Still Holding These Gold Royalty Companies
At the top of my list was Wheaton Precious Metals (WPM). This gold royalty kingpin is up 84% since March 4.
But readers of my premium investing service Yield Shark knew about this trade well before 2020. I actually told my thousands of premium subscribers about the company in October 2018, and it's up 230% since… one of the best trades in my letter's history: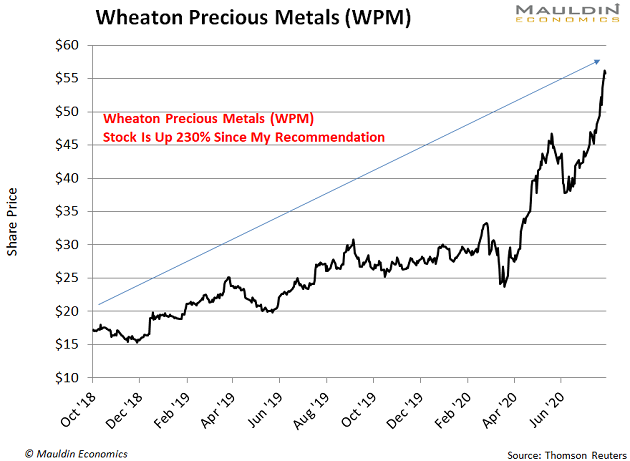 But there are still gains to be had in the gold royalty market. For instance, one of my top gold royalty companies is Franco-Nevada Corp. (FNV). The company actually invented the gold royalty model in 1986.
I told you about the company as far back as December 2018. Since then, the stock is up 127%: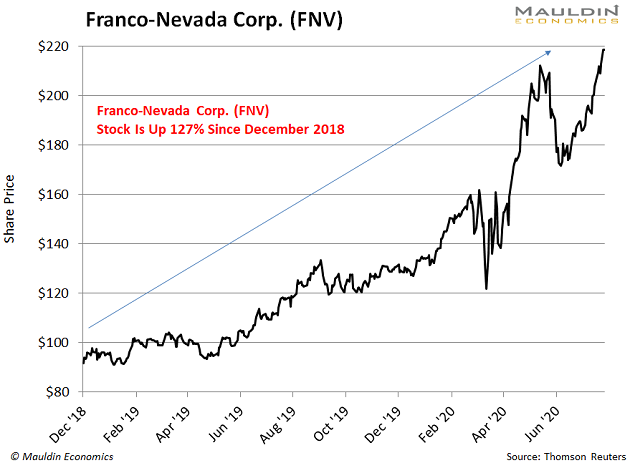 Gold royalty companies are a great option to ride the gold market higher. As long as COVID-19's black cloud lurks over the US economy, holding gold stocks—especially gold royalty companies—is a prudent move.
There are other ways to insulate yourself from this crazy market. I give readers of my premium investing service Yield Shark safe and reliable dividend-paying stock ideas every month to help navigate these uncertain times.
Right now, we have 15 buy-rated stocks in the portfolio. We even added a new one yesterday, which I dubbed the "Greatest Company in the History of Companies."
I know, you probably arched your eyebrow at that description. But in this case, I believe it's true. So if you'd like to get in on the "Greatest Company in the History of Companies," and 15 other buy-rated stocks risk-free for 30 days, click here.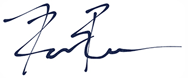 Robert Ross