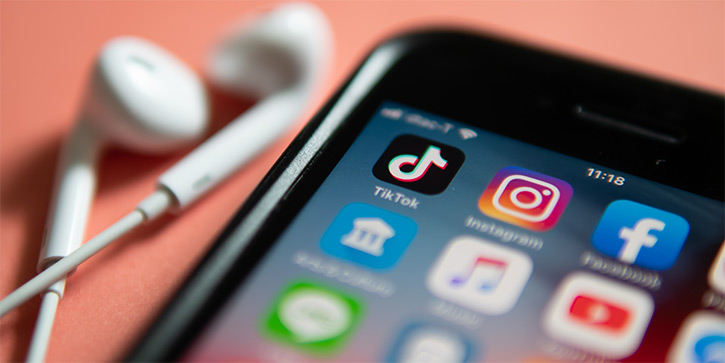 Social Media Stocks Set to Surge! Follow or Friend This One First…
Robert Ross
|
|
August 5, 2020
---
I have a hunch that most Weekly Profit readers aren't on the wildly popular social media app TikTok.
You don't have to join it to see what all the fuss is about. I'll tell you all you need to know in one sentence:
Investing in the bubbling social media wars can make you a lot of money in the coming months.
For starters, social media is one of the fastest-growing industries in the world. The industry generated nearly $30 billion in revenue in 2019.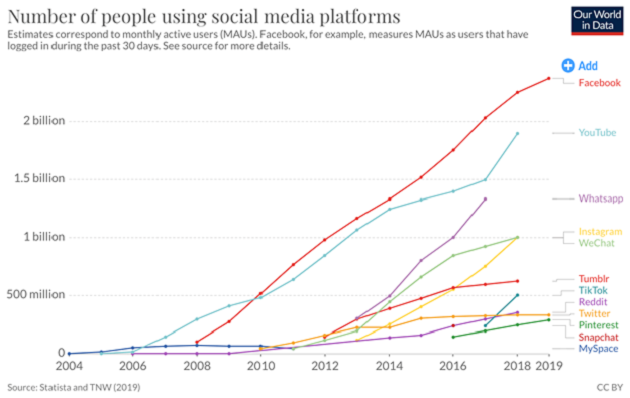 Source: Statista
While overall industry growth is impressive, one app—TikTok—has been crushing the competition.
Let's Navigate the Shifting Social Media Landscape
You know Facebook (FB). It's the world's largest social media company, with 3.1 billion people using Facebook or one of its products every month.
Thanks in part to the coronavirus lockdowns, 1.8 million of those people logged on to Facebook every single day in June! That figure is up 12% year-over-year.
And that was just Facebook. If you add in its products like Instagram, WhatsApp, and Messenger, 2.5 billion people logged in daily in June—a 15% increase over last year.
Even though it's free to use, advertisers pay big bucks to reach them. That's why the company has a valuation of over $700 billion.
That's bigger than AT&T (T), McDonald's (MCD), and Walmart (WMT) combined.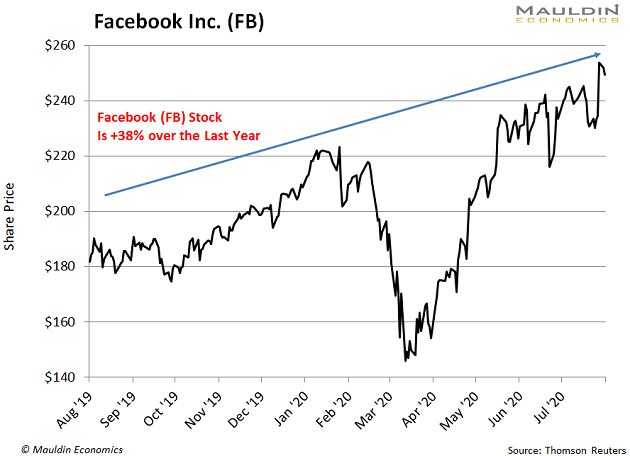 While there are a handful of other social media companies coming for Facebook's crown (more about them later), the biggest threat to Facebook's dominance is TikTok.
Why TikTok Is So Important
TikTok is the fastest-growing social media app on the planet. It lets people from all around the world share short 60-second videos with anyone who wants to watch them.
TikTok is different from Facebook because it uses a "predictive" algorithm. On Facebook, you only see content from people you "follow." On TikTok, the algorithm "predicts" what you want to see. It then displays the content on your screen.
The app does this by collecting loads of information on its users. Personally, I've used the app for months. The way it predicts content is uncanny.
But there's one problem…
TikTok is owned by a Chinese company called ByteDance.
Here's the Rub with TikTok…
TikTok's parent company ByteDance is the most valuable private company in the world. In its last funding round, it was valued at a whopping $100 billion. That's more than triple the value of US social media company Twitter (TWTR).
ByteDance owns TikTok and Douyin (the Chinese version of TikTok). While TikTok is wildly popular in the US, Beijing-based ByteDance has been a thorn in the side of the US government.
See, there's a law in China stating any company operating in China must turn over any data requested by the Chinese government.
Naturally, this would include any US data stored on ByteDance's servers. This news has prompted the US Army to ban TikTok from government phones.
ByteDance has tried to ease these fears by installing former Disney (DIS) executive Kevin Meyer as TikTok's CEO. It has also moved all TikTok servers with US data off the Chinese mainland.
But That's Not Enough for the US Government
There are legitimate national security concerns with TikTok. All social media companies are data miners. They make money by gathering loads of information on their users and use that information to target ads.
That strategy has made Facebook the second-largest advertiser in the world: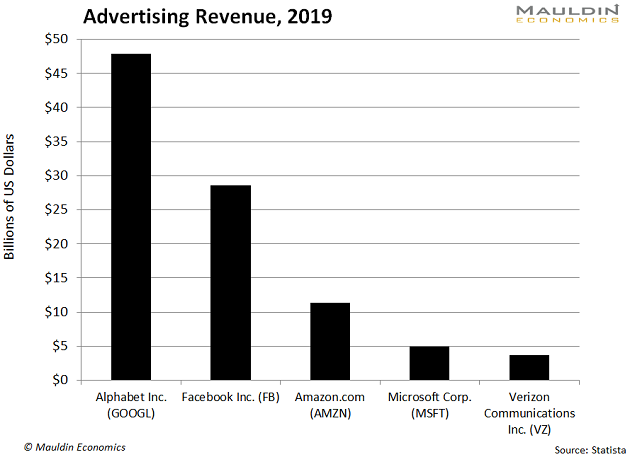 TikTok also has 100 million US users… and counting.
That's despite the US Navy banning the app from government-issued mobile devices last year, calling it a "cybersecurity threat."
In March, during the throes of the COVID-19 lockdown, the app added a whopping 12 million US users. Nevertheless, it's currently unprofitable.
However, the app is expected to generate $6 billion in revenue in 2021.
That's Why a Familiar Tech Company Is Getting Involved
President Trump has been vocal for months about his desire to ban TikTok, possibly through an executive order.
This has prompted negotiations between ByteDance and Microsoft (MSFT).
That's right, one of the largest US technology companies is in talks to buy TikTok. This would land Microsoft the breakout social media player of the decade.
Right now, analysts forecast the fee will be between $30 billion and $40 billion to get the deal done. With $136 billion in cash on its balance sheet, this deal is very plausible.
And since all data would live on Microsoft's American-based servers, it would alleviate the national security concerns.
But it also means Mark Zuckerberg and Facebook would have a new adversary in the social media wars. That's on top of social media firms like the Gen-Z focused Snap (SNAP) and Pinterest (PINS).
There Are Two Ways This Will Play Out
All eyes will be on the Microsoft (MSFT) deal over the next few months. The US government has given ByteDance and Microsoft until September 15 to come to an agreement. If a deal is not reached before then, TikTok will officially be banned by the US government.
But if Microsoft can get a deal done, it will have the fastest-growing social media app in the world. That will be a negative for competitors like Facebook, Snap, Twitter (TWTR), and Pinterest …
… and massively bullish for Microsoft.
I'm investing in one of these companies in my premium investing service In the Money. If you want to see which one is at the top of my list, you can try the service risk-free by clicking here.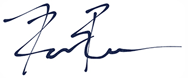 Robert Ross