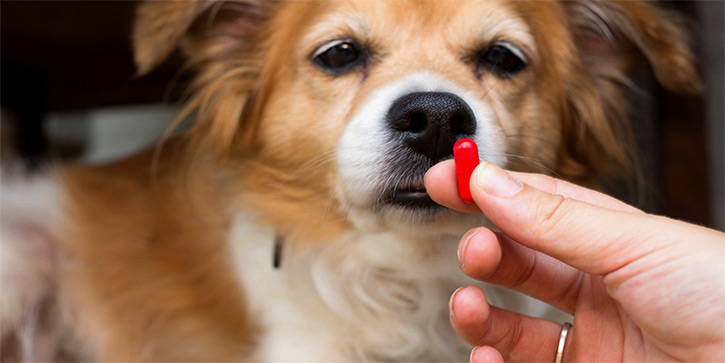 I'm Buying This Pair of Pet Stocks Right Now
Robert Ross
|
|
May 6, 2020
---
For all of us, keeping our families safe from the spread of COVID-19 is our No. 1 priority right now. That includes our furry family members.
Not only are we spending more time than ever with them, but this unusual era has sparked another positive development. That is, there has been a spike in fostering and adoptions all over the country.
And that's been good news for pet care stocks.
My Top Pet Care Stock Is Up 50% Since February
I've written for years about how recession-resistant the pet care industry is. Spending on food, veterinary services, and other pet supplies even grew during the last two recessions: 29% during the 2001 recession and 17% during the 2008–2009 recession.
You can see this in the next chart.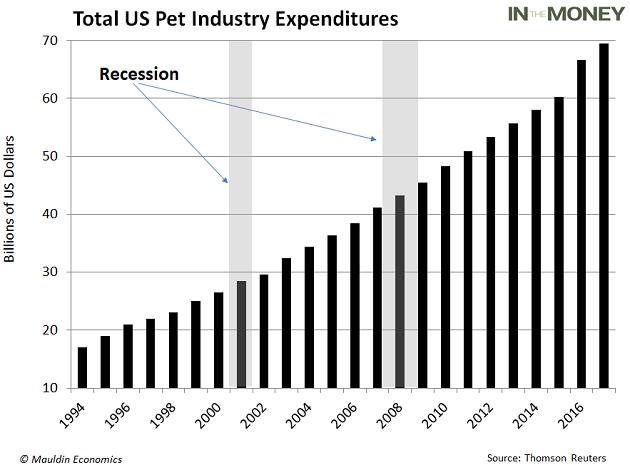 The ProShares Pet Care ETF (PAWZ), which represents a basket of pet care stocks, is down about 3% for the year so far. That's good compared to the S&P 500 Index, which is down about 10%.
But by owning the right stock—and in this case, the right pet care stock—you could have done a lot better. In fact, my favorite pet stock is up more than 70% this year!
Back in February, I told you my top pick in the pet care space was PetMed Express, Inc. (PETS).
This turned out to be good timing. Since I told you I was putting this pet medication giant back on my buy list, the stock surged 50%:
The company was already in a great position to thrive in this environment…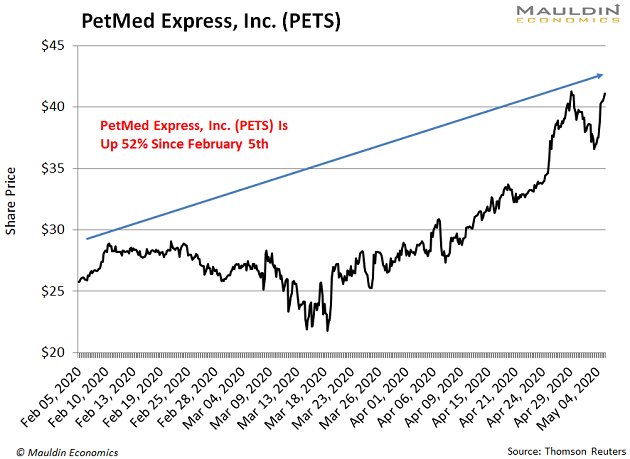 For one, many Americans can't risk going out to pick up their pet's medication. So, they're ordering heartworm, flea, and other pet medications with the touch of a button from companies like PetMed Express.
But there are other factors driving demand for home-delivered pet supplies. And those will be with us long after the economy reopens.
This Trend Started Long Before COVID-19
More than two-thirds of US families own pets, according to the National Pet Owners Survey.
This figure has increased around 2% annually since 2011. But spending on those pets has increased almost 7% annually.
Meanwhile, spending on veterinary care has grown especially fast. From 1991 to 2019, it shot from $4.9 billion to $48 billion. For perspective, that's three times faster than US GDP grew over the same period.
This means pet care companies enjoy predictable cash flows and sales growth, even during a recession. (Something regular readers know I expect in the coming months.)
It also means stable share prices for stockholders when they're looking for it the most.
Pet Care Spending Is an Unstoppable Force
Dog owners spend over $1,000 a year on Fido, on average. So companies that cater to these "dog parents" should continue to thrive.
Overall, spending on pets in the US has gone up every year since 1994. And it's grown 4.6% annually over the past 10 years, or three times faster than overall consumer spending. Spending on pet food should grow another 4% in 2020.
This is good news for pet care companies. And it makes sense that they've done well, even during the past two recessions.
Pets owners would rather skimp on other things like daycare, obedience classes, and boarding before downgrading to cheaper pet food or cutting back on supplies.
This is especially true for the $15 billion pet medication industry. Sure, you might skip your regular dog-grooming appointment during a recession, but you're not going to skip your pet's medication.
The booming pet medication market is proof positive of that. Pet medication sales are growing twice as fast as overall pet spending.
The pet medication market will be the highest-growth area of the pet care industry for the next decade, reports market research firm Packaged Facts. It expects new products for flea and tick prevention as well as itch relief to drive sales.
The Only 2 Pet Care Stocks I'm Buying Right Now
PetMed Express is still my top pet care stock. The company benefits from the long-term growth in pet care spending along with the explosion in e-commerce demand.
But I have one more on my radar: Chewy, Inc. (CHWY). Just like PetMed Express dominates the online pet medication market, CHWY does the same with the online pet food market.
That's a key reason why the company's stock is up 45% this year: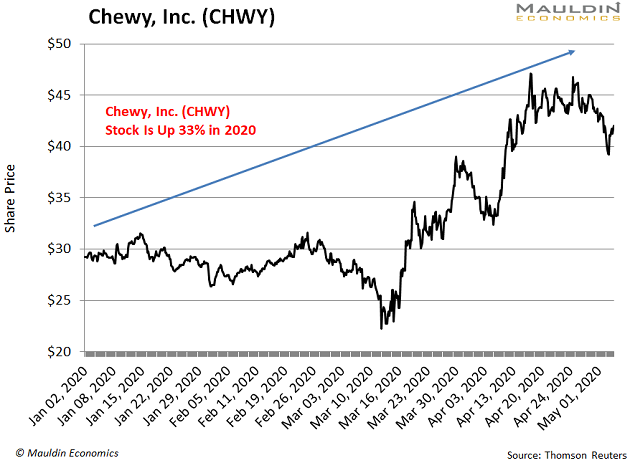 Right now, it's hard to find safe and reliable stocks. But companies with long-term trends in their favor, in addition to thriving during the "new normal," should continue to outperform.
And companies like PETS and CHWY certainly fit that bill.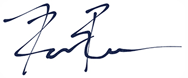 Robert Ross