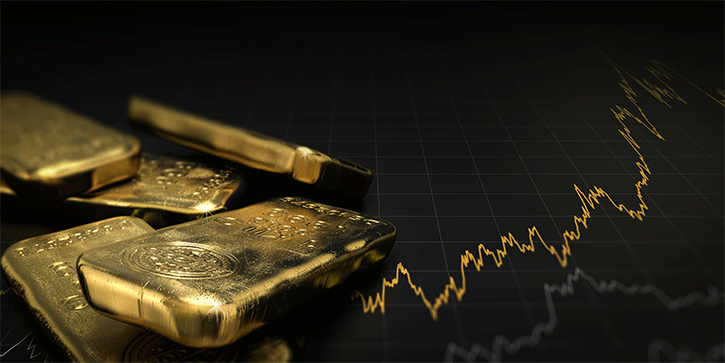 It's Time to Buy These Three Gold Stocks
Robert Ross
|
|
August 14, 2019
---
For your sake, I hope you already have some gold in your portfolio.
Gold is on an amazing run. It's up over 21% since last August. Meanwhile, the S&P 500 is up a mere 0.7%, as you can see in the chart below.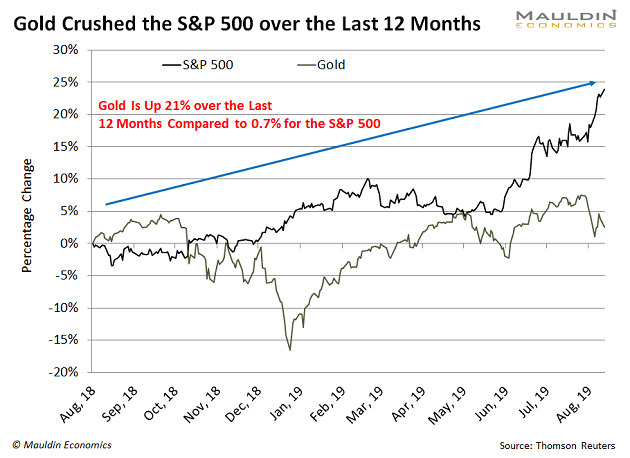 When stock market risk goes up—like it has in the past 12 months—investors flock to safe havens like gold. That's one of the reasons gold is doing so well.
The same thing happened shortly before the global financial crisis. Gold rose a whopping 83% between January 2005 and October 2007 when the stock market peaked. That's more than triple the S&P 500's 26% return during that period.
I'm sure you remember what happened next…
The S&P 500 plunged over 55% from October 2007 to March 2009. Investors were terrified. And a lot of them flooded into gold.
In fact, gold gained over 25% during the global financial crisis: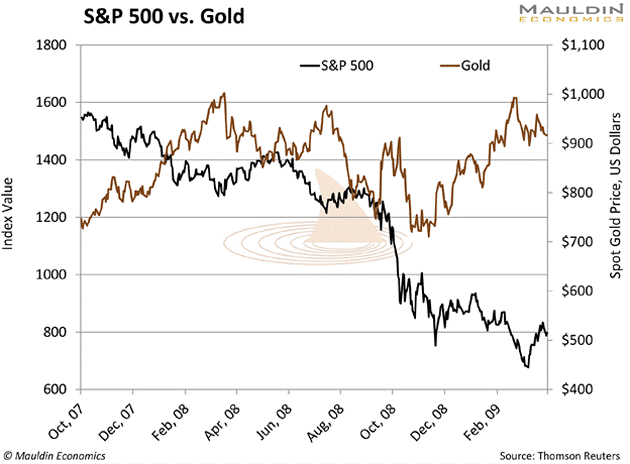 The same scenario played out when the dot-com bubble burst. The S&P 500 lost over 46% from August 2000 to May 2003 as investors fled the first generation of internet-based companies. Meanwhile, gold gained over 43% during that period.
Today, we're on the cusp of a similar situation.
The S&P 500 has increased nearly 200% over the last 10 years. That makes this the longest bull market in US history.
Of course, nothing goes up forever. My research indicates that stocks will peak in mid-2020. But we don't need to pinpoint the exact date here.
The important thing to know is that eventually, stocks will fall. And when that happens, gold will surge. So it's good to own some gold right now.
But it's even better to own a special type of gold stock that will surge even higher…
Gold Mining's "Silent Partner"
Gold royalty companies are the best gold-related investment to own right now.
Here's how the royalty business model works…
Building and operating a gold mine is very expensive. Sometimes a miner is sitting on a promising deposit but doesn't have enough money to get the gold out of the ground. This is fairly common.
That's where royalty companies come in.
A royalty company makes an up-front payment to a mining company. In return, it receives a fixed percentage of the mine's production, typically for as long as the mine is active.
With the royalty model, the gold miner does all of the heavy lifting, like digging up and selling the gold. The royalty company doesn't do any of that. It simply provides cash to miners to help them run their businesses.
Then, when the miner sells the gold it digs up, the royalty company receives a royalty payment.
Here's the best part: When gold prices rise, the royalty payments rise as well. When that happens, the royalty company makes more money—and so do its shareholders.
Meanwhile, if the mine produces more gold, or the life of the mine is extended, the royalty company benefits, too. This is all without investing any additional money.
In addition to the unlimited upside I just told you about, royalty companies also have very limited downside.
The royalty company isn't on the hook for any of the variable risks and costs that come with running a mine.
Mining is full of challenges that miners can't always predict or control. Things like environmental activism, political risks, union pushback, and new safety regulations. But royalty companies don't cover any of the costs associated with that stuff.
In short, royalty companies get the best of both worlds. They make a lot of money when a miner does well. But there's a cap on how much they can lose when a miner runs into roadblocks.
Royalty Companies Are Having a Fantastic Year
You already know that gold is having a great year.
But gold royalty companies are doing even better. Since last August, my top three royalty companies are up an average of 36.5%. You can see this in the next chart.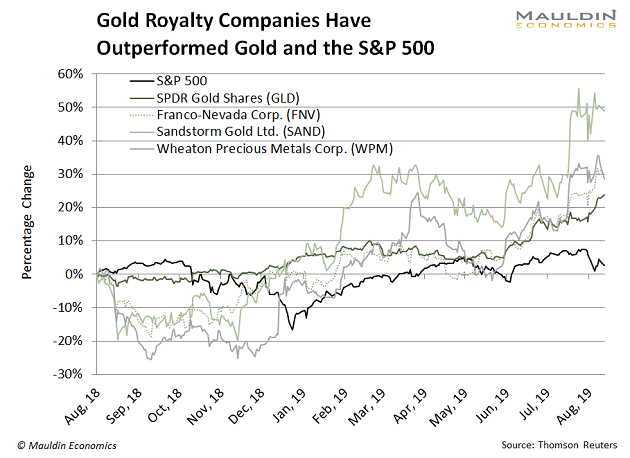 These three companies also have an average dividend of 1.3%—modest, but still safe and reliable income.
The Top Gold Royalty Stocks to Own Now
Every week I write about the safest and most reliable dividend-paying stocks. And right now, the top gold royalty companies are offering compelling value.
This isn't the first time I've mentioned this. Back in December, I told readers to add royalty companies to their portfolios.
The first company on my radar was Franco-Nevada Corp. (FNV).
Franco-Nevada is the largest gold royalty company. The Canadian-based firm was also the first royalty company, and it has a solid track record.
The second company was Sandstorm Gold Ltd. (SAND).
Sandstorm Gold is another Canadian royalty company. Its huge portfolio includes 185 royalties. This protects the company from any negative fallout if anything goes wrong with one of its miners.
But subscribers to my premium investing service Yield Shark got the best of the bunch: Wheaton Precious Metals Corp. (WPM).
Wheaton is unique. It has a large portfolio of both gold and silver royalties. This gives investors more exposure to the broader precious metals market.
Our timing could not have been better. These three companies have returned an average of 45% since December. That's more than twice as much as gold's 18% gain. And five times more than the S&P 500.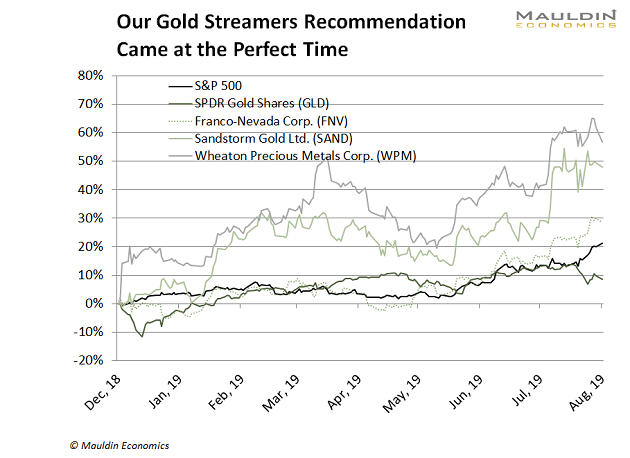 That's impressive. But royalty companies are still a good bet today.
With trade wars brewing, the global economy slowing, and the stock market near all-time highs, it's time to add gold and gold stocks to your portfolio.
Gold royalty companies should be at the top of that list.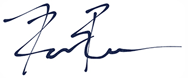 Robert Ross