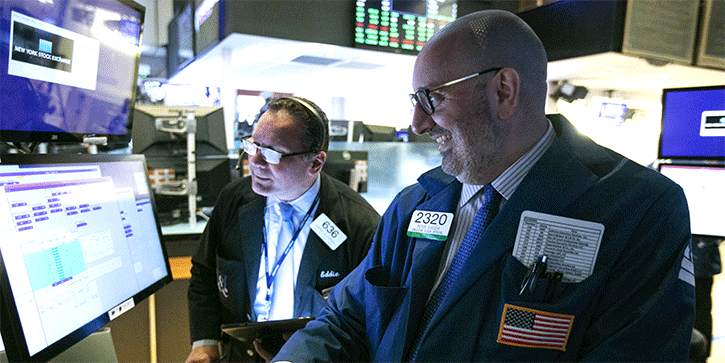 Don't Let Fear of Missing Out Sink Your Portfolio
Robert Ross
|
|
August 21, 2019
---
Fear of missing out is a dangerous drug.
And right now, it's luring investors in.
People know that US stocks have gone up nearly 200% over the past decade—and are now near all-time highs. They know this is the longest bull market in US history.
At the same time, they're watching other people make money and thinking, "I need to get in on this."
Problem is, investors are piling into the market—or at least the wrong stocks—at the wrong time.
As you might imagine, stocks are very expensive right now. That means a lot of stocks are quite risky. (I'll share some exceptions in a bit.)
Even so, investors are continuing to pour money into stocks. That includes $14.4 billion during a single week in June. It was the largest inflow of money in nearly two years.
Unfortunately, a lot of these people are setting themselves up to buy high and sell low.
The Same Thing Happened Right Before the Dot-Com Bubble Burst
We've seen this movie before.
Back in 1999, during the dot-com bubble, the NASDAQ technology index was up 85% for the year. It was one of the largest single-year returns for any major stock market index ever.
At that point, investors should have been extra cautious. But people being people, they kept gobbling up stocks.
Before 2000, the record for monthly net inflows (money going in minus money going out) for US stocks was $29 billion.
But in January 2000, after the NASDAQ's 85% run up, investors pushed another $44.5 billion into stocks. And they didn't stop there. In February, another $55.6 billion. And in March, another $40 billion.
No one wanted to miss out… that is, until the dot-com bubble burst on March 24, 2000.
By September 2001, the NASDAQ had lost 74% of its value.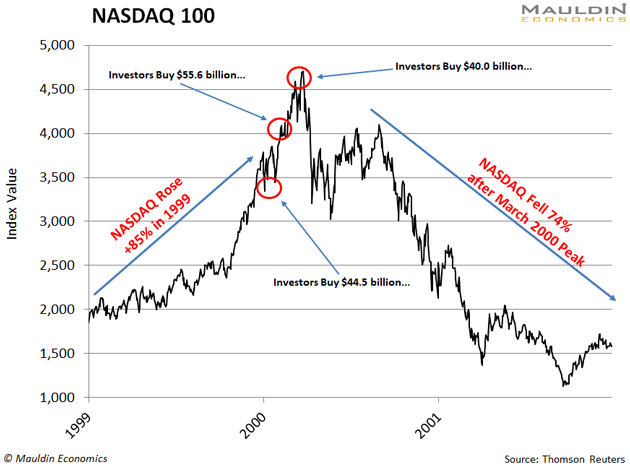 A lot of people lost a lot of money. Especially those who bought in late when stocks were already expensive.
Unfortunately, many investors are setting themselves up to make the same mistake today.
Nothing Goes Up Forever
Remember, this is the longest bull market in US history. This party won't go on forever.
That sounds like common sense. Yet people are still piling into stocks.
My research suggests that stocks will peak in mid-2020. The important thing to know, though, is that eventually stocks will fall. We got a taste of this recently when the Dow Jones Industrial Average fell 800 points in a single day.
When the big drop comes, you don't want to be one of those people who bought high and sold low.
That said, not all stocks are off limits…
The Unicorn of the Investing World
Many safe and reliable dividend-paying stocks are still good buys right now.
Just look at the Dividend Aristocrats, the top tier of dividend-paying stocks. These are companies that have increased their dividends for more than 25 years in a row. You need a resilient business in order to do that… a business that can prosper during good and bad times.
Since 1990, Dividend Aristocrats have returned 11.6% on average, according to Bank of America Merrill Lynch. That's compared to 9.3% for the S&P 500.
Even better, Dividend Aristocrats have produced these higher returns with less volatility than the S&P 500.
Three Dividend Aristocrats to Buy Right Now
Stocks that offer higher returns with less risk are a bit of an anomaly. This is especially true now, with the stock market near all-time highs.
That's one of the reasons I focus on dividend investing. It's the safest and most reliable long-term strategy for investors.
And right now, these three Dividend Aristocrats are well worth buying.
First up is Walmart (WMT), one of my favorite dividend payers. Walmart is the largest US retailer. It also has a growing e-commerce segment that's starting to nip at Amazon's heels.
Walmart has increased its dividend for 31 years straight. So it has one of the safest dividends out there.
Next on my list is AT&T Corp. (T), the second-largest wireless carrier in the US.
AT&T was also the first provider to start rolling out 5G technology. The company expects to complete its 5G nationwide network next year.
Meanwhile, AT&T has a 5.9% dividend yield. That's nearly three-times the yield on the S&P 500. And, since the company has increased its dividend every year for over three decades, the payout is safe.
Our final Dividend Aristocrat is Coca-Cola (KO). KO is the largest nonalcoholic beverage company on the planet.
The company has a dividend yield of 3.0%, and it's increased its dividend for 57 years in a row.
I expect late comers to keep buying up stocks while this bull market rages on. But if history is any guide, you want to be extremely cautious about what you buy right now.
Certain companies—like the three safe and reliable dividend-payers I just told you about—are much better positioned to weather the downturn that's inevitably coming.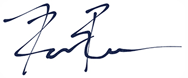 Robert Ross
P.S. Even with the huge run up in stocks over the past decade, there are still a lot of safe dividend-paying stocks worth buying right now. In fact, I have 18 of them in the portfolio for Yield Shark, my premium investment service.
This includes AT&T, which is up over 31% since I recommended it to subscribers last December.
I'm revealing a new top-tier dividend payer in the next issue of Yield Shark out Tuesday.
You can read all about it, and get my 18 other buy-rated stocks,
by clicking here to start your risk-free trial
.