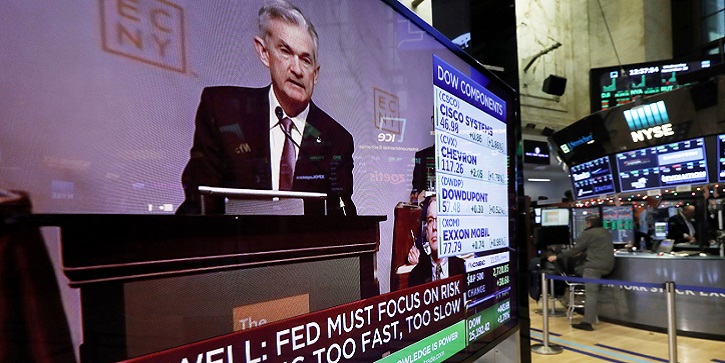 Rates Will Keep Dropping… Pushing Preferred Stocks Even Higher
Robert Ross
|
|
September 25, 2019
---
An entire class of high-yield stocks just got a big boost.
Fed chairman Jerome Powell announced last Wednesday that the central bank will cut interest rates by 0.25%.
But we expected this. Investors had already priced in a 100% probability that the Fed would cut rates, according to global brokerage CME Group.
This is the second rate cut in the last three months. But it's only the beginning.
As I'll explain shortly, I expect the Federal Reserve to lower interest rates two more times this year.
This is great news for a special class of high-yield stocks called preferred stocks. That's because preferred stocks surge when interest rates fall.
Stocks that Are Sort of Like Bonds
Let's start with the basics. There are two main types of stock: common and preferred.
When you own preferred shares, you own a slice of the company. And the value of that slice—the share price—can go up or down over time. It that sense, it's just like owning common stock.
However, preferred stocks also pay a fixed dividend. This makes them a bit like bonds. (More on bonds in a moment.)
Not all publicly traded companies issue preferred shares. It's most common among banks and other financial firms.
Also, you don't need to jump through any special hoops to buy preferred shares. They're accessible through an ordinary brokerage account.
So what's the trade-off?
Well, preferred stocks generally have less upside than common stocks. But they generally also have less downside. This can be a great thing when stock market volatility is rising.
Many Investors Are Still in the Dark About Bonds
–The Wall Street Journal

Get ahead of the crowd with Jared Dillian's new Bond Masterclass.
Everything you need to know about bonds... and nothing you don't.
Important Announcement for The Weekly Profit Readers
Before we move on, a quick aside about bonds…
Years ago, back when I was first cutting my teeth as an analyst, I had the good fortune to be mentored by one of the best in the business: Jared Dillian.
I worked alongside Jared for many years and learned an incredible amount from him. He's one of the sharpest minds on the planet. And he has a way of distilling things down to their essence.
That's why I'm so excited about an educational course he just launched called the Bond Masterclass. It has everything you need to know about bonds, presented in a way that's vintage Jared Dillian: concise and easy to understand, with a twist of humor and a distinct lack of BS.
I highly recommend checking it out. As an added bonus, Jared is offering it to Mauldin Economics readers at a large discount before he takes it to the general public, which should make this decision even easier…
With that, let's turn our attention back to preferred stocks.
A Good Way to Steady Your Portfolio
Income investors should own some preferred stocks for two key reasons.
First, preferred stocks tend to be much more stable than common stocks.
HSBC provides a good example of this. Take a look at the company's preferred and common shares over the last year in the chart below. As you can see, its preferred shares (the black line) have fluctuated far less than its common shares (the green line):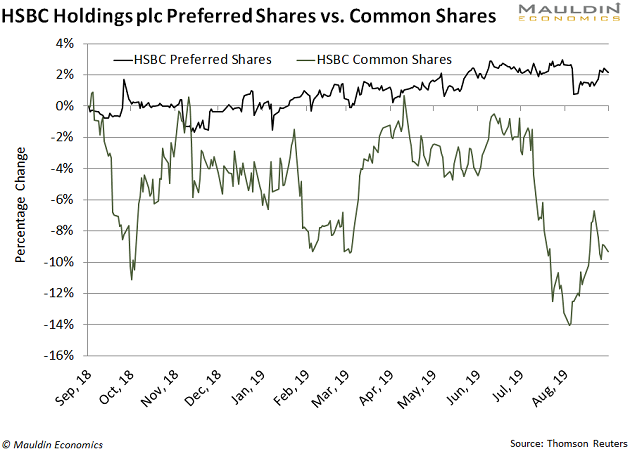 This kind of stability isn't limited to HSBC. It's the norm for preferred stocks. This is why they can help stabilize your overall portfolio.
US stocks have been on a roller coaster ride over the past few months, making this all the more important right now.
The second reason to own preferred stocks is their high yields…
Yields 3X Higher than Most Stocks
Regular readers know we focus on safe and reliable dividend-paying stocks here at The Weekly Profit.
Preferred stocks fit that bill. That's why I keep around 5% of my portfolio in preferred stocks.
The iShares Preferred and Income Securities ETF (PFF) is a good proxy for preferred stocks in general.
As you can see in the table below, PFF's dividend yield is almost two-thirds higher than the yield on the iShares Select Dividend ETF (DVY), our proxy for high-dividend common stocks.
PFF's yield is also over three times higher than the yield on the S&P 500.

Remember, preferred stocks pay a fixed dividend, usually every month or quarter. This makes them a bit like bonds. And the company must satisfy these payments before it pays a dividend on its common stock.
Like bonds, preferred stocks are also very sensitive to interest rates.
When interest rate rise, the value of preferred stock falls. The opposite is also true: When interest rates drop—as they have recently—the value of preferred stock goes up.
Interest Rates Will Keep Dropping
If you own preferred stock, interest rates are your friend right now.
Here's why…
The Fed kept interest rates near 0% from 2008 to 2016. This made it much cheaper for businesses to borrow money, pushing up the prices of things like houses and stocks.
Then between 2016 and 2018, the Fed started to hike interest rates.
Eventually, the weight of higher rates—and the Fed signaling they would head even higher—became too much to bear. The combination pushed stocks down 20% from October to December last year.
The big market selloff seemed to spook the Fed into abandoning higher interest rates. I expect it to cut rates two more times before the end of the year.
Again, this is great news for preferred stocks. Let's take a look at three of your top options here.
Three Preferred Stocks to Buy Now
One of the best ways to buy preferred stock is through an exchanged traded fund, or ETF.
SPDR Wells Fargo Preferred Stock ETF (PSK) is a great way to go. The fund holds preferred stocks from banks like Citi Group, PNC Financial, and HSBC. It also pays a 5.8% dividend yield. Plus, PSK has a low expense ratio of 0.45%. So you're not losing money to excessive management fees.
The First Trust Preferred Securities and Income ETF (FPE) is another good choice. The fund is mostly made up of real estate preferred shares from companies like Emera Inc., NiSource Inc., and Catlin Insurance Company. It also pays a 5.6% dividend yield. This ETF is very liquid, trading an average of 1.1 million shares per day.
Last, we have the VanEck Vectors Preferred Securities ex Financials ETF (PFXF). The fund mainly holds utility preferred stock like AT&T, Duke Energy, and Southern Company. It also pays a 5.2% dividend. The company also has the lowest expense ratio of the bunch at 0.41%.
You might recall that I told readers to buy preferred stock back in April, ahead of the recent rate cuts. With more cuts looming, now is the time to add these stable, high-yield stocks to your portfolio if you haven't already.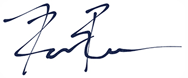 Robert Ross