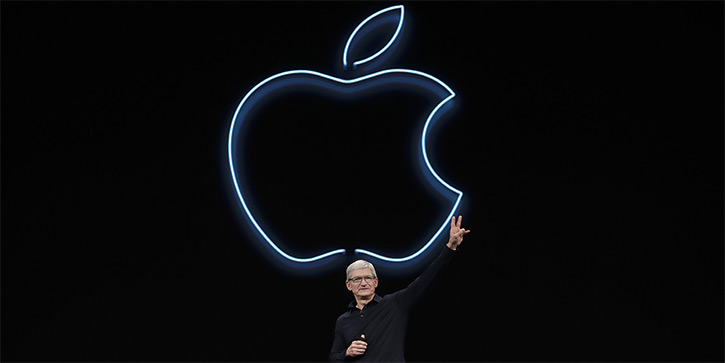 These Dividend Payers Are Bucking the Cutting Trend
Robert Ross
|
|
September 9, 2020
---
2020 has been a minefield for dividend investors.
The COVID-19 pandemic pushed businesses into full-blown panic mode. Nobody knew how long lockdowns would be in place… or how long the virus would be bringing American life to a halt.
That made businesses pull back on spending. And the first thing many companies cut was their dividends. In total, global companies cut dividends by 22% in 2020: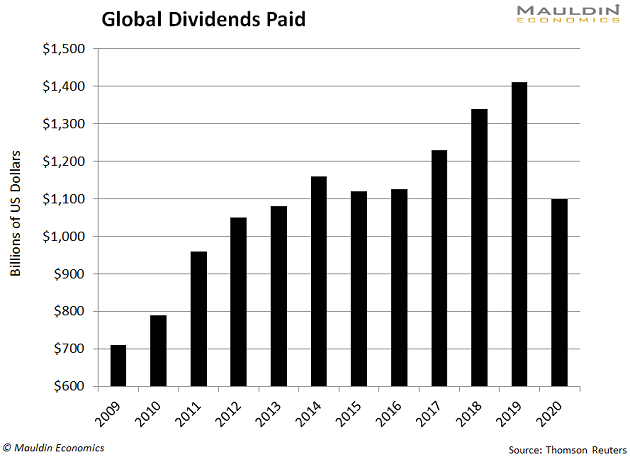 27% of dividend-paying companies have cut their dividends so far this year. That makes 2020 the worst year for dividend investors since the global financial crisis.
We stayed on top of these dividend cuts throughout the crisis. From cruise ships to casinos, we steered away from companies whose payouts my Dividend Sustainability Index identified as being in danger.
This year is the worst in a decade for dividends. But the news isn't all bad. Some companies are actually raising theirs.
Today, we'll look at two dividend raisers, plus a Steady Eddie stock that is keeping the payouts and its services flowing without interruption.
Let's Get Real about Dividends
Paying dividends shows investors how strong your business is. After a company pays all it expenses and reinvests in the business, the best ones use leftover cash to reward their shareholders.
This often happens in the form of dividends.
It's almost always a good sign when a company pays a dividend. When it's raising those dividends—especially at a time when most are cutting theirs—it's a really good sign.
That's exactly what we're seeing in a handful of industries.
At the top of this list is the technology sector. The tech-heavy Nasdaq-100 Index is sitting well above its pre-pandemic highs: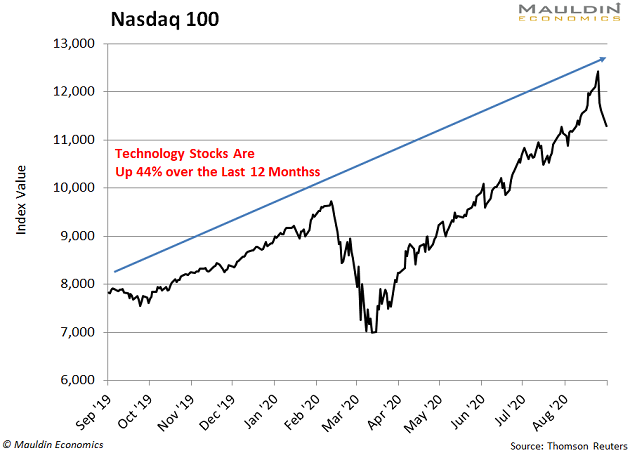 And its dividends have been on the rise as well. The technology sector saw its dividends increase by 1.8% so far in 2020.
This Tech Has Raised Its Dividends above the Rest
The king of all tech stocks Apple (AAPL) is leading the way when it comes to dividends. Not only is the stock up 60% in 2020, but it's also raising its dividend as well.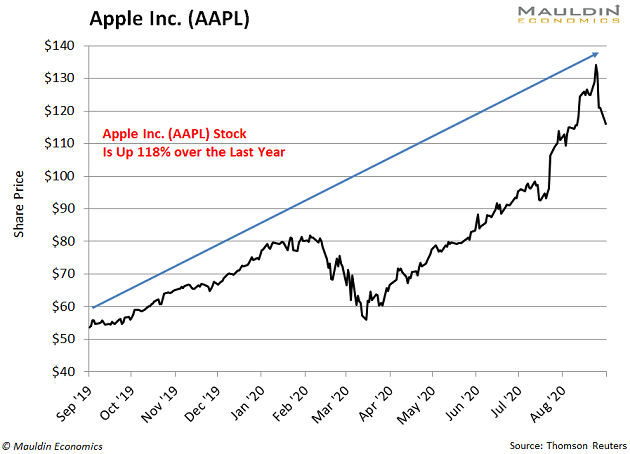 Apple is the 10th-largest dividend payer in the world. The company paid a whopping $13.8 billion in dividends over the last 12 months.
That includes a 6.5% dividend hike in May.

That's a solid boost for any company. The fact that it happened during a global pandemic is a testament to Apple's strength.
But tech isn't the only industry getting in on the fun…
Telecoms Have Been Big Winners Too
The telecom sector includes companies that enable communication. Think phone lines, cable, or wireless internet.
These services are stable during "normal" times. But now, the companies that build, maintain, and improve the infrastructure to let people connect are hotter than ever.
In fact, the companies that make it possible to work remotely and video-chat with friends more than ever were spared from any COVID-19-related downturn.
This fact shows up in the industry's dividend payments…
Telecom is the only other sector that's seen positive dividend growth in 2020.
That's not saying much, as the sector has only increased payments by 0.1%. But with most sectors cutting their dividend payouts by double digits, we'll take small growth any day.
That's especially true for Verizon Communications (VZ). Even before the pandemic, VZ paid a hefty 4.2% dividend yield. That's more than twice the yield on the S&P 500: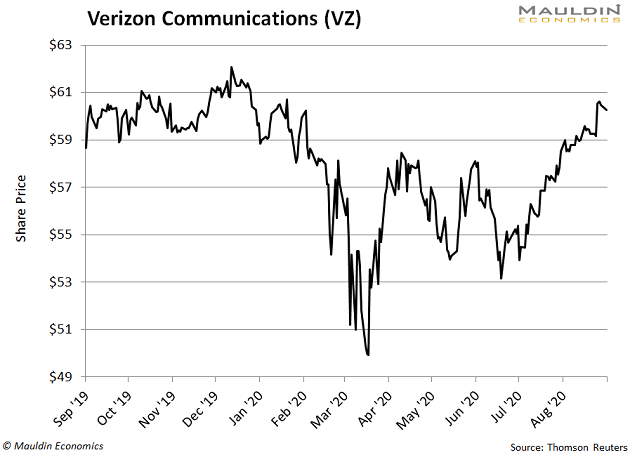 And with such a strong underlying business, VZ was able to increase its dividend payout by 2% last month.
Not bad for the worst year for dividend investors in a decade.
This Stable Sector Isn't Going Anywhere
Technology and telecom stocks were the only industries that saw dividends grow in 2020.
What you didn't hear amid the cacophony of dividend cuts was that certain industries were able to keep their dividends in place.
Utilities are a great example. These are the companies that maintain public infrastructure. They deliver electricity, sewage, and water services to people in a specific area.
Most people pay their gas, electric, and water bills, even if they have to cut back on spending elsewhere. That makes utility companies among the most essential businesses out there.
Which one deserves a chance to serve your portfolio?
Take a look at Atlanta-based Southern Co. (SO). It is the second-largest utility by customers in the US, serving nine million clients. That broad base makes business especially stable… even when a global pandemic shuts down large parts of the US economy. So it shouldn't be a surprise that SO raised its dividend 3.2% in May when much of the US was still under stay-at-home orders.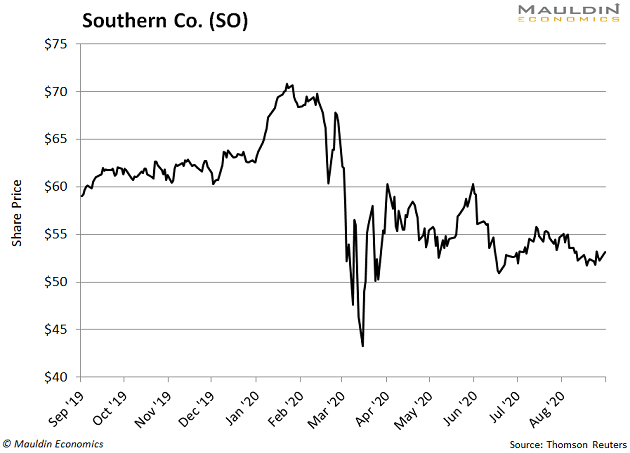 That fact alone should put to bed any suggestions that SO's 5% dividend isn't safe.
When you consider the company's stable payout ratio of 81%, there is little room to fear with this dividend kingpin.
While it's been a tough year for dividend investors, there's always a bull market somewhere. And for dividend investors in 2020, it's been in technology, telecom, and utilities.
Any of these income stocks are worth considering, especially on a pullback.
For full disclosure, SO is an active recommendation in my Yield Shark advisory. And right now, I'm getting ready to give my subscribers a brand-new pick that offers a fat dividend plus some nice potential upside to boot. To make sure your name is on the list to receive it as soon as it's ready, click here.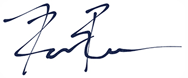 Robert Ross