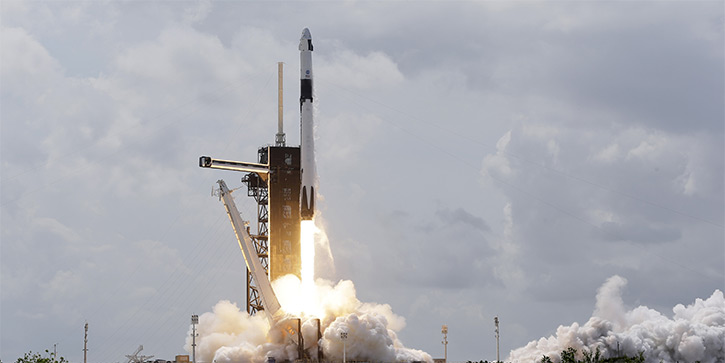 These Space Stocks Are Taking Flight
Robert Ross
|
|
June 3, 2020
---
On Saturday, Elon Musk's SpaceX became the first private company to launch humans into space.
The two astronauts aboard the reusable Crew Dragon capsule reached the International Space Station on Sunday for a demonstration mission. Later this year, NASA plans to send four more astronauts to the ISS via Crew-1, its first operational mission.
Welcome to the dawn of the commercial spaceflight industry.
Space Exploration Is Back… and It's Booming
A lot has changed in the last decade when it comes to spaceflight.
After NASA's budget got slashed in 2013, US space missions grew dependent on the Russian space program. We've been paying up to $80 million per seat to ferry our astronauts into space. And NASA is reportedly paying Russia $90 million to send an astronaut and some cargo into space this fall.
But you should never count out human ingenuity… or Elon Musk.
SpaceX got a cool $2.6 billion to make possible six operational crewed missions for NASA. And it's just one of a handful of companies already making otherworldly returns.
If you hop aboard the right ones, you can, too.
So today, we'll look at some of the hottest stars to shoot for.
One Small Step for Man…
50 years after Neil Armstrong first stepped on the moon, private industry is breaking into the space race.
And there's a ton of money flowing into the industry.
A total of $415 billion was spent on the space industry in 2019. That's up 79% since 2009: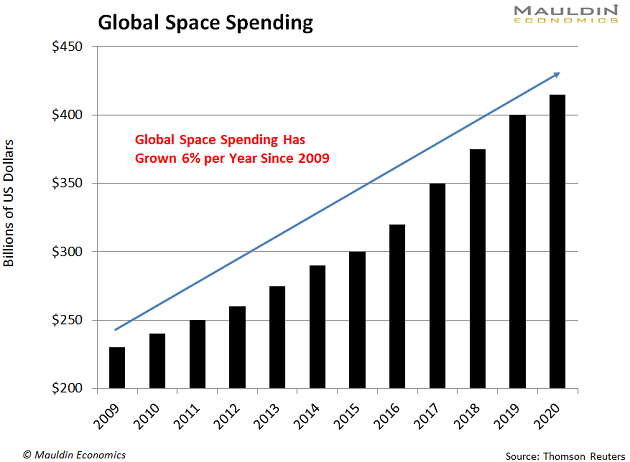 80% of this spending is from private industry. These companies are building everything from satellite systems to deep-space rocket technology.
And while the growth has been explosive, it shows no signs of slowing down. In fact, Morgan Stanley expects the global space industry to generate over $1 trillion in revenues by 2040.
That's up from $350 billion today: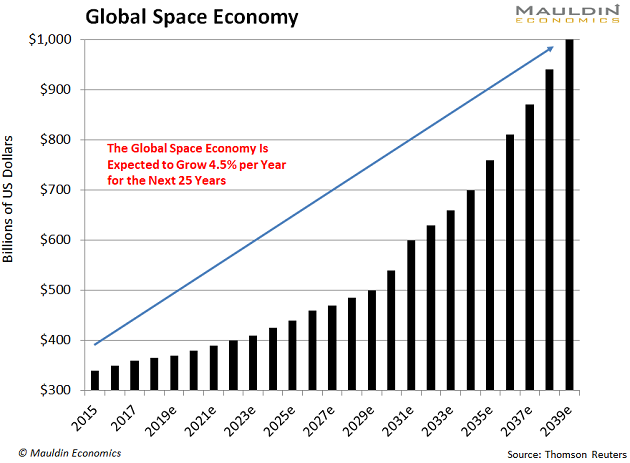 And a lot of this money is coming from the US government.
This Sector Never Rests
Companies left and right have been slashing or even refusing to make profit forecasts for the rest of the year because of the coronavirus and its impact on the economy.
But we have every reason to expect a rebound in the defense sector, with US defense spending expected to reach a whopping $738 billion next year.
That's nearly 20% of the federal budget and the fifth straight year of higher spending.
And even though we're in a recession, that shouldn't hurt military spending.
How do I know this?
Well, it's a fact that US defense spending has grown during the last six recessions: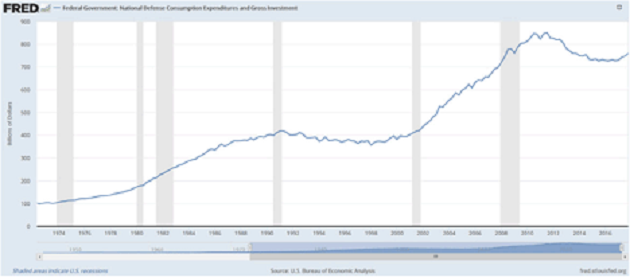 Source: St. Louis Federal Reserve
During recessions, consumers spend less and businesses slash investment.
That's exactly what happened during the 2007–'09 global financial crisis.
Yet, during this same period, the US hiked military spending by over 12%.
That's incredible staying power. And it shows no sign of slowing down… especially for the space defense industry.
And the Fastest-Growing Military Segment Is…
…space spending: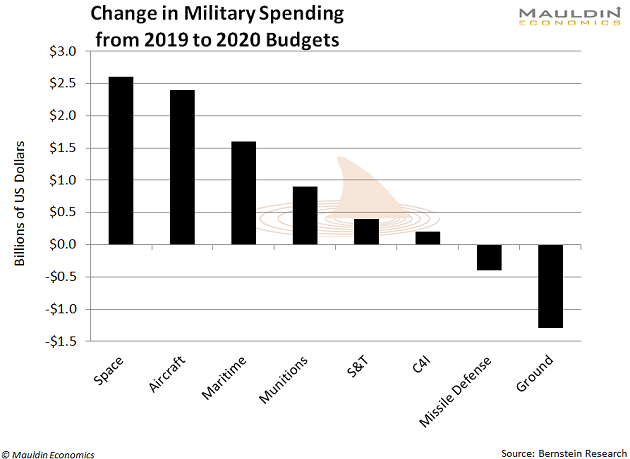 The Trump administration earmarked $14.1 billion of the latest budget for national security space programs—a 20% jump from last year.
The money will go to the US Air Force and three new space-related departments: US Space Force, US Space Command, and the Space Development Agency.
To develop these new agencies means money will flow into US defense contractors who specialize in space and advanced missile technology.
And 100% of space-related budgets are spent on American companies.
And if you own the stocks of those companies, you can ride them higher—like a rocket—over the coming years.
These Two Space Stocks Could Go to the Moon
There are a few ways to go about investing in the private space industry.
The most obvious move here is to buy large defense companies. High on my list is Northrop Grumman Corp. (NOC). The defense contractor has a steady foothold in the space industry. Whether it's spacecraft manufacturing, precision sensors, or launch vehicles, NOC has significant exposure to the global space boom.
The company also pays a safe and reliable 1.7% dividend yield. So investors who want exposure to higher space spending, along with steady dividend income, will be hard-pressed to find a better company than NOC.
Next on my list is Garmin Ltd. (GRMN). While most of you probably remember Garmin from its days as a car GPS company, they have significant aviation and space exposure. For instance, 20% of the company's sales are from aerospace.
The company is also a major dividend payer. GRMN currently sports a 2.7% dividend yield on a low and stable payout ratio.
Northrop and Garmin are among my top choices to capitalize on the commercial spaceflight trend. But if you want to gain access to my No. 1 space exploration pick… plus 13 other buy-rated dividend-paying stocks… click this link here.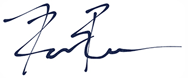 Robert Ross