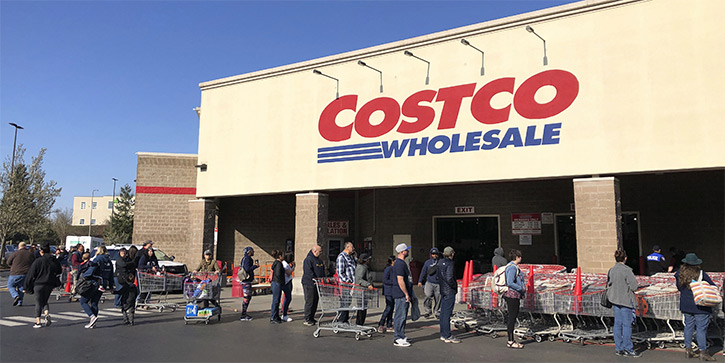 These 3 Stocks Are Raising Dividends (While a Whole Bunch Are Ending Theirs)
Robert Ross
|
|
May 27, 2020
---
Talk about a minefield for dividend investors: 83 companies have suspended or even canceled their dividends this year.
This is far from the norm. That 83—so far—is the highest number in a calendar year since 2001.
In fact, more companies have cut their dividend—142 of them—in 2020 than in the last 10 years… combined. And it's only May!
With many industries struggling in the aftermath of the COVID-19 pandemic, they're looking for every way to preserve cash. The projected savings from these dividend cuts, suspensions, and cancellations adds up to around $23 billion.
We've covered a handful of these industries here. Whether it's energy, airlines, or cruise ships, we've been right on top of the industries ripest for a dividend cut.
But while Ford Motor (F), Delta Air Lines (DAL), and Carnival (CCL) have all cut their payouts, some industries are raising theirs.
The Downlow on Dividends in 2020
Dividends signal to investors how confident a company is in its business. They pay you when they have cash left over after they pay off their expenses.
It's almost always a good sign when a company pays a dividend. It's an even better sign when they raise those payments regularly.
And when a company boosts its dividend during a global pandemic… it signals to investors that the business is well managed and the company is doing just fine.
This is exactly what we're seeing in a handful of industries.
This Big Blue Tech's Dividend Is Still in the Black
One industry that's been thriving during the pandemic is technology.
While some of the highest-flying stocks like Zoom Communications (ZM) and Netflix (NFLX) do not pay dividends, some of the biggest names do.
For instance, take a company we've talked about before: IBM Corp. (IBM).
IBM shares are down 12% this year. But this short-term weakness hasn't scared off Big Blue's management. In fact, the company increased its payout by a penny in April.
While it may seem small, that's a big deal in any type of investing environment. Keep in mind, too, that IBM has increased its payout for 25 straight years. And with the company paying a fat 5.5% dividend yield on a low payout ratio, IBM remains one of the best high-yield stocks on the market.
Tech stocks have been on fire lately. But it's not the only industry that's growing its dividends…
Forget Big Blue—It's Blue Gold That Never Goes Out of Style
The average American uses 80 to 100 gallons of water per day.
Even during a pandemic, the only thing that really changes is the place where we are using it. And that's why water stocks are still holding up.
That's especially true for American Water Works (AWK). This US water utility has held up much better than the broader market during these uncertain times: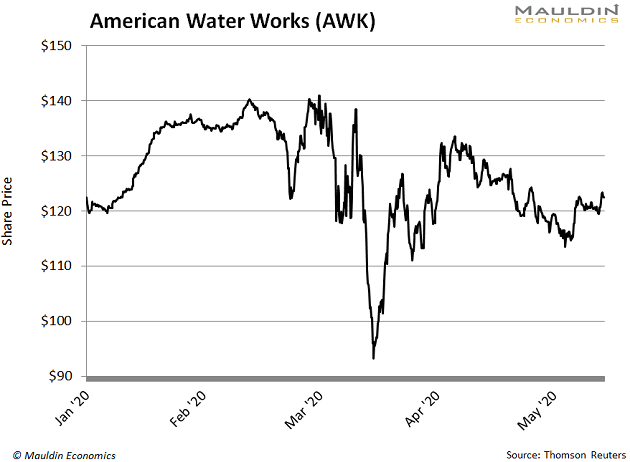 And that's one of the key reasons the company had no problem increasing its dividend last month. The company raised its dividend by 10% in April to 55 cents per share.
There were some fears that people would not pay their water bills because of the pandemic. But with the company raising its dividend so substantially, it seems AWK's management is not concerned with this scenario.
With a 2% dividend yield and a low payout ratio of 57%, we should see further dividend increases in coming months.
Speaking of a place that sells water, and all kinds of items in bulk… and a whole lot of them…
This Firm's Dividend Is Bulking Up
Many businesses are now reopening across the US after being shuttered for two months or longer. But essential businesses never closed.
And in many cases, they've been even busier than before.
So it shouldn't be a huge surprise to see Costco Wholesale (COST) raising its dividend. The company raised its payout 8% in April on the back of a pandemic-driven sales boost.
Fun fact: In April, Costco's monthly sales actually dropped for the first time since July 2009. It says about 70% of that drop was thanks to low fuel demand.
Considering it has raised its payout for 16 years—which included the global financial crisis and COVID-19 pandemic—management is confident this business can thrive in any environment.
Now, that doesn't mean there aren't loads of dividend traps out there. And while we've already seen a wave of cuts in 2020, I expect there to be many more in coming months.
For more stock ideas like IBM and Costco, along with timely buy and sell signals, consider taking my premium investing service Yield Shark for a spin. My job is to steer readers away from these dividend traps, and into stocks with steady—and steadily rising—payouts.
And considering we've never had a dividend cut in Yield Shark, I'd say I have a pretty good track record. Join us, and I think you'll agree. Check out Yield Shark risk-free for 30 days here.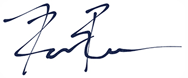 Robert Ross