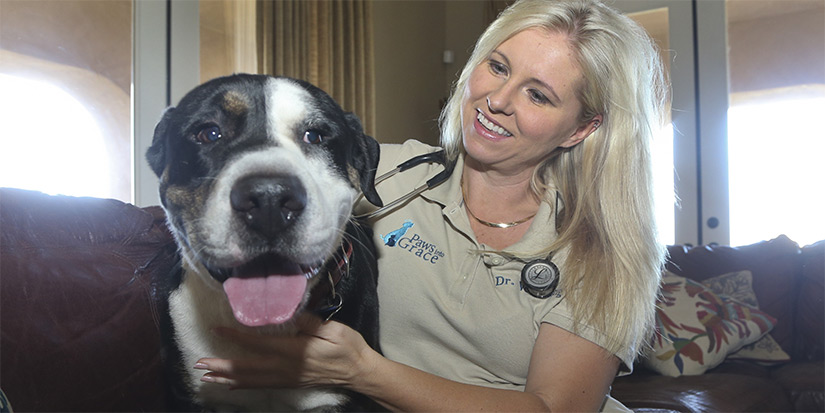 You'll Want to Own This "Dog" of a Stock
Robert Ross
|
|
December 16, 2020
---
2020 has been the year of shortages.
COVID-19 threw more than just the supply chains of meat, paper products, and disinfectants out of whack this year.
Now it seems there's a shortage of… pets?
At the Society for the Prevention of Cruelty to Animals here in Los Angeles, adoptions more than doubled in 2020. This has led to a shortage in dogs and cats for companionship.
My cousin has been seeking a new pet for several months. Finally this week, a French bulldog named Moose turned up at a shelter: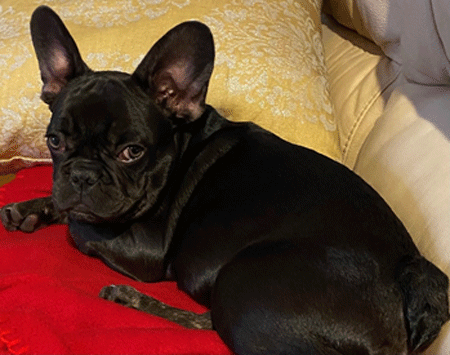 When I see a market where demand is insatiable, my ears perk up just like Moose's when it's time to eat.
In the pet care market, there are several companies just waiting to feed that growing appetite.
And the best among them offer a special treat for investors, too.
Pet Care Stocks Are Outperforming the Broad Market
The US is currently in recession, and people and businesses tend to rein in their spending during recessions. But not when it comes to pet care.
In fact, spending on pet food, veterinary services, and other supplies even grew during the last two recessions: 29% during the 2001 recession and 17% during the 2008–'09 recession.
The ProShares Pet Care ETF (PAWZ), which represents a basket of pet care stocks, is up nearly 50% for the year so far. That's crushed the S&P 500 and even beat out the unstoppable Nasdaq: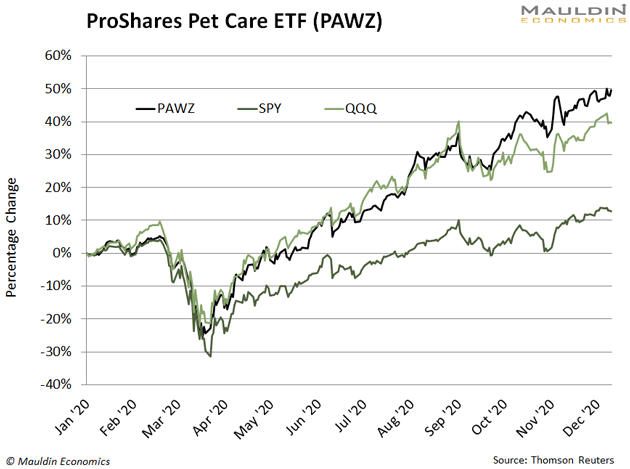 If history is any guide, we're going to see this trend gain even more momentum.
That's because we're adopting more pets than ever… and that means we're buying food, toys, and other creature comforts to spoil our furry family members.
We Spend Big on Pets, Even in a Recession
More than two-thirds of US families own pets, according to the National Pet Owners Survey.
This figure has increased around 2% annually since 2011. But spending on those pets has grown almost 7% a year.
Veterinary care spending has grown especially fast. It shot from just under $5 billion to $48 billion between 1991 and 2019. That's three times faster than US GDP grew over the same period… even with four recessions!
Pet owners would rather skimp on other things like daycare, obedience classes, and boarding before they downgrade to cheaper pet food or cut back on supplies.
Here's Where Pet Owners Spend the Most Money
You might skip your regular dog-grooming appointment during a recession, but you're not going to skip your pet's medication.
The $15 billion pet medication industry is proof positive of that. Pet medication sales are growing twice as fast as overall pet spending.
The pet medication market will be the highest growth area of the pet care industry for the next decade, reports market research firm Packaged Facts. It expects new products for flea and tick prevention as well as itch relief to drive sales.
This means certain pet care companies should enjoy predictable cash flows and sales growth, even during a recession.
It also means stable share prices for stockholders when they're looking for it the most.
For income investors, here's a trio that pay you for your ownership.
Three Dividend-Paying Pet Stocks to Put under the Tree This Year
When it comes to dividend-paying pet stocks, it's hard to top PetMed Express (PETS).
PETS is a leading, nationwide pet pharmacy. The company markets over 3,000 prescription and non-prescription medications for dogs and cats directly to consumers.
PETS pays a hefty 3.8% dividend yield. It also has a low payout ratio of 73%, which tells me the dividend yield is safe.
Shares are up 30% this year but look attractively priced here at $30 and change. This looks like a good way to take advantage of the growing pet health market.
Next, we have Pets at Home Group (PAHGF).
The company operates a network of stores, pet services, and veterinary services in the United Kingdom. The stock trades on the over-the-counter market for a little under $5 a share.
The company pays a high 2% dividend yield. And just like PetMed Express, Pets at Home has a low payout ratio and low debt. That tells me the dividend is safe and will likely keep growing in 2021.
My last pet care pick is Patterson Companies (PDCO).
The company distributes diagnostic and surgical equipment for the veterinary industry. It has a very high 6% dividend yield and a low payout ratio, making it a good fit for any dividend investor's portfolio.
PDCO is up a whopping 58% this year and recently traded for $32 and change.
With any of these names, you're likely to find that pet stock ownership can really pay dividends.