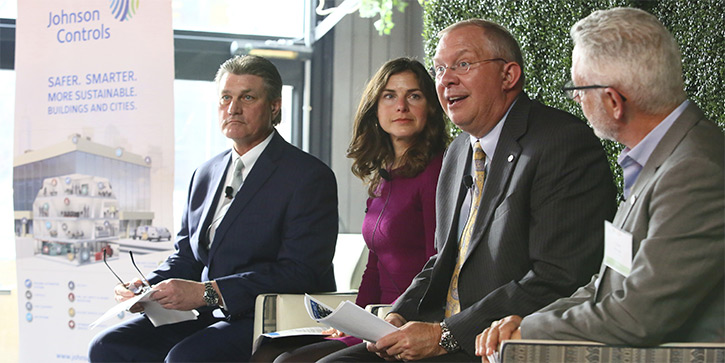 Automating the Fight Against COVID-19
---
For workers, returning to conference rooms, cubicles, and community kitchens post-COVID can seem too close for comfort.
For employers who want to put people back to work safely, spacing out desks and installing santizing stations may not be enough.
And for one Ireland-based company that outfits social and commercial spaces with smart technology, this opens up a big opportunity.
Workplaces Are About to Get Smarter
Office buildings, malls, and factories are full of machines. (Machines whose surfaces can attract viruses and germs, which we'll get to in just a moment.)
Right now, we're talking about elevators, escalators, security cameras, HVAC systems, and many other "dumb" devices that plod along, each doing one specific task.
Smart buildings are different. They get extra Mensa points because all those seemingly independent systems are linked together.
Some of these buildings are about to get a lot smarter than others.
The smart buildings of tomorrow, like today's, will be monitored or controlled onsite or remotely. But with a twist.
That is, they will be overseen by systems that use artificial intelligence.
Integrating AI into how buildings are managed has opened a new era of possibilities for what smart buildings can do.
It will all be made possible by the use of sensors. And owning companies that make these sensors will be a profitable move.
One of our favorite sensor companies is Johnson Controls International plc (JCI).
Here's why…
Dollars and Sensors
Smart buildings are already using sensors to lower energy costs. They turn off the lights when a room is empty, and they adjust the temperature to maximize comfort and minimize run time.
But AI is taking building efficiency beyond just dollars and sense. It can also:
Analyze how we move around a building, and
Devise improved use patterns that make sense in a COVID-19 world.
Sensors can tell us where people get bottlenecked, or where people get clustered together when they use equipment.
This information is then used to redesign space and change traffic patterns to better achieve social distancing.
Sensors can also monitor whether customers and employees are wearing masks, and even check body temperature.
But managing existing installations is just the tip of the iceberg for AI-driven smart buildings.
Automation Nation
As we gather and analyze more and more data, we will develop efficient use-based designs.
Mapping what parts of the building are being used by which workers, for what purpose, and at what times, will mean we can create data-driven floorplans.
Armed with this information, architects and engineers can renovate existing buildings, or construct new buildings, to be safer and more efficient.
No wonder the global building automation market is forecast to grow 62%—a 10.1% compound annual growth rate—in just five years.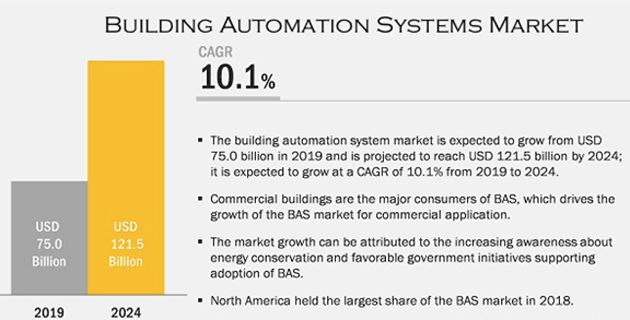 Source: MarketsandMarkets
And Johnson Controls will be part of, and profit from, that growth.
How JCI Outsmarts "Dumb" Buildings
Until recently, Johson Controls was known mostly for its car batteries and parts.
In 2014, the company began to pivot the business to focus on the building automation industry. Then in 2016, it spun off the automotive business.
Johnson Controls is now the largest pure-play company in the smart building sector.
Other companies like Honeywell (HON) and General Electric (GE) compete in this market. But for them, it is just one of many divisions within the company. For Johnson Controls, this is their core.
JCI designs, manufactures, and installs smart controls, sensors, and HVAC systems.
And this new business model seems to be working well…
From 2014 through 2018, JCI's operating income grew an average of over 22% a year. And that growth happened before the COVID-19 pandemic dramatically raised the need for automation.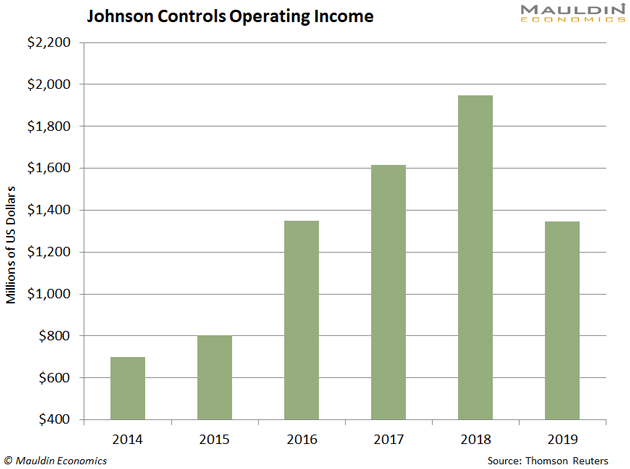 Fiscal year 2019 was a bumpy one for JCI. Operating income fell 30%, mostly due to one-time events. However, the company reported a 160%-plus spike in profits, driven by gains from the sale of parts of its old business.
Looking ahead, we expect a return to previous growth rates. And then JCI's business should accelerate even more as the adoption of automation and AI really builds steam.
JCI also operates in the process automation and AI operations space. Its solutions include AI planned and controlled labs and industrial plant automation… and much more.
Its clients span sectors from office buildings and factories to retail stores and research labs.
Global automation spending is expected to grow 150% from 2019 through 2023.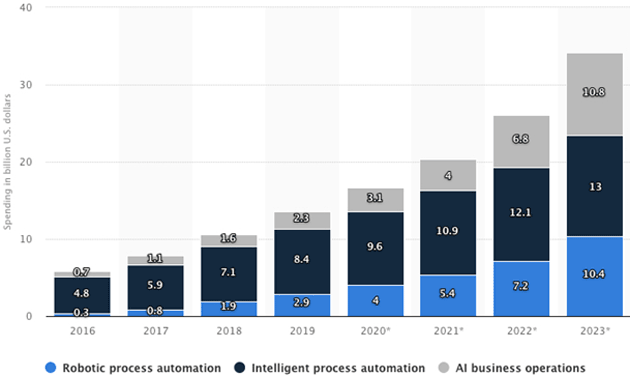 Source: Statista
The stock currently trades at a forward price-to-earnings ratio of around 19. That tells us there isn't much of a premium for JCI when compared to other industrial stocks.
That makes JCI a solid "triple way" play on the huge growth we see ahead in the automation, AI, and Internet of Things spaces.
The race to put in place systems that protect customers and employees in the new era of virus protection looks set to accelerate the use of AI, automation, and smart technologies.
Johnson Controls offers solutions and is positioned to benefit from this trend.
Tell us: Would you feel safer in "smart" public buildings?
Your Questions Answered
We received a great email about our recent article "As AI Goes Deeper, It Needs This Company's Brain" from Rich B., who writes:
"Can't take it anymore. Getting back into Nvidia (NVDA). Great company though price is high. I expect it to be around for years. Innovative and dynamic CEO."
RC: Thanks, Rich, for reading and for letting us know that you took action.
The coronavirus has been nothing short of challenging, but it has inspired many businesses to fast-track their efforts to digitize, automate, and accelerate their own efforts… and help other companies do the same.
It's exciting to think about what our world would have looked like in 10 years… and realize that it will look that way in the next two to five years.
Just a reminder, while we aren't making official recommendations in Reality Check, we do aim to share our favorite ideas for the longer term. Be sure to do your own due diligence before putting money to work.
And, as always, we love hearing from you. You can email us anytime here.