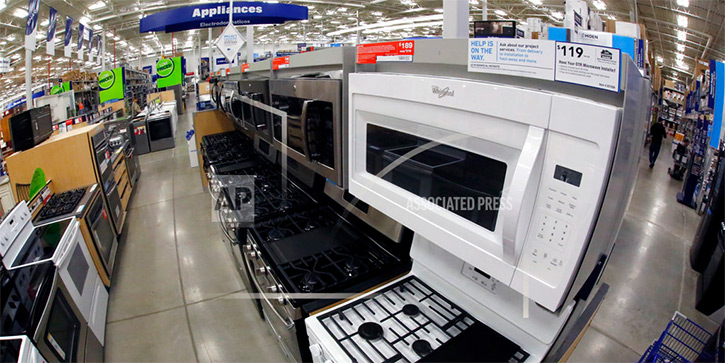 3 Surprise Winners in the Work-from-Home Economy
Robert Ross
|
|
October 14, 2020
---
Remember back in March when we were all going to work from home for "just a few weeks" until the pandemic was over?
Seven months later, that temporary fix has become a permanent option at some top employers like Microsoft (MSFT), Twitter (TWTR), and Facebook (FB).
The work-at-home trend is here to stay. A recent global survey showed 82% of managers plan to offer flexible work-from-home policies after the pandemic ends.
There are big benefits for companies that embrace the rise of the remote workforce…
Just yesterday, BlackRock CEO Larry Fink said we could have a cleaner, greener future if 50% of employees stayed home at any given time.
Plus, less office space means lower overhead for business owners. That's in addition to paying their remote workers less. And that's not just new hires.
Some companies are cutting current staffers' salaries an average of 15% if they choose to permanently work from home. If they leave the area, their pay could get slashed even more. Even so…
There are plenty more advantages for employees.
A Gallup poll found a majority of American adults would prefer to continue working from home "as much as possible" after the pandemic. No commutes, higher productivity, and a cleaner environment are a satisfying exchange for lunch dates and potentially better pay.
Technology companies are obviously benefiting from this trend. Demand has spiked for cloud computing services and all kinds of hardware, and it could go higher still.
The cloud play is in plain sight for most investors. But if you want an under-the-radar way to profit, read on. I've got three ideas for you.
The Work-from-Home Genie Isn't Going Back in the Bottle
Since they can work from anywhere with an internet connection, many Millennials—those 26 to 40 years old—are fleeing expensive cities like New York City, San Francisco, and Chicago.
This fact has largely cratered New York City real estate. Just look at the Empire State Real Estate Trust (ESTR), which owns a bunch of Big Apple office and retail properties: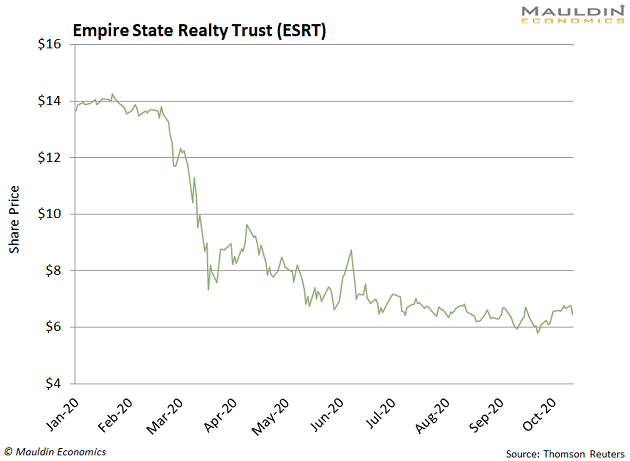 The fund is down 50% in 2020… with no signs of bouncing back. That's because all those employees who were paying sky-high rent to work in big cities are leaving for the greener pastures of the suburbs.
And when you factor in mortgage rates at all-time lows…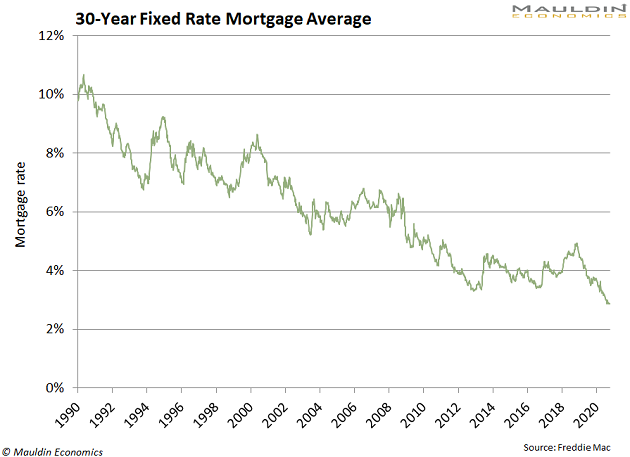 …it's no wonder the housing market—and housing stocks—are surging.
If You Build It, Profits Will Come
While housing prices typically fall during recessions, the opposite has happened in 2020.
That fact has sent housing stocks through the roof. For instance, the SPDR S&P Homebuilders ETF (XHB) is up 86% since March.
And this trend is being driven by Millennial home buying…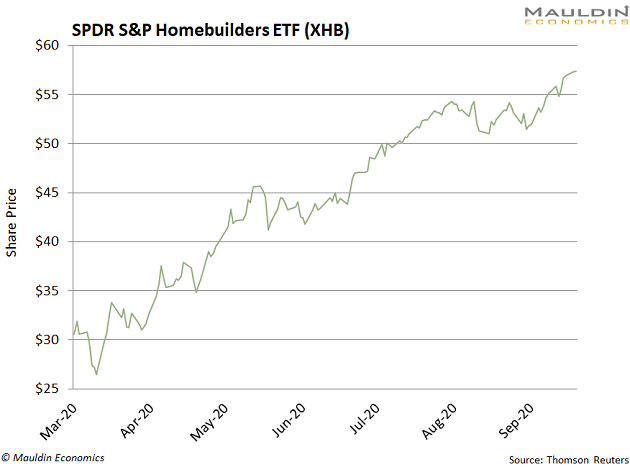 For years, this generation has struggled with homeownership. High student loan debt, housing prices, and a weak jobs market have restricted home buying. That's especially true since many Millennials lived in big cities (where most high-paying jobs are located).
And buying a home near a big city is near impossible…
For instance, the average monthly payment on a starter home in San Francisco is $5,181. That's compared to a US average of $752.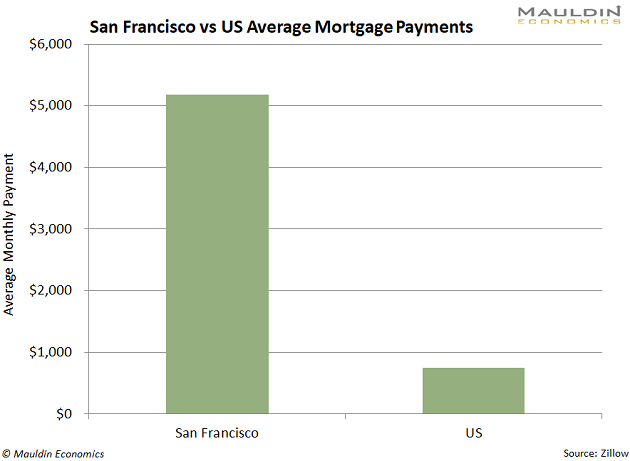 Now that Millennials can keep their jobs but work remotely, they are taking their large salaries to less affluent markets.
And the boom is just beginning… which is great news for these stocks.
Three Housing Stocks to Ride the Millennial Housing Boom
Regular readers know that my specialty is dividend-paying stocks. And just like every stock I talk about in The Weekly Profit, I run each pick through my proprietary Dividend Sustainability Index (DSI).
The financial model helps me separate the "safe" from the "unsafe" dividend payers. And since 2020 has had the most dividend cuts since the global financial crisis, it's more important than ever to know your dividend is safe.
After sifting through a basket of housing stocks, I found a few that are great additions to income investing portfolios.
For instance, at the top of my list is Whirlpool (WHR). The company is one of the largest home appliance companies in the world, making everything from washing machines to freezers.
But even better is the company's dividend yield. WHR pays a rock-solid 2.4% yield on a low payout ratio. When you add in solid free cash flow and low debt, WHR earned a 96/100 on the DSI.
Next on my list is Home Depot (HD). The company is the world's largest home improvement retailer. While the company has a solid physical footprint with 2,300 warehouses, HD is also the fifth-largest e-commerce company in the US.
The company has increased its dividend payout every year since 2009. And since the DSI gives HD's 2.1% dividend yield a 100/100, there's little doubt management will keep raising the payouts over the coming years.
Lastly, we have Leggett & Platt (LEG). While the company is known for its engineered components and furniture, I know it as a Dividend Aristocrat. That means it has increased its dividend for more than 25 years in a row.
And I don't expect that trend to end anytime soon. The company's strong free cash flow and dividend history earned it a 90/100 on the DSI. That means that LEG's 3.6% dividend yield is suitable for an income investor's portfolio.
If you're doing this on your own, keep your position sizes small and your stops tight in case there's volatility on the way higher.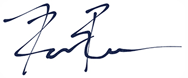 Robert Ross