I Want to Believe: These Space Stocks Promise Otherworldly Gains
Robert Ross
|
|
August 19, 2020
---
Whether it's group text messages or Zoom (ZM) video calls, COVID-19 has normalized the digital social life.
I'm in an active group chat with five college friends. And the topic recently turned from murder hornets unidentified flying objects.
It is 2020, after all. So you probably won't be surprised by this pair of crazy stories, either…
Multiple reports in The New York Times over the last three months have confirmed the military has retrieved "off-world vehicles not made on this Earth." That's in addition the Pentagon's newly formed task force to investigate UFOs.
Most of us will never see any of these aerial phenomena. But they give us many reasons to be bullish on space-related stocks. That's where we can see—and pocket—some real profits if we know where to look.
Best of all, you don't need a telescope to identify them because they are hiding right here in plain sight.
One Giant Leap for Mankind
Investing in the space industry can feel a bit like, well, rocket science.
But when you look at the industry's general growth trajectory, it's pretty clear why you should be bullish.
Morgan Stanley (MS) expects the global space industry to generate $1 trillion in sales by 2040. That's up from $350 billion today: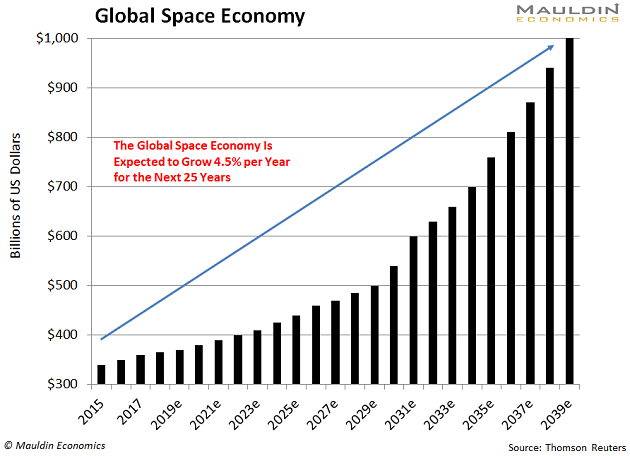 A large chunk of this growth will come from US military spending.
Military spending is expected to reach $738 billion next year. That's 20% of the entire federal budget.
Not even the current coronavirus recession should impact US defense spending. It has actually grown during the last six recessions:


Source: FRED
And while broader defense spending looks to be rising steadily…
Space Spending Is the Fastest-Growing Budget Item
The Trump administration has been one of the most pro-space administrations in modern history. For one, it has established a new, uniformed branch of the military known as Space Force.
But it has also invested heavily in the sector. The latest budget earmarked $14.1 billion for space-related projects. That was up 20% from 2019: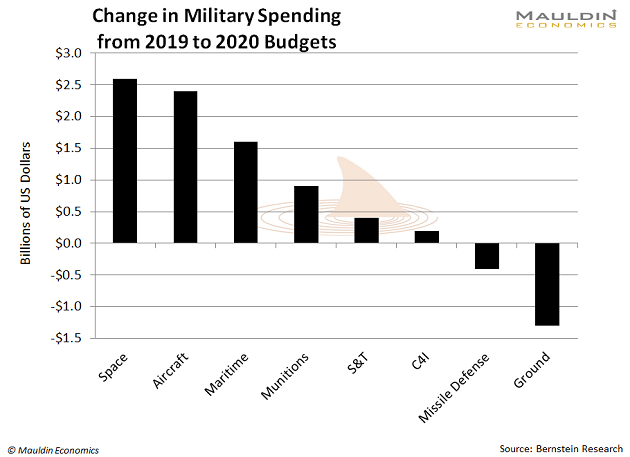 Space spending shows no signs of slowing down. And since 100% of this money will be spent on American companies, there are plenty of ways for investors to profit.
This Industry Directly Benefits from Space Spending
One segment of the space market that benefits heavily from US government spending is the satellite industry.
According to the Satellite Industry Association, satellite manufacturing alone is a $20 billion marketplace. It's dominated by large aerospace conglomerates like Boeing (BA):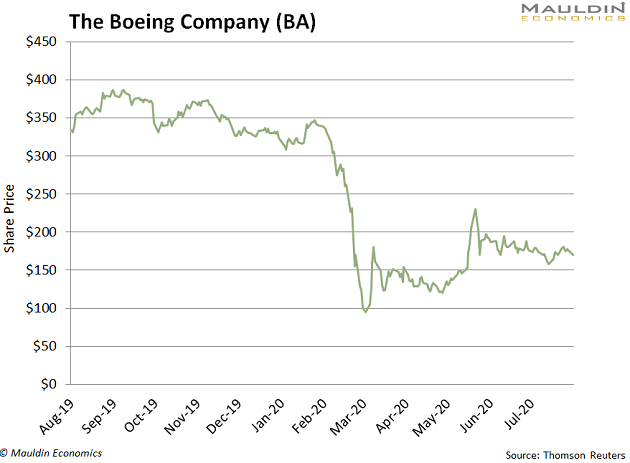 Boeing is an obvious beneficiary. But since it only generates a small part of its sales from space technology, it only benefits slightly from space spending.
Lucky for us, there are pure-play space companies like Aerojet Rocketdyne (AJRD):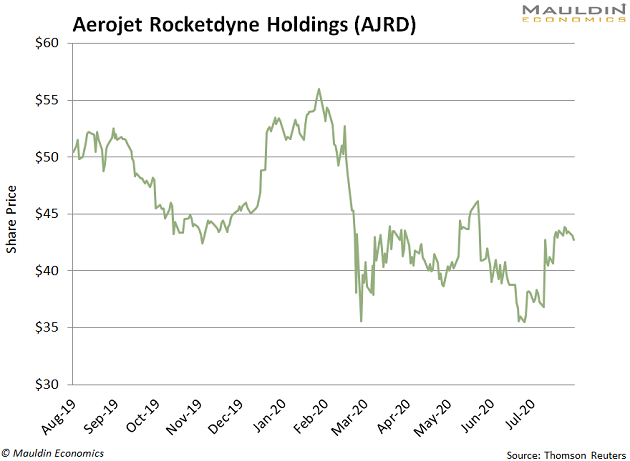 The company is the premier rocket and missile propulsion manufacturer. And since its largest customers are NASA, Lockheed Martin (LMT), and Raytheon Technologies (RTX), it benefits directly from higher government defense spending.
But there are better ways to profit from the new space race…
In addition to satellite manufacturers, you also have satellite operators. Once a company like Boeing uses Aerojet Rocketdyne rockets to launch a satellite into space, they have other companies operate and service these satellites.
One such company is Iridium Communications (IRDM). The company is responsible for 66 satellites used for worldwide voice and data communication:
IRDM provides critical services for pagers, satellite phones, and air traffic control systems. These are mission-critical systems that need real-time access 24/7.
But for dividend investors, there are a few other ways to play the booming space market.
These 2 Dividend-Payers are Out of This World
Neither Aerojet Rocketdyne nor Iridium pay dividends. Small, fast-growing companies just don't have extra cash left over each quarter to reward their investors.
So it follows that most pure-play space stocks will never pay dividends. But here's a duo of dividend-payers benefits directly from space technology…
The first is the world's largest telecommunication company, AT&T (T). AT&T is ingrained in the space industry. The company is even working with NASA to improve the Deep Space Network, which supports communications during interplanetary space missions: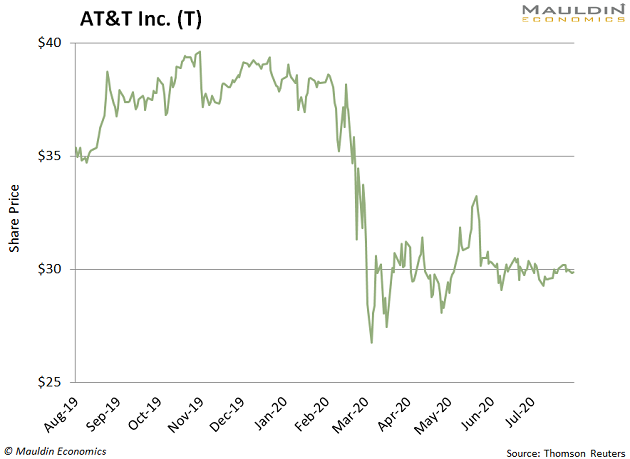 And when it comes to dividend payers, it's hard to top AT&T. The company is a Dividend Aristocrat, meaning it has increased its dividend for more than 25 years in a row. In AT&T's case, it has raised its payout for 35 years in a row.
But there are other space-related dividend-payers. For instance, you probably remember Garmin (GRMN) from those bulky GPS consoles. But the company has significant exposure to the space industry. Last year, 20% of the company's sales were from aerospace.
And with a 2.7% dividend yield, the company is a solid dividend option for income investors. But it's not my top option.
Subscribers to Yield Shark know there's one aerospace and defense company that rises above the rest. And with a dividend yield that's twice the yield on the 10-year Treasury bill, it's a great option for any income investor's portfolio. Click here to unlock this space stock and a slew of other dividend-payers.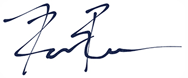 Robert Ross