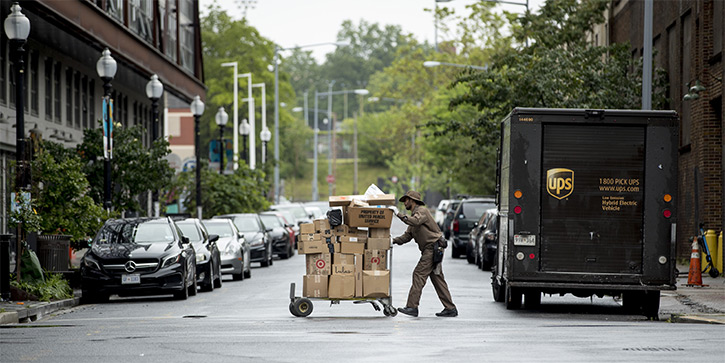 Plus vs. Prime: I'll Tell You Which E-Commerce Dividend-Payer to "Buy Now"
Robert Ross
|
|
August 12, 2020
---
Times are tough out here in California.
Actors, musicians, and artists make up about one-fifth of the Los Angeles economy. But with the COVID-19 lockdown putting major film shoots and live events on hold, our state's balance sheet is struggling.
However, we're seeing an unexpected plot development…
You've heard those rags-to-riches stories about struggling actors who work at a restaurant until they get their "big break." But with most LA restaurants closed or shedding staff, this storyline is evolving for modern times.
Instead of serving movie moguls and talent scouts a perfectly cooked NY strip steak or Chilean sea bass, I know at least three struggling actors who are now doling out packages for Amazon.com (AMZN).
It might not lead to a chance meeting that serves as a gateway to stardom. After all, couriers aren't ringing doorbells anymore.
But it could be a move that leads to long, and potentially lucrative, careers.
After all, US e-commerce spending is skyrocketing. Prior to the COVID-19 lockdowns, a mere 12% of US retail sales were done online.
But recent data shows online purchases nearly tripled in the last three months: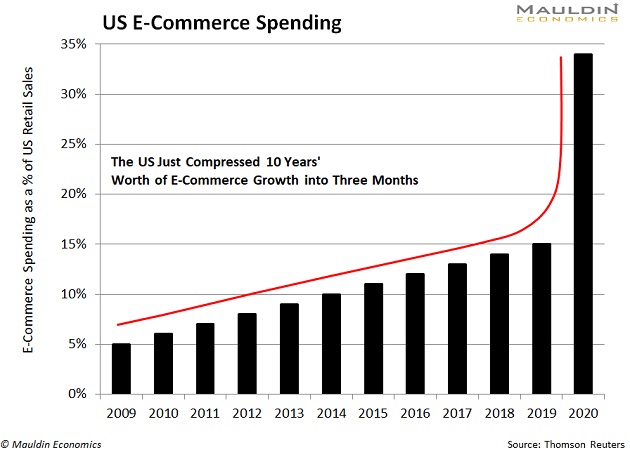 That's 10 years' worth of growth… in three months!
That's due in large part to necessity. Many Americans are simply too afraid to shop in stores these days. I've seen this personally with my parents.
For many weeks, my cousin bought and delivered all my mom and dad's groceries. It was too risky for them to be among crowds of people at the grocery store.
They were in good, socially distanced company...
Research firm CORE Insights says that 90% of people age 60 and older avoided US malls and shopping centers during the early days of the pandemic.
With coronavirus cases continuing to tick up across the country, these habits are likely to remain in place.
This Unloved E-Commerce Giant Is Rising to the Occasion
Everybody knows Amazon.com (AMZN) is the king of e-commerce. For every dollar spent online, $0.48 goes into Jeff Bezos' pocket.
Part of the reason for Amazon's dominance is that it created our appetite for fast, free shipping… and keeps feeding it even with a pandemic in full swing.
The crown jewel of this strategy is Amazon Prime. For $10 per month, you can get almost anything your heart desires delivered to you within 48 hours. Launched in 2005, this membership service generates $19 billion in sales and has 150 million subscribers worldwide.
It's the undisputed leader in an industry it created. But how many investors are in the market for a $3,000-a-share stock right now?
That's why, when I saw that Walmart (WMT) is launching a similar service, my ears perked up.
Walmart Is Making Up for Lost Time
Walmart was famously late to the e-commerce game. But it's quickly gaining ground.
In 2016, Walmart bought online retailer Jet.com for $3.3 billion. Some people panned the deal, but it's paying off. Walmart's online sales are up every year since: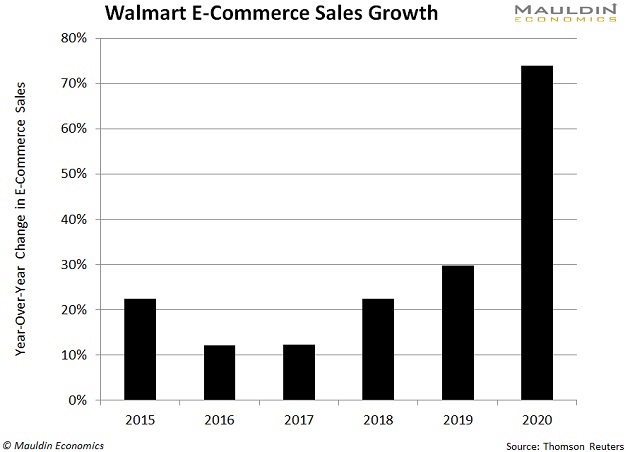 And now the company is launching its very own Amazon Prime competitor: Walmart+. The service will cost $98 per year.
Like Prime, Walmart+ will include same-day delivery for groceries and general merchandise.
But Plus earns its name for offering something Bezos' baby does not…
Walmart+: Why It's an Ideal Match for Amazon Prime
Unlike many retailers, Walmart's footprint stretches across the entire US. Its 4,700 stores put the company within 10 miles of 90% of the US population.
That's much closer than Amazon, which operates only 500 Whole Foods stores. This makes grocery delivery more difficult.
On the whole, Walmart's US retail footprint is triple that of Amazon's… even when you include the latter's fulfillment and data centers.
And with an RBC Capital Markets poll showing that 36% of Amazon customers are dissatisfied with their Amazon delivery, Walmart picked an ideal time to roll out its service.
Some of those respondents joined during the pandemic. Which means they may be likelier than most to try—and perhaps switch to—Walmart+.
Whether or not you'll use the service, as an investor I think you'll agree that…
There Isn't a Better Dividend-Paying E-Commerce Option
We talk about all sorts of stocks here in The Weekly Profit. But my readers know my specialty is dividend-paying stocks. And when it comes to dividend-payers in the ecommerce space, Walmart is hard to top.
There are three reasons for that…
For starters, it is the second-largest e-commerce player in the US:

Second, Walmart grew its ecommerce sales a massive 74% over the last year. This bests even Amazon's robust 48% growth.
And third, Walmart has one of the most impressive dividend resumes in the market.
Walmart isn't just a dividend-payer—it's a Dividend Aristocrat. That is, a company that's raised its dividend for at least 25 years running.
Walmart has upped its dividend 31 years in a row. And it's not about to give up that hard-earned crown: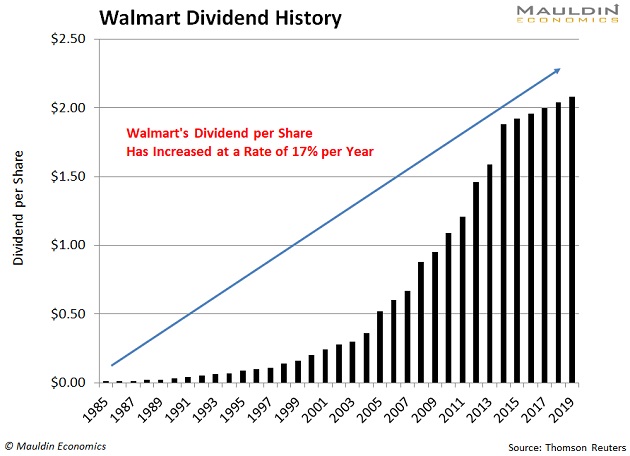 The company pays a modest 1.7% dividend yield, which my proprietary Dividend Sustainability Index (DSI) tells me is safe AND set to grow over the longer term.
Stocks that get a high score on my DSI system are aristocratic in their own right. My Yield Shark subscribers can attest that they've never seen a dividend cut in any of our active recommendations.
Full disclosure: Walmart is a relatively new addition to our Yield Shark model portfolio, but I expect it to reign for a long time to come. The same is true for eight stocks on our buy list that pay upward of 4% on top of capital appreciation.
To learn more about how I pick stocks with a powerful one-two punch of potential upside and stable, growing dividends, click here. Fill out the short form at the bottom of the page to unlock instant access to my full list of dividend-paying royals.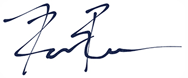 Robert Ross