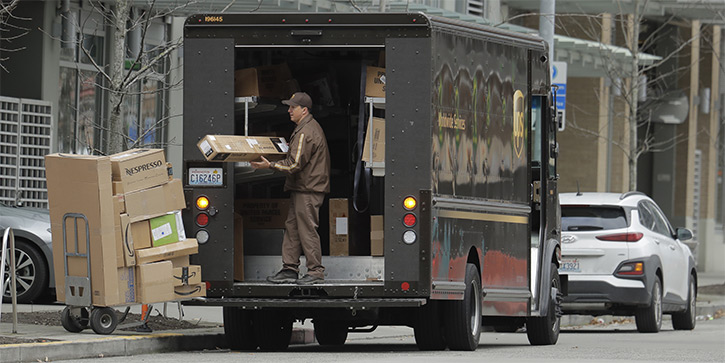 Stock Up on These 7 Essential Businesses for Portfolio Protection
Robert Ross
|
|
April 1, 2020
---
COVID-19 is running rampant through American cities. It appears April will be the worst month yet. And some states are extending their stay-at-home orders as far out as June.
Here in California, the beaches and streets are far from empty. I hope they, and you, are taking every possible precaution to stay safe. The sooner everyone does that, the sooner we can start returning to our usual routines.
Till then, a lot of people have a lot of unexpected time on their hands. All told, some 18% of the US workforce is out of a job. That's because most of their businesses were deemed recreational, or non-essential.
However, some businesses are nearly immune from any potential quarantine orders. They're known as essential businesses.
And you, like many of your fellow Americans, are probably depending on their services. Not just right now, but for the foreseeable future.
I'm talking about delivery services and grocery stores. They are keeping us and our pets fed. And, in their own way, they are giving us a sense of normalcy during this chaotic time in US history.
For investors, they're also set to deliver solid profits while most companies struggle to get by. Which means their stock prices should hold up as well.
We're already seeing this play out…
-

This Is the Toughest Time in Recent History.
Time to Thank Our Loyal Subscribers.

As a token of our appreciation, please accept your free 3-month subscription to Chris Wood's healthcare investment advisory, Healthy Returns... no strings attached, no credit card required.
Delivery Services Are Keeping Many People—and Portfolios—Afloat
Like many of you, I'm confined to my apartment. Other than brief walks around the block and a weekly grocery store trip, I don't leave my building.
That means I'm dependent on an army of couriers to deliver food, medicine, and other goods.
Millions of Americans are going through this same dynamic. And while delivery times are slower, it's because demand for delivery services is off the charts.
And that's good news for delivery stocks like United Parcel Service (UPS).
For instance, while the S&P 500 has been whipsawing investors for over a month, UPS shares have rocketed 8% higher:
And they aren't the only delivery service holding their ground.
We All Still Need to Eat (and Fido Needs His Medicine)
Delivery services of all stripes are thriving.
For instance, take a look at Blue Apron Holdings (APRN). The company delivers weekly meal kits all over the US.
Since most people are cooking at home these days, demand for APRN is off the charts. That's why their stock price is up 280% over the last month: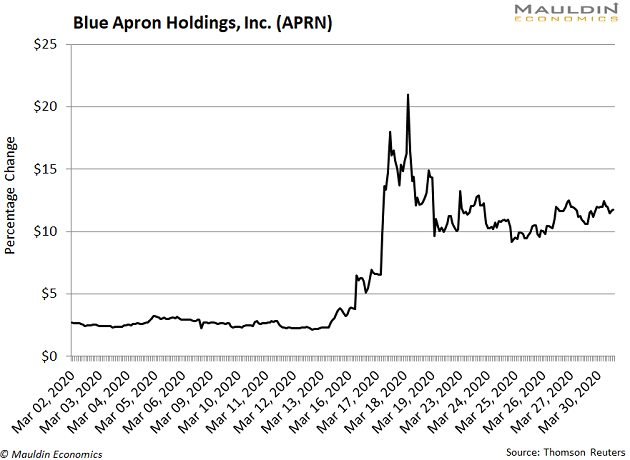 Other specialty delivery services are also booming.
For instance, long-time readers know I'm a huge fan of the pet care sector.
These are companies that provide lifesaving medicine to our animals. And my top stock in the sector, PetMed Express (PETS), has been holding up during the selling.
While the S&P 500 is tanking, this pet medication delivery stock is up 2.5%: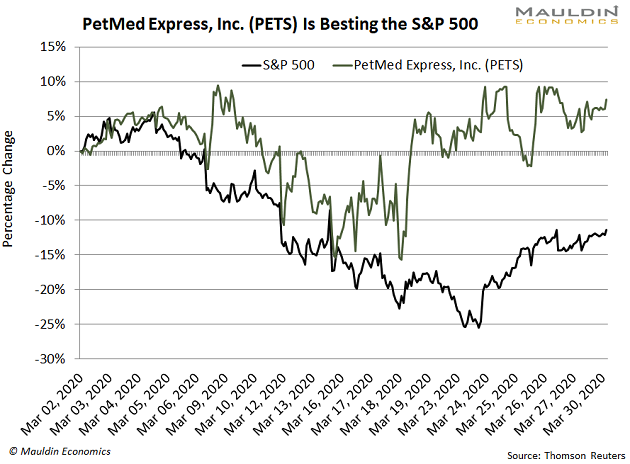 But there is another essential business that's thriving…
Grocery Stores Are Raking In Profits
Over the last month, the S&P 500 is down 15%. This included the worst week for the index since 1931.
But grocery stores are still packed.
That's because they are considered an essential business. These businesses, and their workers, are on the front lines of the coronavirus pandemic every day. Michigan, Minnesota, and Vermont even deemed grocery store workers as essential personnel, which makes them eligible for benefits like child care and sick leave.
And even during the height of the coronavirus pandemic in Italy, grocery stores remained open.
Since many people are stocking up on supplies, grocery stores are making a ton of money right now.
And Kroger Co. (KR) is no exception. As the second-largest grocery chain in the US, the company is making money hand over fist right now.
That's one of the reasons its stock price is holding up so well: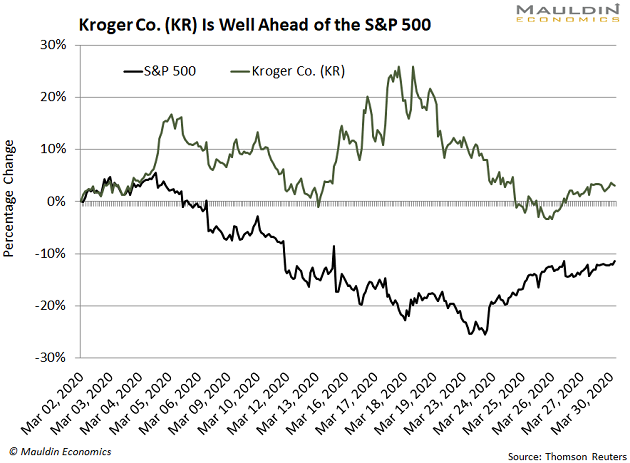 While the S&P 500 is down 15%, KR stock is actually up 5%.
And with a safe 2.2% dividend yield, it's the perfect addition to any income investor's portfolio.
And Kroger isn't alone.
Even Big Box Stores Are Getting In On the Action
We've seen a fair bit of panic buying over the last month. This includes everything from stockpiling meat to toilet paper.
And this really benefits big box stores like Costco Wholesale (COST).
Costco is the second-largest retailer in the world. They're the world's largest retailer of beef and chicken… two things consumers are stockpiling right now.
The membership-only company has seen their sales surge amid the panic buying.
Costco shares are up 5% amid the S&P 500 sell-off.
Packaged Food Companies Are Making a Comeback
Grocery stores are clearly thriving. But the companies stocking their shelves are on the rise, too. Just like grocers, the companies supplying the food are essential businesses.
For instance, processed food companies that make perishable goods have seen their stocks outperform. Just take a look at packaged food company J.M. Smucker (SJM):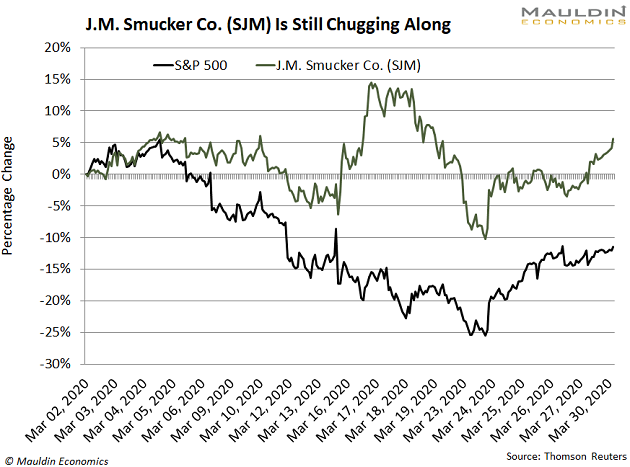 The company best known for their jams, peanut butter, and oils has seen their products fly off the shelves.
And they aren't alone. Conagra Brands (CAG) has bucked the selling pressure as well: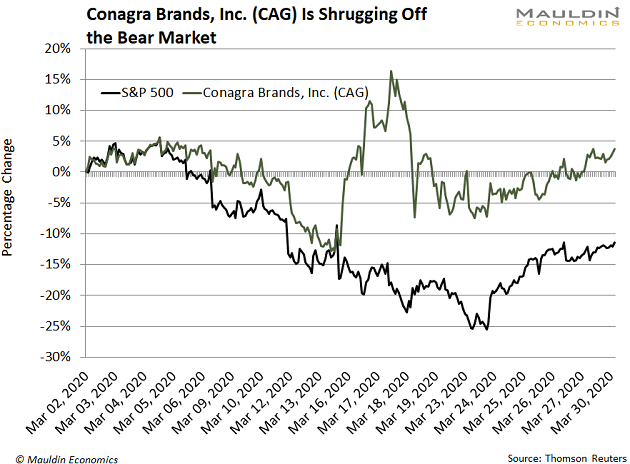 The processed food company best known for its brands such as Healthy Choice, Hebrew National, and Chef Boyardee has seen its share price crush the S&P 500 over the last month.
Buying the Best of the Essential Business Basket
I ran all the essential business stocks through my proprietary Equity Evaluation System (EES). If you aren't familiar with the system, you can read about it here.
In a nutshell, it helps me find the best stocks based on over 100+ metrics at any given moment.
It homed in on one stock in particular. And I'm sending it to readers of my premium investing service In the Money tomorrow.
If you want to get this stock and 10 other buy-rated stocks now, click here.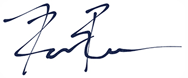 Robert Ross