Walmart Is Eating Amazon's Lunch
Robert Ross
|
|
November 6, 2019
---
Americans love to click and buy.
A new bike, art supplies, fancy mustard… you can have anything you want delivered to your doorstep, often the very same day.
We buy so much stuff online that US online sales hit $527 billion over the last year. That's a lot of money. But it's still only 10% of US retail sales. So there's plenty of room to grow.
In fact, US online sales are expected to balloon 50% through 2024. Even then, they would only make up 13% of total retail sales, leaving even more room to run.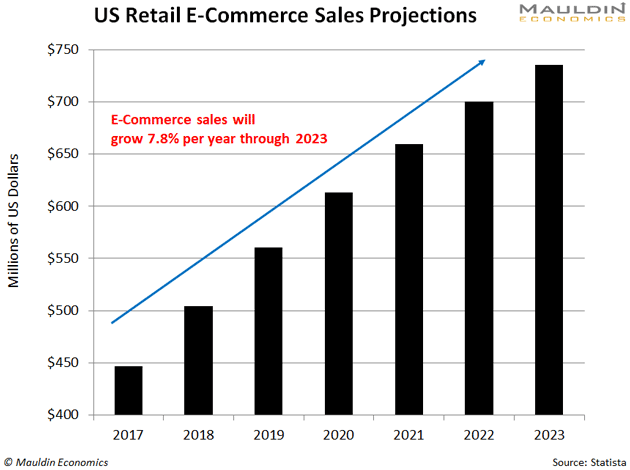 Novice investors often think Amazon (AMZN) is the best way to invest in the booming e-commerce market. This makes sense: the company gets a ton of press, and its delivery fleet is everywhere these days.
But all is not well at Amazon.
The stock tumbled 9% last week after profits fell for the first time in two years. It was the second straight quarter of surprisingly low profits.
Adding insult to injury, Amazon lost a major Department of Defense contract to Microsoft (MSFT) the next day. Shares sunk another 3% on the news.
After a decade as one of the world's best-performing stocks, nothing seems to be going Amazon's way.
Meanwhile, Walmart's (WMT) online retail business is soaring…
2X Faster Than Amazon
Walmart is the world's largest brick-and-mortar retailer by a wide margin.
But it's also charging headfirst into online retail. In fact, Walmart's online sales are growing twice as fast as Amazon's.
Regular readers saw this coming. I mentioned that Walmart was poised to crush Amazon back in March.
That's certainly proven true when you look at their stock prices. Walmart shares have surged 20% since then. Meanwhile, Amazon shares rose a modest 8%.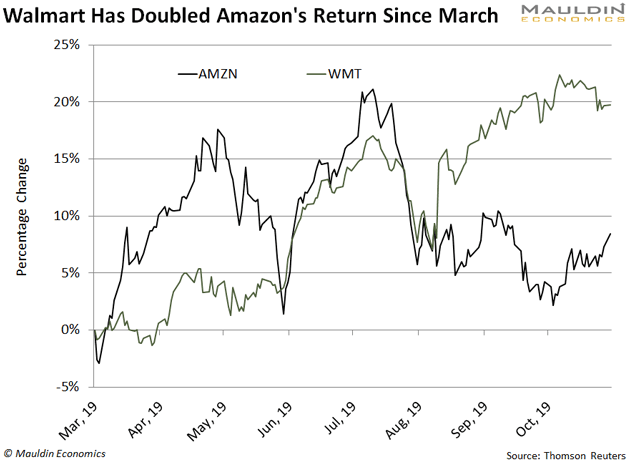 If you didn't buy Walmart shares back in March, don't worry. Its e-commerce invasion is only starting.
The Third-Biggest E-Commerce Site
Even though Amazon had a tough quarter, it still holds 47% of the US e-commerce market.
Walmart only has 4.6% right now, largely because it was late to e-commerce. But it's quickly gaining ground.
In 2016, Walmart bought online retailer Jet.com for $3.3 billion. Some people panned the deal, but it's paying off. Walmart's online sales are up 78% since: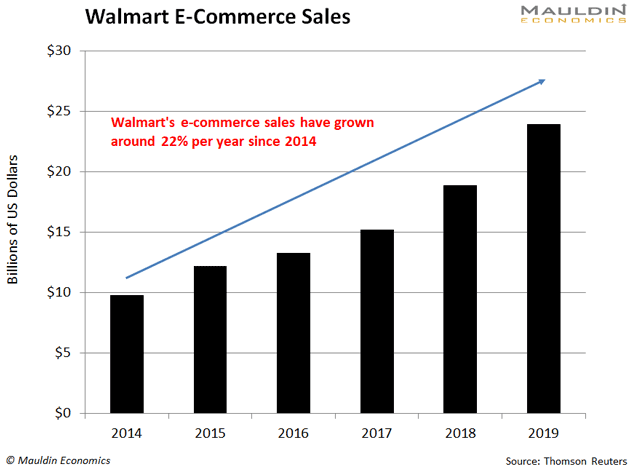 After Jet.com, Walmart added men's clothing site Bonobos and online shoe retailer ShoeBuy to its roster, plus six other online retail sites.
It's now the third-largest e-commerce player in the US. And growing…
Walmart's Bread 'n Butter
Walmart's real competitive edge comes from groceries. It's already the largest grocery retailer in the US. Over half of its sales come from groceries.
Right now, almost all of these grocery sales happen in-store… but not for long.
The online grocery market is about to mushroom in size. In 2018, Americans only bought 4% of their groceries online. But research firm Packaged Facts expects that figure to quadruple by 2023.
This would make it one of the fastest-growing markets in the US. And Walmart should enjoy a big slice of that pie. One major investment bank expects it to control 17% of the online grocery market by 2025 (up from 12% today).
Amazon can see the writing on the wall. This is a big reason it bought Whole Foods in 2016—and immediately lowered prices.
See, Walmart and Amazon are both pushing onto the other's turf. Amazon is expanding its brick-and-mortar footprint through Whole Foods. And Walmart is using its unparalleled network of 5,000-plus physical stores to overhaul the way we shop online.
But it's much easier for Walmart to imitate Amazon than the other way around, especially when it comes to groceries.
It would take Amazon years and years to expand its roughly 500 Whole Foods locations into anything close to Walmart's brick-and-mortar network. In the meantime, Walmart can use its physical stores to expand its online grocery business relatively quickly.
Buying shares of Walmart is also a much better way to invest in the booming online retail market, particularly for income investors like us.
A Dividend-Paying Behemoth
Finding safe and reliable dividend-paying stocks is my top priority. And it doesn't get much safer or more reliable that Walmart.
Remember when the S&P 500 fell 20% between September and December last year?
Amazon cratered 25% during that stretch. Meanwhile, Walmart slipped a mere 2%: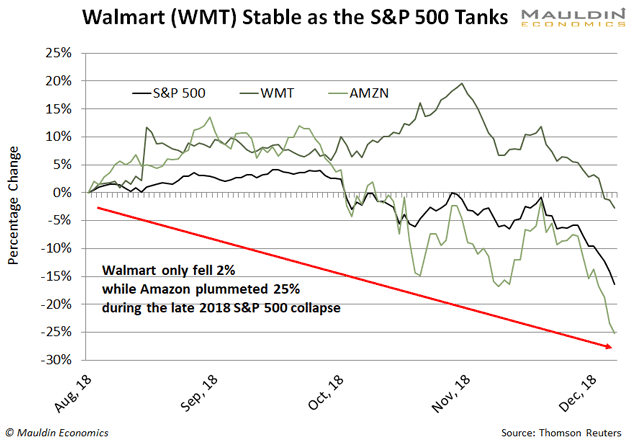 This shouldn't be a big surprise.
Walmart is the go-to spot for stuff people need on the cheap. So it often does better when folks are pinching pennies.
Walmart sales even grew 7.3% during the depths of the 2008–2009 financial crisis. That's incredible, considering sales for the S&P 500 fell 13% during that period.
Long story short, Walmart stock is extremely safe.
So is its dividend.
I've mentioned before that Walmart is a Dividend Aristocrat. A company has to raise its dividend for 25 years running to earn this distinction.
Walmart has upped its dividend 31 years in a row: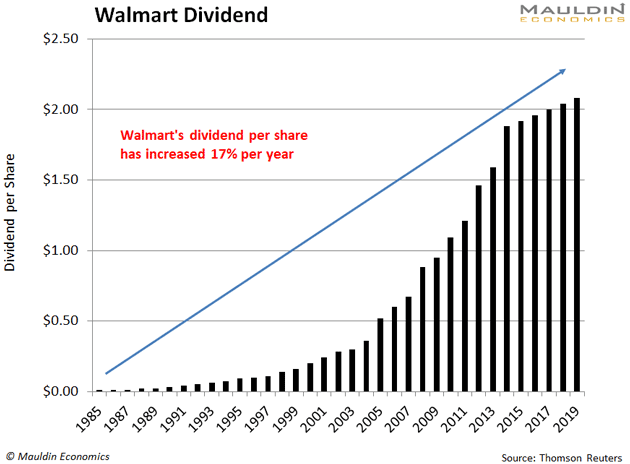 Walmart has everything income investors should look for. Its share price holds up when the market spirals south. It pays a reliable dividend. And it's grabbing an increasingly large piece of the thriving e-commerce market.
I've been singing Walmart's praises for nine months now. At the same time, shares have climbed faster than both Amazon and the S&P 500. But they still have a lot of upside.
It you want a low-risk way to own a piece of the high-growth e-commerce market, Walmart is your ticket.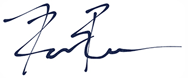 Robert Ross