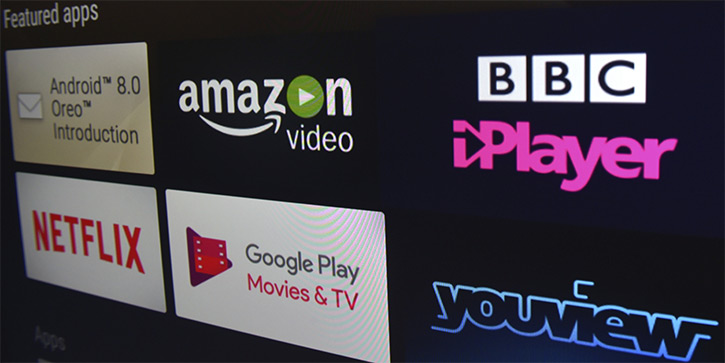 Content Is King, but the Money's in the Delivery
---
This Labor Day marked the end of an unusual summer where our screen time went up instead of down.
We averaged six hours a day on our phones and other devices, up from four pre-pandemic. And a new study from Foster Grant (the eyewear people) says 50% of us have the eye strain to prove it.
There's no end in our screen-fatigued sight to the limbo between quarantine and real life. Right on schedule, though, the days are getting shorter and the weather will change and make us appreciate our time indoors.
So, those screen times should average even higher. But there's something more productive to watch than the new fall TV lineup…
A Tipping Point for TV Industry Economics
Content may be king, but the ones who control getting it to consumers will be the ones that profit.
Consumers, for their part, wonder why they should have to pay when there is so much free or ad-supported content available.
Paid TV providers saw the early effects of cord-cutting in 2010. The numbers weren't large at the time, but the trend clearly accelerated as we started to realize there were true alternatives to traditional cable.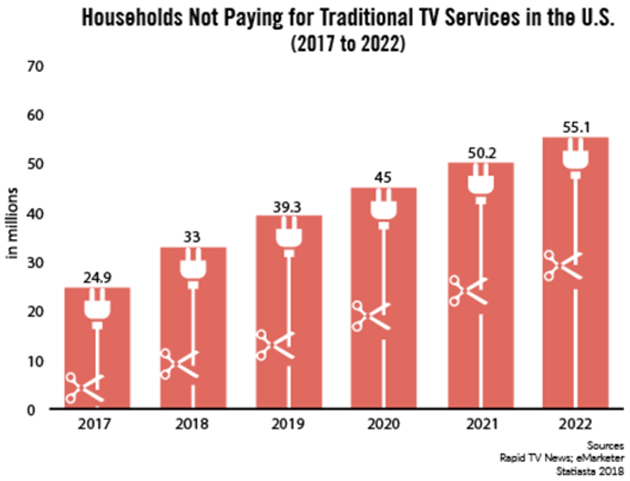 Source: MediaKix
HD antennas now only cost you around $50 and are easy to install. You'll still get local channels and sporting events. The rise of smart TVs makes it incredibly easy to stream any service with just a few clicks of the remote.
You could easily save $80 to $120 per month by switching… even if you subscribe to multiple streaming services.
And there's money to be made even when you're spending less of it.
The Future of TV Is Our Phones
The coronavirus has only made us more dependent on our screens for entertainment.
Here in West Palm Beach, Florida, we are only now talking about entering Phase 2 of reopening. That has meant six months with no bars, live music, or outdoor events that residents are so accustomed to.
That provides plenty of time to instead binge-watch entire seasons of our favorite shows… and maybe even some that aren't.
What's interesting in the data is that even the boredom of being stuck indoors hasn't stopped the cord-cutting movement.
Comcast (CMCSA), AT&T (T), Dish Network (DISH), Charter (CHTR), and Verizon (VZ) collectively lost 1.46 million paid TV subscribers during the second quarter of 2020.
That's more than 2019… and 2019 saw twice the previous year's defections.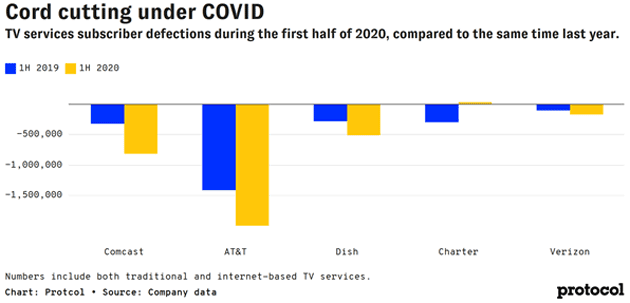 Source: Protocol
Meanwhile, Netflix (NFLX) added 10 million new subscribers in that same quarter and Disney+ (DIS) added 24 million.
We are at a tipping point for TV industry economics. The networks have to figure out how to make up for subscriber revenue from lost carriage fees.
Traditional TV stock Sinclair Broadcast Group (SBGI) is sitting around $20 a share right now. At this time last year, it was double that.
So, what's the solution? Will it be Netflix, Roku (ROKU), something else?
What's important to us is how this will that affect investors...
Why Buy Netflix Stock When You Can "Watch Free"?
Right now, the focus has been content on demand. YouTube, Hulu, and Netflix all operate on the fact that you are going to sit down and pick what you want to watch.
Since Hulu is owned partly by Disney and partly by Comcast, it's hard to know how it's doing. But we can learn a lot by looking at Netflix.
NFLX is up 62% since the beginning of the year. And it added 26 million new subscribers in the first half of the year. But if you look beyond the headline numbers, it's not looking good.
Netflix does not show ads other than for its own movies and shows. And ads really are the main source of revenue for a lot of industries these days. We mentioned that in our DuckDuckGo piece. Google (GOOGL) derives tons of money from showing you a customized ad and links while you're using the search engine.
Netflix only makes money from subscriptions. And it makes a lot. However, the company is burning through cash, and its free cash flows have been dropping since 2017.
Recently, the company decided to debut a free sampler of some of its biggest original movies. Each of these are preceded by a 30-second sizzle reel of some other movies behind the paywall.
So this "watch free" offering will drive some traffic to its site, but I have doubts this will help the bottom line.
The company might share my doubts. In July, it said it only expects to add 2.5 million subscribers in the third quarter. That figure was 6.8 million last year.
I've got a similar problem with Roku. Shares are up 24% since the beginning of the year. However, the company has posted a string of quarterly losses and expects to lose money through year-end.
Can anyone do this and churn a hefty profit?
I wouldn't throw money at Netflix or Roku. But I am looking for up-and-comers in the private space so that we will make sure to look for potential IPOs.
Plex Has the Cure for Screen Fatigue: Live TV
Take Plex, for example.
The first thing that makes it different is if you have a collection of movies and TV, you can manage them on its platform.
Plex will show them as your personal library and let you browse and search your collection through the interface. You can even share that library with others.
The other main part of its model is it's bringing back live TV. You can steam 80+ channels for free just as you would be watching cable. This includes channels such as America's Funniest Videos, Toon Goggles, and the Bob Ross channel. (Who doesn't need more happy trees in their life?)
With a paid subscription of only $4.99, an antenna, and a tuner, you can watch your free broadcast TV like it was on your cable box. You'll be able to pause and even record. That's pretty nifty.
They even have a lifetime subscription for only $119. Depending who your cable provider is, that's less than a month's worth of service.
It's actually a brilliant idea utilizing the free broadcast TV to allow customers to create their own DVR library. It's a true way to undercut the cable box.
Unfortunately, Plex is still private. I will be keeping an eye on it as this trend accelerates. Consumers are trying to save money, and they are utilizing more screen time, which puts this industry at a prime position for rapid evolvement.