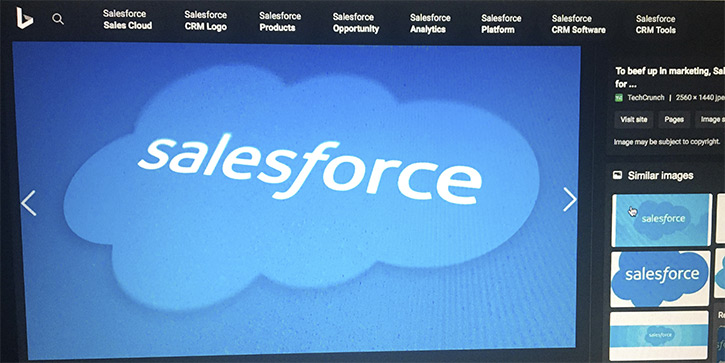 Dow Confirms Our Strategy. Plus, Your Questions Answered
---
Dear Member,
I think we might be on to something.
Here at Reality Check, we've been looking closely at the trends that have gotten amplified and accelerated this year.
After all, leaps forward in technologies ranging from robotics to RoadBotics are fascinating. These disruptive innovations change the way we work, play, and live… because that's what they were designed to do.
On top of that, these advancements could put more money in our pockets as investors. So we should prepare to make them a bigger part of our portfolios.
Dow Jones & Co. just added more confirmation to our thought process with some moves that breathed new life into this stodgy index.
An "Industrials" Revolution
ExxonMobil (XOM) had been a familiar face in the Dow Jones Industrial Average for 92 years. But when markets opened yesterday, customer relationship management software company Salesforce (CRM) was in its spot. And that wasn't the only change.
Boring ole pharmaceutical giant Pfizer (PFE) was traded out for biotech company Amgen (AMGN). And defense contractor Raytheon (RTX) was replaced by the quantum computing mover & shaker Honeywell International (HON).
Even though the Dow is only 30 stocks, it's frequently used to gauge the overall performance of the stock market.
To wit, the Industrials gained 8% last month as tech stocks helped restore the markets to pre-coronavirus highs and give us the best August in three decades.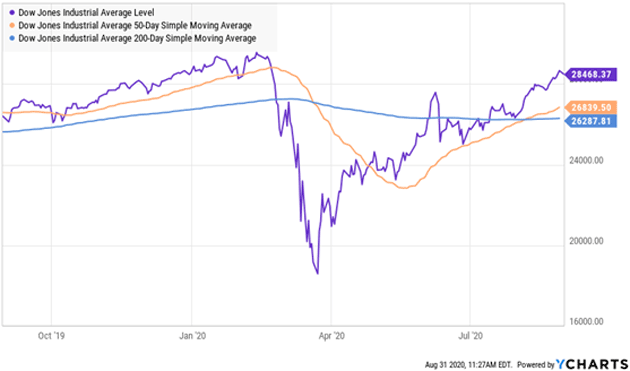 Source: YCharts
What we can conclude—based on this performance and yesterday's Dow adjustments—is that technology companies are a better indicator of the overall performance of the stock market.
Keep in mind that the tech story is so much bigger than "just" technology companies.
The best and most innovative players are creating the gadgets and networks, for example, that other industries will use to make their own leaps forward. Same goes for the companies that are looking to collect, analyze, and protect our data.
We've been talking a lot about our changing world and markets. And there's so much more to share with you.
Next week, we'll have another fast-accelerating trend to explore together.
First, we want to take a moment to answer some of the feedback you've sent us over the past couple of weeks.
Your Questions Answered
Our story about DuckDuckGo, the browser designed to help you enjoy some privacy while you search and shop online, generated hundreds of comments. So we'll start there.
H.B. pointed out that:
"I like the idea of DDG as an investment. But I am not clear how they make money, if they don't sell user info. Depending on how profitable their business can be, it could warrant investment."
Reality Check (RC): Hi, H.B., you are one of many of our readers who looks forward to DDG potentially going public someday.
Your question reminded me that when we, as a society, think about a company on the internet, we immediately think about it selling our data for money.
How could a company like DDG even compete with the big dogs if it doesn't? Especially when you consider that ads are responsible for 70% of Google's (GOOGL) revenue.
DuckDuckGo also makes money off of ads. There's a difference, though.
The ads that users see on DuckDuckGo are strictly related to the term being searched for. Neither your ads nor your search results have any relation to any past data stored.
If you search for recreational vehicle stocks, you're going to get an ad related to RVs or RV campgrounds—and maybe a link to our article about Equity LifeStyle Properties (ELS)—rather than results based on something you searched for yesterday.
A smaller portion of the company's revenue comes from affiliate programs with online marketplaces like Amazon (AMZN) and eBay (EBAY) when a user uses a "bang" search. "Bangs" allow the user to search for their search term directly on another website or another search engine through DDG.

Source: Duck.com
If a user buys a product from utilizing a "bang," then DDG gets a small commission.
Again, the difference here compared to other sites is that this commissions incentive does not affect the ranking of search results.
***
Julian sent us a note saying:
"I have used DDG for over a year, after having read an article about personal data uses and abuses. It works fine. Google might lose some revenue, but when Duck gets enough users, before you know it, you will have to take a paid subscription to DDG+ to avoid targeted ads."
RC: Julian, valid point. I think that some people will think it is worthwhile to pay a small fee to protect their privacy.
Although this business model probably isn't out of the realm of possibility, I don't think it's the preferred direction of the company, by any means. Like Terence K. wrote in:
"Consumers say they are concerned about privacy. But in general, between privacy and expediency, they will opt for the latter. That's the headwind DuckDuckGo is facing."
***
I also got a lot of great questions from you that sent me down some "research rabbit holes." Especially when it comes to how companies might use all that data that gets collected on us for our benefit.
David ponders:
"I wonder how Big Data will impact the life of the average blind person. Will 5G technology assist us in getting around better? Will new jobs be open to us? Will Big Data improve medical outcomes and decrease the number of those who are totally blind?"
RC: These are great points, David. I think it's easy for able-bodied investors to forget this technology will be completely life-changing for so many people. You've got this on our radar now, so we'll be looking for the investible angle.
One of the big players in this arena is Microsoft (MSFT) with its Project Tokyo. This project works closely with people who are blind and low vision to understand how AI technology can help augment people's own capabilities.
They've got a headband right now that uses AI to help people find familiar faces in a room. If it recognizes the person's face, it will play a "bump" sound and announce the person's name through the speakers positioned just above the ears.
I expect 5G will play a big role in making this technology more accurate and efficient.
Once I hit the "send" button on this note, I'm going to do some more research on 5G. I think this is going to be one of those trends that will—pardon the pun—bring a lot of OTHER trends online.
And again, H.B., Julian, Terence, David, and everyone else who wrote in, thank you for your questions and insights. If you still have questions, or if we've raised some more today, send them to me here: realitycheck@mauldineconomics.com.