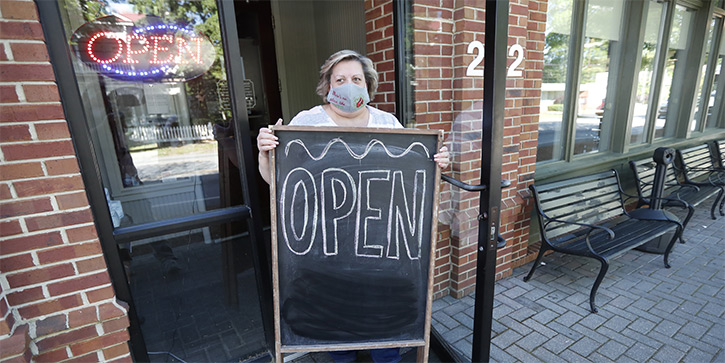 Get Ready for a New American Homecoming
---
With social distancing, humans are further apart than ever right now. But we're still all in this together, and a lot closer than we think in our hopes, dreams and ideals.

That's why our founder John Mauldin has asked our international team of analysts to uncover what will change our readers' lives during and beyond the coronavirus era: the biggest winners and losers… hidden pockets of opportunity… and how to stay safe and thrive in the 2020s and beyond.

Every Tuesday morning, we'll do that and more. Look for us in your inbox right around 10 a.m. Eastern. If you'd rather not receive this weekly Reality Check, click here.
Dear Reader,
As millions of people find themselves out of work right now, others are working overtime.
Unfortunately, the free market doesn't make fair or ethical judgments; it reacts and adapts to customer demands.
We are going to see a ton of knock-on effects like that in a post-coronavirus America.
Market forces can be cruel or kind. The best ones are both. This is one of those times.
The COVID-19 pandemic is changing everything… or so most would like to think. But there were already powerful, transformational waves set to wash over the world.
Now, those waves are crashing onto our shores at an accelerated pace, with no warning, leaving little time to prepare for all the uncertainties. Changes like…
A new market: Some assets will keep falling when the new bear market ends. But for every company, commodity, or industry that was on the verge of extinction before the pandemic hit, we'll see others emerge to take their place. We are entering a world that looks very different.
A new economy: One in four people has lost an income stream or their entire livelihood, and a lot of those lost jobs won't come back. At the same time, a greater share of our economy is shifting online, and our family time is shifting offline. We'll see huge breakthroughs in technology, medicine, and more as we redirect our collective focus to what is truly essential.
A new America: Social distancing will be part of who we are for a long time to come. Entertainment venues and restaurants will be retrofitted and reimagined. We are learning to redefine success, and to include more family and fun time. As businesses and individuals adjust their priorities, the marketplace is going to reprice the value of goods and services accordingly.
You should expect these and other trends to define the next decade. Every week, I'll dig into the forces behind these trends… and the warning signs the talking heads will miss (again) as we learn to navigate our new world… and the companies best positioned to benefit.
Our goal in Reality Check is to understand why these trends are opportunities. And then to show you how to take advantage of them.
Today, we'll start with the new America… and the homecoming that lies ahead.
Bring It on Home
We have been forced to change our routines and habits. That has naturally led us to challenge the assumptions and beliefs upon which most of us base our normal decisions and behavior.
When America, and the world, finally escapes the grip of this pandemic (and it will), we will see new modes of doing business and new ways of organizing our personal lives.
This transformation is what I call The New American Homecoming.
It is underway now, and nothing is going to stop it.
A starting point, and something we can do right now, is supporting local businesses. This will help small, independent American companies bounce back from the devastation of forced closure.
Giving our dollars to essential mom-and-pop pharmacies and pizzerias… not just now, but long after things have returned to a new normal… is a great place to start. Really taking a look at where we want to invest our dollars as well as our time is our next logical step.
What's happening now is a sudden and massive shift in awareness…
We are working from home, and we like it.
We are eating home-cooked meals, and we like it.
We are finding new ways to entertain ourselves, and we like it.
We are shedding excesses from our lives, and we like it.
And we are discovering that yesterday's status quo has left us anxious and angry, and we don't like it.
By itself, sheltering in place may be a welcome change from the hustle and bustle that life can all too easily become. The longer it drags on, the stranger it becomes, especially as supplies run low or run out.
Stranger still is wearing a mask and gloves to forage through the near-empty shelves of grocery stores for paper products and cleaning supplies that were once abundant.
Sure, panic-buying had a lot to do with that.
But in waiting for reinforcements to arrive on our store shelves, Americans have realized that our dependence on foreign corporations has become too much of a burden to bear. They supply us with everything from the most basic supplies to the most critical medicines and medical equipment.
The US represents nearly 20% of the global value of drugs imported, presented in the next graphic.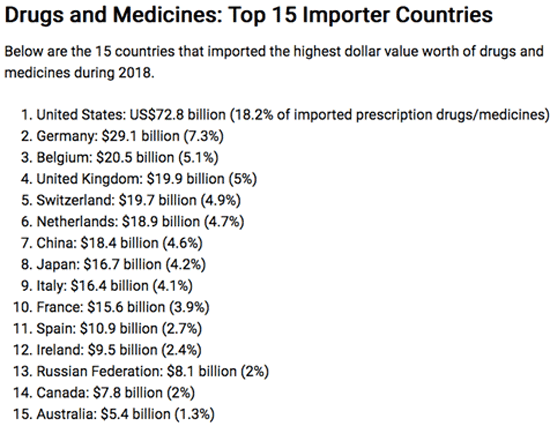 Source: World's Top Exports
If you are healthy and have avoided COVID-19 symptoms thus far, this statistic may seem meaningless. But…
If you or a friend or loved one are fighting to survive the coronavirus, this dependence on foreign manufacturing and supply chains means everything.
And as the US population ages, reliable access to medicine and medical equipment will only get more critical.
The conversation we're having now questions whether we should repair existing supply chains that stretch across vast oceans or create shorter ones that we can keep a closer eye on.
Manufacturers tend to make a lot of the things that are most profitable. That can leave industries unprepared to mass-produce something we don't usually need a lot of.
A big reason behind the N95 mask shortage was the difficulty of sourcing the very material that makes these masks medical grade—a "meltblown material."
This is the kind of material you see in air conditioner filters. Medical grade enables the material to filter out 95% of the particles that will try to get through it.
In other words, we have a perfect storm of a complicated item to make… sudden, massive demand… and complex machinery that takes 9 to 12 months to build and ship.
And sure, it's heartwarming that Robert Kraft sent the New England Patriots' team plane to China to pick up 1.2 million masks. But you also hear about Canada rejecting 1 million non-compliant masks from China.
So the supplies are out there… but can we get enough of them, quickly enough, with the degree of quality that will protect our front-line healthcare workers and sickest Americans?
Once the coronavirus is truly under control, expect to see the "made in China" label on fewer products.
That will probably mean smartphones will be a bit more expensive. But shortening the supply chain for everything from the raw materials to the finished products will save time and lives.
And if we can adjust to staying indoors for three months, we will learn to appreciate supporting American businesses small and large in a bigger way.
Parting Thoughts
We will continue to explore this New American Homecoming in next week's issue, so be on the lookout this coming Tuesday, May 5. Till then, here are a few things to smile about in this strange new world we're in:
What day is it, Piglet?: Adobe Analytics says the average clothing retailer saw a 13% drop in online sales from March 12 to March 25. But Walmart (WMT) says people are buying clothes. Just not pants. Which one Twitter user noted makes us "a nation of Winnie the Poohs on Zoom."
The llamas will still have better bangs than we do: Flowbee searches are surging. Schools across America may be closed, but Zoom meetings are about to look like a yearbook from 1980.
These are difficult times, but hope is easy to come by if you just look for it. Just remember, our best days are still ahead. In this space, I look forward to giving you the Mauldin Economics' research team's reasons to look forward to them.