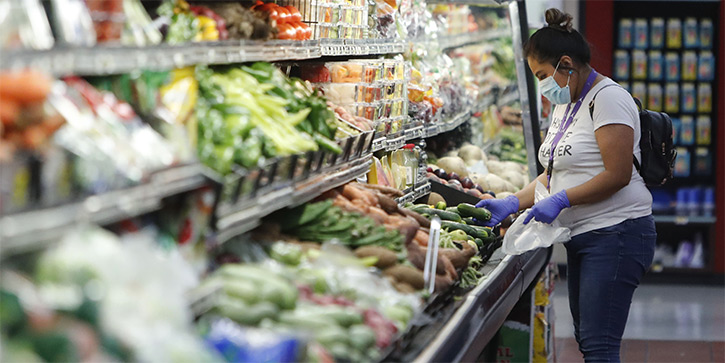 America Comes Home to Dinner
---
Thank you to everyone to who read and commented on our premier issue of Reality Check. If you're just joining us, welcome. Our mission from John Mauldin is to uncover what will impact our readers' lives during and beyond the coronavirus era... the biggest winners and losers… and how to stay safe and thrive in the 2020s and beyond. You are receiving these email messages every Tuesday at 10 a.m. Eastern because you requested information from Mauldin Economics. If you'd prefer not to receive this Reality Check, click here.
Sitting down and eating together was once such an integral part of family life that there's even a word for it… commensality.
Then, somewhere in the second half of the 20th century, family dinners lost their prominence. The hectic nature of modern life sent parents and kids in multiple directions.
Now, dinner is being disrupted again… in a good way.
The COVID-19 crisis and stay-at-home defensive quarantines have brought family dining back in style.
DollarBigMart Runs Out of Jumbo Trays of Hamburger—Panic!
Americans have been stuck at home—and eating at home—for weeks. And if you cook at home, you spend more time and money at grocery stores.
When the scale of the coronavirus first hit the news, it triggered a food-buying panic across America. Our minds (and carts) raced in circles. Fear of food shortages resulted in stripped shelves at grocers.
Then came the inevitable pimping-for-clicks media with headlines warning of food shortages and scarcity.
When we read about shutdowns at plants that process poultry, pork, and beef, we figured it must be true.
But are we really facing a shortage of food?
Like so many things, our perception of everyday events is shaped in relation to past experience.
Americans are conditioned to seeing an acre of floor space at DollarBigMart where the meat and bread selections each span 40 feet of aisle space. And if we can't find our favorite sprouted whole grain loaf, we'll hunt it down somewhere else.
At least, that's what we did before the new rules of social disengagement kicked in.
If you were food shopping just about anywhere outside the US, you'd have very different expectations. That's because grocery stores are smaller and offer way fewer selections.
So, a shorter rack of family-sized trays of hamburger in the meat aisle does not mean we are on the verge of a food shortage.
According to a report by Barclays, and supported by food industry experts, the US has 26 days of food supply in the system at any given time. It would take an extraordinary and prolonged disruption in the food manufacturing and transportation supply chain before real food shortages became a concern.
Eat-at-Home Trend Is Boon for Food Manufacturers
It is pretty obvious that the eat-at-home revival is having a hugely positive impact on one corner of the food industry.
In February, Hormel (HRL) announced it is expanding its food production with its purchase of a new plant in Nebraska. And the company plans to meet demand by awarding cash bonuses to its plant production teams.
The jump in demand for its staple foods has been good for Hormel's stock price: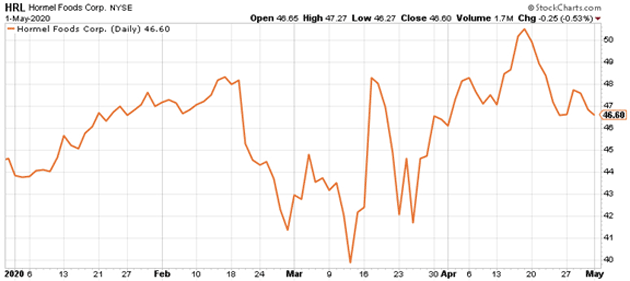 Source: StockCharts
The stock was dragged down with the initial coronavirus market sell-off. It then quickly recovered and is 7% higher so far in 2020.
It's a similar story for an iconic American food brand, J.M. Smucker (SJM). On March 23, the company said it was maximizing production to meet demand for its most popular products.
The surge in food sales has also sent its stock price soaring 15% so far in 2020: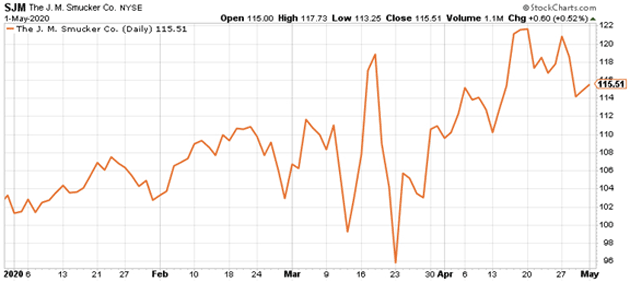 Source: StockCharts
Smucker has projected it will see a 1% decline in total sales for fiscal 2020, but that tops prior guidance of a 3% decline. If you dig a little deeper, however, the company's US and Canadian retail food networks are experiencing higher demand.
Smucker says it sees earnings per share exceeding $8.30 for fiscal 2020, which was the top of the range of its prior earnings guidance.
Dining in Is the New Dining Out
Restaurant spending hit a record 50% of our food budgets last year. But a recent UBS report estimates that they stand to take a 40% hit from prolonged closures, and about 10% of that figure will go to grocers:
Given the recent series of restaurant and school closure announcements, we believe household food purchasing behavior is likely to pivot more aggressively to at-home consumption than in prior recessionary periods.
In March, US consumers bought nearly 63% of their food and drink at stores. L.E.K. Consulting reports that shoppers are buying 15%–20% more shelf-stable foods, and 25%–30% more perishable groceries. We haven't shopped that much since January 1996, according to US Census data.
The basic challenge for the US food supply chain has been adapting to the shift from eating out to eating at home. Channels that were in place to deliver food to restaurants and schools must now redirect that food to retailers for the people who are now doing the cooking—us.
It's not a question of will we have enough food. It's a matter of getting the food we have to where customers are buying it—a lot more of it.
Companies keep producing. Trucks keep running. And shelves keep getting stocked. We'll only see more of that as the economy starts reopening in stages this month.
Humans are creatures of habit. And establishing a new eat-at-home habit should permanently alter the dynamics of the food industry.
That's a trend we'll be following together in this space for a long time to come.
Parting Thoughts
In the meantime, here are some food-related stories we're digesting…
We might not always find the food item we crave at the moment we want it, but we are lucky to have plenty of options. What new favorites have you discovered that we might not have tried otherwise? Tell us here.