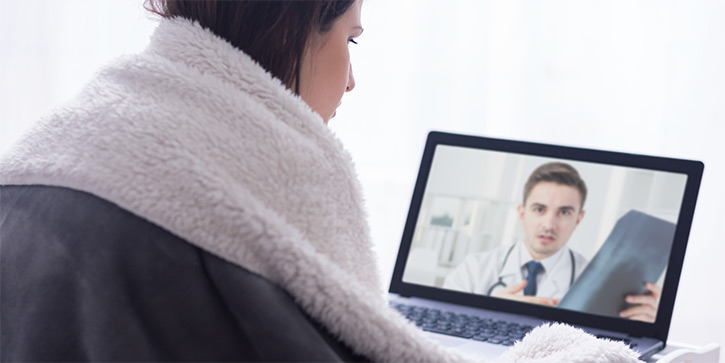 Overlooked Events Will Accelerate an Explosion in This Technology
---
If there is one big trend that defines 2020, it's that the coronavirus has lit the fuse on trend acceleration.
When the economy shut down, we figured out how to learn and work remotely in a hurry. Companies that stepped up to help us stay put and productive saw their sales—and shares—soar.
Barely heard-of virtual meeting platforms… retailers with robust ecommerce platforms… and restaurants with contactless ordering and delivery options… all became essential businesses, practically overnight.
Those are just a few of the early winners in the post-pandemic world.
But there's a lot more innovation happening right now that will enhance our quality of life and, potentially, extend it.
And you already have access to it, if you know where to look.
Just What the Doctor Ordered
Our containment response to COVID-19 has added strong gusts to the tailwind behind another accelerating trend: telehealth.
Telehealth is exactly what its name implies: healthcare services delivered on demand via telecommunications technology.
It's long-distance care delivered from where it's available to where it's needed… instantly.
It means the patient and the healthcare provider don't have to meet face to face, or even be in the same town or state (or country).
An American Healthcare Desert
Trend acceleration also has a dark side—it adds weight to forces already in motion that are having negative consequences.
One alarming area where this is happening is the shuttering of rural hospitals. Many were already getting crushed due to aging populations and shifting demographics.
Now, those same small-town hospitals are getting financially clobbered by COVID-19.
People have been scared to visit hospitals, and this has caused emergency room visits and demand for elective surgeries to plummet. That's leaving hundreds of rural hospitals on the brink of closure.
Since 2005, 172 rural hospitals across 36 states have closed for good. Hundreds more have been forced to limit or drastically slash their services and number of beds.
Today, hospitals face such a harsh operating environment that many counties have been turned into healthcare deserts.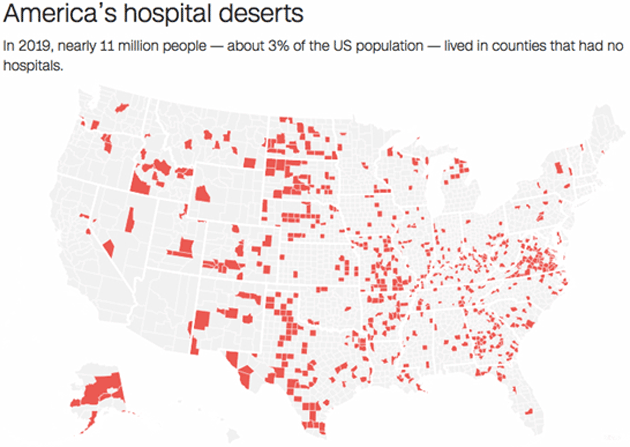 Source: CNN
Some of these hospitals were among the largest employers in their respective areas. This forces people to make even more hard choices in the name of survival.
Medical Distancing Will Make Us Sicker
One crucial element in the successful treatment of disease is early diagnosis. For life-threatening health conditions, the survival rate drops significantly the longer detection is delayed.
With that in mind, news of a 50% drop in new cancer patients in New York takes on a very different interpretation.
Under normal circumstances, that would be great news. But these are not normal times for healthcare. Many health professionals fear that people—particularly the elderly—have opted not to see a doctor and get medical screenings for fear of being exposed to the coronavirus.
If that's true, it just means diseases will be allowed to progress to a stage where more invasive and costly treatment is needed down the road.
Federal Health Officials Have Taken Note
On March 17, the Trump administration announced it had expanded Medicare telehealth coverage. The move will enable those on Medicare to access a doctor or nurse practitioner without having to visit a healthcare facility.
Before this announcement, use of telehealth technology had strict limitations. Now, Medicare patients can get the healthcare they need at a doctor's office, hospital, nursing home, rural health clinic, or from the patient's own home.
How to Get in Front of the Telehealth Movement
The fact that "rural health clinics" were specifically included in the announcement did not happen by accident. The White House and Congress are well aware of the challenges that too many hospitals are facing today.
They also know that the only alternative for the millions of Americans without a hospital close by is to have access to telehealth systems.
And that is good news for the companies developing and deploying this technology.
Two companies in particular are at the vanguard of this accelerating trend: CVS Health (CVS) and Teladoc Health (TDOC).
CVS is the clear leader in the telehealth trend. It has over 1,100 MinuteClinic locations in over 30 states. It is the largest and fastest-growing network of walk-in health clinics in America.
And CVS clinics have been moving in and filling the healthcare void left behind when a small town suffers the loss of its only hospital.
The company's goal is to have a MinuteClinic within 10 minutes of half of the US population. Telehealth technology will be a huge part of the network.
And CVS has partnered with Teladoc to deliver direct-to-consumer health services using its CVS Pharmacy app that connects patients to Teladoc's network of physicians.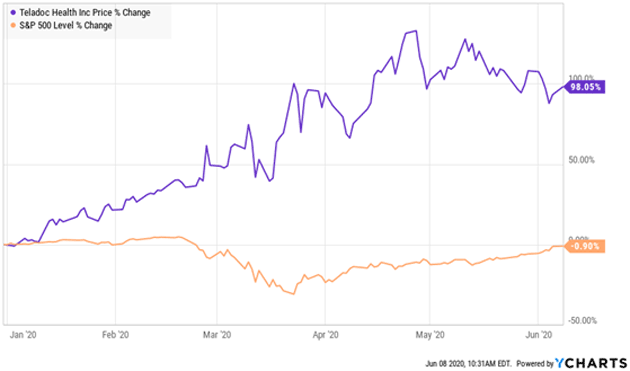 Teladoc shares are up almost 100% in 2020, while the S&P 500 is flat.
Source: YCharts
Teladoc is a cornerstone recommendation in Chris Wood's Healthy Returns letter. Shares have more than doubled since Chris recommended buying them late last year. And he sees plenty more upside ahead.
Meanwhile, CVS is flat, year to date. But with 10,000 pharmacy locations around the country (including inside Target (TGT) stores)—plus Video Visits in 44 states and the District of Columbia—CVS is well-positioned to deliver health services just about everywhere.
Tell us—how has the pandemic changed your approach to healthcare? Are you delaying doctor's visits or procedures… or "masking up" and seeking the care you and your family need, cautiously… or giving telemedicine a try?
We want to hear how you are staying healthy through this pandemic. Drop us a line here.