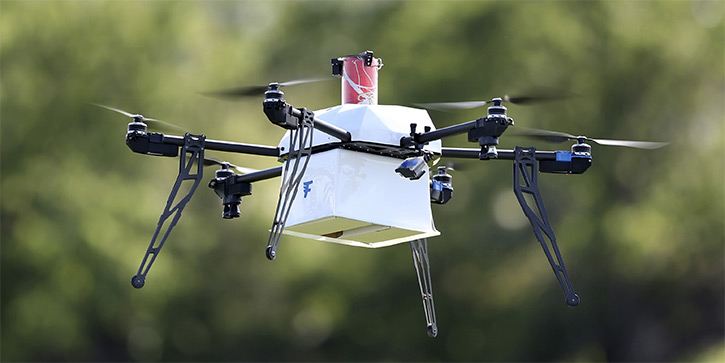 This Battery of Last-Mile Leaders Is Taking Flight
---
In The Villages, Florida, it's retirees, not kids, driving the adoption of cutting-edge drone technology.
America's biggest retirement community spans 5.5 square miles. That makes it an ideal site for UPS (UPS) and CVS Health (CVS) to test drugstore-to-door drone delivery.
This victory might seem small. But The Villages is in America's only county where the majority of the residents are over age 65. So, this technology has the potential to be truly lifesaving for its 135,000 residents.
Drone adoption is still in its infancy. It's what goes inside drones that can really help forward-looking investors' portfolios take flight.
And there's a lot of runway ahead.
We're Gonna Need a Better Battery
The global drone market is expected to grow 207% from $14 billion in 2018 to $43 billion in 2024 as companies like UPS, Alphabet (GOOGL), Amazon (AMZN), and Uber (UBER) introduce unmanned aircraft to boost their delivery speeds, get more sales, and expand their reach.
How far and fast Unmanned Aerial Vehicles (UAVs) can travel depends on two things: the weight of the aircraft, and how much power is available.
UAVs are powered by batteries, which are heavy and limit flight distance. To add more power means using a heavier battery. Batteries also store energy and release it on demand, so UAVs often carry around more energy than they need.
That's why the UAV industry has been warming up to fuel cells, which generate energy only when required.
This Technology Will Elevate the Low-Altitude Marketplace
Proton-exchange membrane (PEM) fuel cells combine hydrogen with oxygen from the air to transform chemical energy into electrical energy.
As long as you have hydrogen—the most abundant element on earth—the fuel cell can continue generating electricity. This can keep drones in flight and is also well-suited to power buses, trucks, and even spacecraft.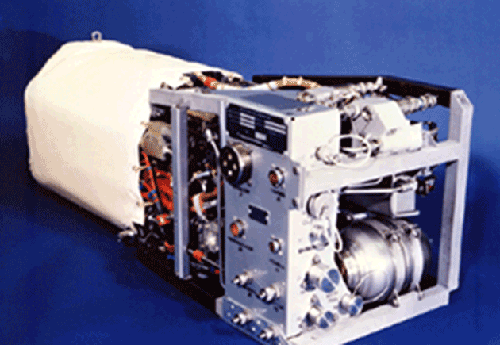 PEM fuel cell in a Gemini 7 spacecraft.
Image credit: Smithsonian Institution
PEM technology has been around for a while. General Electric (GE) developed the first PEM fuel cells in the early 1960s, which NASA used in its Gemini space missions.
PEM fuel cells have high power density, which means they deliver more power per unit of weight. That makes them ideal for use in UAVs, where cargo weight and size are limited.
Why PEM's Time Has Finally Come
The global PEM marketplace is on the precipice of a boom. Fortune Business Insights put it at just under $1 billion in 2018 and… get this… at $47.6 billion by 2026.
That's a projected compound annual growth rate of 65.5%!
That's not going to come from consumers using drones to photograph their weddings or order food from Uber Eats on the fly.
It will come from companies like Nikola Motor Co.(NKLA), which aims to be the Tesla of trucking. Nikola plans to launch a fuel cell truck model by 2021. Anheuser-Busch InBev (BUD) has already ordered 800 of them.
Tesla (TSLA) is also producing a semi truck, one that will offer "million-mile" battery technology.
One of its former executives is helping to lead Nikola's hydrogen fueling and battery recharging business. But don't ask Elon Musk if his will offer PEM technology.
Musk, who sold 367,500 all-electric cars last year, recently referred to fuel cells as "fool cells."
He built his career on disruptive technology. So we wouldn't be surprised to see PEM return to the cosmos on a future SpaceX mission.
A Battery of Leaders Is Taking Flight
For investors, a crowded field of competitors makes finding pure plays in the field a challenge.
Some of the most promising players are privately held. Others are huge corporations where PEM tech is just a small slice of their business. Others trade on the Over-The-Counter (OTC) market, which isn't a regulated exchange like the Nasdaq or NYSE, so these stocks may not attract healthy trading volume.
However, two Nasdaq-listed companies look interesting: Ballard Power Systems (BLDP) and Plug Power (PLUG).
Headquartered in Canada, Ballard Power is a pure play on PEM tech. It develops and manufactures PEM fuel cells for applications that range from back-up power systems to portable power and UAVs/drones.
For Q1 2020, the company had a 50% year-over-year increase in revenue, although it still reported a net loss of 6 cents per share.
Ballard also added $64.9 million to its cash reserves through an at-the-market equity distribution program. That pushed its total cash reserves to $181.6 million.
The stock has been on a hot streak lately, jumping 100% since April: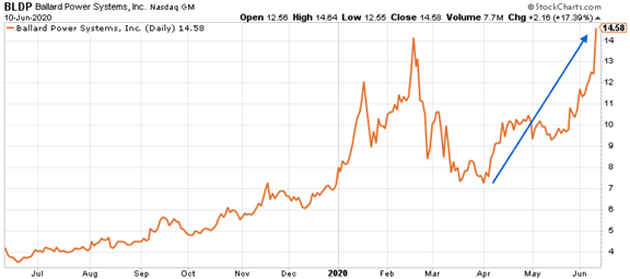 Source: StockCharts
Plug Power also joined the party, with its stock rocketing 100% since its March low: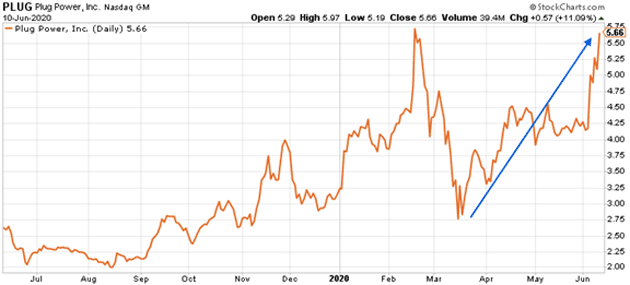 Source: StockCharts
Based in New York, Plug designs and manufacturers hydrogen fuel cell systems that replace conventional batteries.
For Q1 2020, Plug reported record revenue of $43 million, an 89% year-over-year growth rate. The leap in revenue, however, did not flow through to earnings, as the company had a loss of 13 cents per share for the quarter.
Keep in mind that these are both growth stocks, and investors are looking at the huge potential for hydrogen fuel cells as the demand for electric vehicles, equipment, and drones is forecast to keep rising.
Still, the price of both stocks has run too far, too fast in our opinion, and are not buys today. These go on our watchlist. We will revisit these companies after a pullback in shares.
What say you—do you think the batteries of the future can give your portfolio a charge? Did you buy into Nikola's recent IPO? Will "fool cells" find their way into Tesla vehicles? What other uses for drones would you like to see?
We love hearing from you. Tell us what's on your mind here.
Parting Thoughts
Speaking of getting creative with photography, Photoshop maker Adobe (ADBE) is finally getting into the selfie game with a free app that offers AI-powered filters and live effects.
Meanwhile, Apple (AAPL) was just granted a patent for synthetic group selfies that let users custom-create group photos. Apple filed for this patent in 2018, long before we thought of adding socially distant group selfies to our lexicons.
Here's what else captured our attention this week…
Thinking beyond the grid: NextEra Energy (NEE) is using drones, complex battery systems, sensors, and AI to discover and fix outages and detect pole damage. STEM Inc., which makes battery systems, helps utilities and other companies analyze consumption patterns and decide when to charge or use battery power.
No-fly zone: The Interior Department is placing flight restrictions on Chinese-made drones, including drones that use Chinese-made parts. But it is open to granting exceptions during natural disasters and other emergencies.