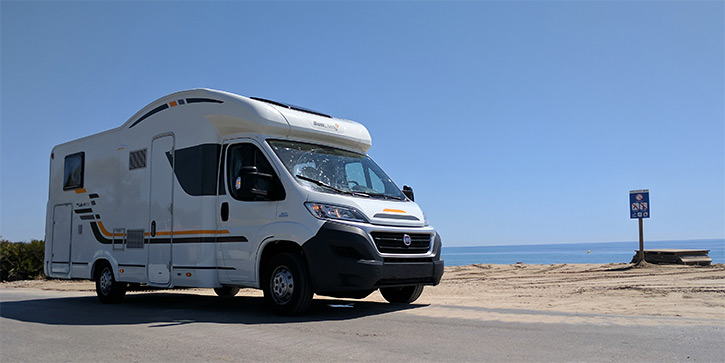 This Lifestyle Revolution Will Be Instagrammed
---
The coronavirus pandemic has thrown a wrench into summer vacations. Fear of getting sick has scratched flying, cruising, and hotels off most people's travel and adventure plans.
The plan B for millions of Americans is to take a road trip. But overnighting at hotels can still be risky. And we have Instagram (FB) feeds to fill with photos showing what we did this summer.
So, we are collectively redefining the "destination vacation" for 2020.
The popular new way to holiday is camping in an RV. Sales at RV dealers that have been allowed to open—many states have required RV dealerships to remain closed—have reported record demand.
RV Industry Association (RVIA) President Craig Kirby said that with "continued media attention on RVs as a way to travel and maintain social distance, the outlook for the RV industry this summer is extremely bright."
That's just the tip of the good-news iceberg for this industry…
Airbnb, but for RVs
Buying an RV is a major purchase, and many people simply cannot afford the cost and upkeep. For them, renting an RV is the solution. And the RV rental business is absolutely booming.
It's no wonder, then, that Airbnb—one of the early movers in the peer-to-peer short-stay home rental market—now offers RVs for rent at campgrounds across the US. These are ready to welcome guests. Nothing to do but set up your camp chairs and relax.
In 2014, a company called Outdoorsy hit the RV rental scene. It is an RV-only peer-to-peer rental site that has attracted attention—and money— from the venture capital crowd. In 2018, it raised $25 million from several VC groups. It was the second round of capital raised for the company.
But the $25 million investment in Outdoorsy is peanuts compared to one of the biggest players in the RV market…
Wanted: Low-Cost, Unshackled, Adventure-Ready Lifestyle
Sam Zell is the billionaire entrepreneur behind Equity LifeStyle Properties (ELS), one of the largest owner/operators of RV resorts and manufactured home (MH) communities in North America.
Zell was way ahead of the lifestyle downsizing trend that he saw coming to America. He anticipated that when millions of Baby Boomers started to retire with little to no savings, they would be forced to think small and cut costs.
First on that list would be to sell their big homes and live full-time in a manufactured home or RV.
Betting on that trend, he took ELS public in 1993 and began vacuuming up RV and MH properties from coast to coast.
Just since 2010, ELS has acquired another 106 properties that added over 45,000 sites to its massive portfolio of holdings: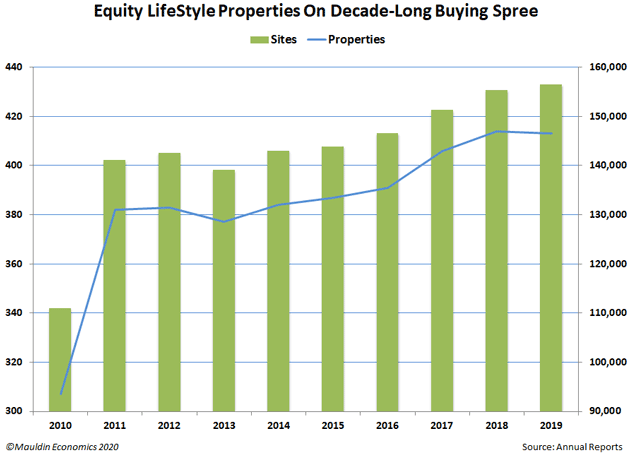 And it's not just broke Boomers driving this lifestyle shift.
With their emphasis on experiences over possessions, more and more Millennials—now the largest demographic in the US—are opting for a lower-cost and untethered lifestyle that full-time RVing provides.
Lifestyle Prospecting Will Juice the Downsizing Trend
We just uncovered a report that will potentially kick this trend into overdrive.
Kampgrounds of America is the world's largest owner of campgrounds. It operates nearly 500 locations across America and Canada.
Every year, KOA commissions a survey on the state of the camping industry, and the results from this year's report are as telling as they are promising.
Over half of those surveyed—39% campers, and 12% non-campers—said they were interested in RVing as a full-time lifestyle.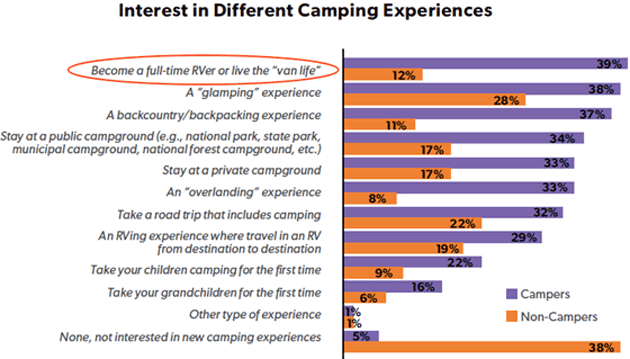 Source: KOA
Essentially, these people are taking the RV lifestyle for a test drive and considering it as a permanent alternative.
The track record for ELS shows that its properties are filing up faster than new availability is added. The occupancy rate across all ELS properties has climbed steadily from 90% in 2010 to over 95% last year.
This partially accounts for the strong and steady annual growth in rental income during that same period, shown in the next chart.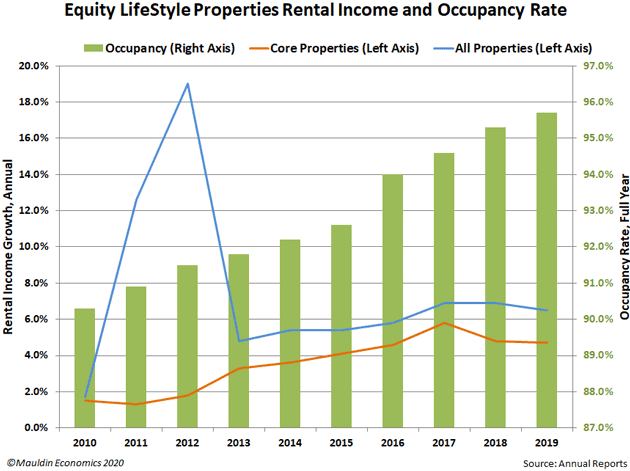 Core properties are those owned for a year or more and demonstrate the company's ability to organically grow its rental income. The income spike during 2011 and 2012 was due to a two-year buying spree that we showed in the chart above.
About 60% of ELS properties are 100% occupied. In fact, its properties in Texas, Oregon, Washington, British Columbia, Utah, Alabama, Kentucky, Tennessee, Virginia, Ohio, Michigan, Indiana, Rhode Island, New Hampshire, Maine, and Massachusetts are full.
Plus, tenants are reportedly making their payments even as coronavirus slows down most other parts of the economy.
Investors Should Be Happy Campers, Too
The performance of the stock is just as impressive as that of the company: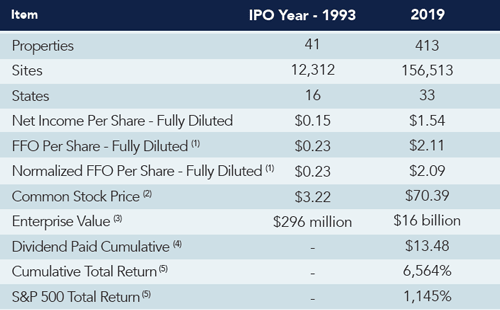 Source: Investor presentation
Since the 1993 IPO, the company has returned over four times the initial stock price in dividends alone. The stock has absolutely trounced the total return of the S&P 500. Even better, the dividend has grown at a compounded annual rate of 24% for the last 14 years!
The lifestyle downsizing trend has powerful demographic and retirement tailwinds that should continue to gust for many years ahead.
Trend-spotting companies like Equity LifeStyle Properties look like a strong holding for the longer term. Shares are down 17.2% from their February high at $77.55 and could keep on cruising thanks to this lifestyle prospecting trend.
Tell us: Are you traveling by RV this summer? Are you thinking about downsizing and seeing the socially distanced sights from the road in the future?
We want to know if you think this trend has wheels. Email us here.
Parting Thoughts
The Dow Industrials just closed out their best quarter since 1987, which tends to bode well for stocks in the following quarter.
The S&P 500 rose 40% from its March 23 low—its strongest 100-day rally since 1933. And the Nasdaq is the only index that's up for the year, rising 16% and trading above the 10,000 mark.
But the latest AAII sentiment survey says only 22.2% of investors are bullish for stocks over the next six months. That's a nine-month low and the third straight week of sub-25% readings.
Speaking of the rest of the year, Goldman Sachs (GS) sees a 4.6% drop in GDP for 2020. And that's with expected growth of 25% in the third quarter. Goldman suggests a national mask mandate would prevent renewed coronavirus lockdowns could save the US from a 5% GDP hit.
Something tells us that we just got through the less-eventful half of the year. Here are some more highlights…
Young, scrappy, and hungry: Tesla (TSLA) just bypassed Toyota (TM) to become the world's most valuable car company. This after years of quarterly losses. But shares are up more than 5,500% over the past decade. Goes to show that, like "Hamilton," investors love a good success story.
Why buy a car when you can buy a carmaker: Amazon (AMZN) plans to spend $1 billion on self-driving car firm Zoox, which has been "working on developing a fully integrated vehicle, not just the core autonomous technology." On Monday, AMZN shares topped $3,000 for the first time.
Or we can just wait and buy a flying car instead: Scottish investment fund Baillie Gifford, which is a big backer of Tesla and Amazon, just bet on a German electric aviation business called Lilium whose five-seat flying taxi is set to land in 2025.
$3,120: That's what it will cost patients with private insurance for Gilead Sciences' (GILD) COVID-19 treatment Remdesivir. But our favorite biotech experts are targeting an even more exciting and versatile stock to buy today. Click here for the name, ticker, and target price.