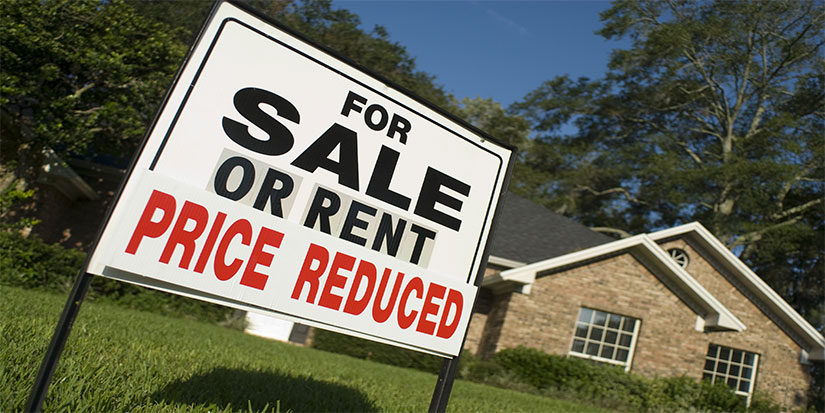 The Housing Market Is Terrible
---
Found this on Facebook the other day, some real estate agent gallows humor: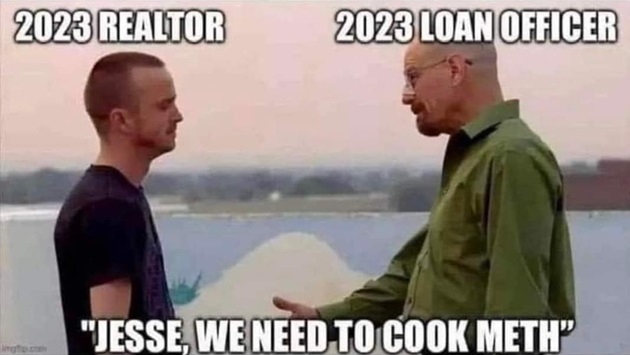 Tough time to be a real estate agent these days, or in the mortgage business, or any related enterprise. Transaction volume is way down, and if your income is dependent on transactions, then there will be no G.I. Joe with the kung-fu grip for Christmas this year.
Up until recently, prices were holding up reasonably well, but prices are now starting to come down. I know this because I am trying to sell my house. Interested in buying it? It's a nice beach house in South Carolina. Two months ago, stuff was trading through the offer. Now, everything has ground to a halt and prices are being marked aggressively lower. Also, the Zillow Zestimate algorithm has been marking down valuations like they're in search of a margin call.
There is a school of thought that declining interest rates will bring out millions of potential buyers. It will also bring out millions of potential sellers, people who have been trapped in 3% mortgages. Mortgage rates just fell 50 basis points in the last week, so we will see what happens. My prediction is that rates will decline a lot further—much further. But it will happen concurrent with a recession, so it may not result in the flood of buyers that people think it will.
The Stink Bid
When I bought this house in 2015, I put in a stink bid.
What is a stink bid? Well, "stink" is slang for "teeny," or a sixteenth—the lowest price that you could pay for an option in the days of fractions. I put in a stink bid for this house in 2015. It was listed at $1.2 million, and I bid $950K. I ended up getting it for $1.1 million.
People are really weird about stuff like this. There is some sort of weird etiquette in the real estate industry that you don't lowball people on their houses. I would like someone to lowball me on my house. Show me a bid; let's get a conversation going!
I don't have any ego about this. But people won't do it, for fear of offending, and people really do get offended by stink bids. In my case, I knew the sellers were motivated, and I wanted to squeeze them. Mission accomplished.
I recently had a showing of my house where the buyers loved the house but balked at the price. Hey, it's not a store. It's not like you're going to the house store, and you pay what's on the price tag. Everything is negotiable. I'm going to start out with an aggressive offer, and you're going to start out with an aggressive bid, and we're going to meet in the middle. People are strange.
In any case, it appears as though the housing market is set to retrace some of its gains over the last few years.
What a Housing Bear Market Would Do
If we are indeed headed into a recession, and if we had a housing recession simultaneously, it would compound the suck. This isn't 2006, where people were HELOC-ing tens of thousands of dollars to spend on TVs the size of a parking space, but when you're sitting on paper gains in your house, you have a higher marginal propensity to consume.
It's also going to change the way we think about inflation. If housing comes down, rents will come down. And if rents come down, inflation will too—a lot, as that is the biggest component of CPI, and the stickiest.
After watching the bond market over the last week, I have become convinced that we're entering a deflationary phase, and interest rates and inflation will continue to dip. The other way to look at this is that the Fed's tightening of monetary policy worked—with a long lag—and you will see prices continue to fall over the foreseeable future. People want to talk about the $18 Big Mac, but that is not the future—that is the past.
No Worries
So, as I wrote about a month ago, I have a new book coming out—my biggest book yet. It's called No Worries: How to Live a Stress-Free Financial Life.
Do you experience financial stress? This book is for you. Do you know someone who experiences financial stress? This book is for them. This book is the culmination of four years of thinking, writing, and talking on the radio about personal finance. And it will blow up the current thinking on debt and risk.
The book comes out January 23, 2024. Some people are weird about preordering books, saying that they'll order it when it gets released. Preorder it now! You'll get a nice surprise on your doorstep in a few months.
There's no downside here. The only downside is $24 and a few hours of your time. I can guarantee this will make you a lot smarter about your money, and it's for people at any income level.
Thanks. Preorder here:


Jared Dillian, MFA
subscribers@mauldineconomics.com
Tags
Suggested Reading...