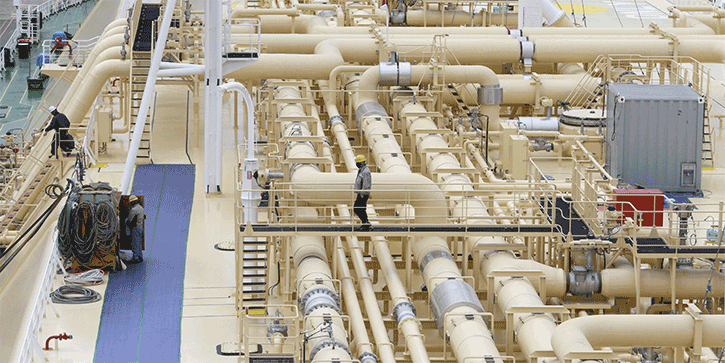 Utilities Surge on Coronavirus Fears
Robert Ross
|
|
February 12, 2020
---
2020 is off to a hot start.
In the last month, we've had an impeachment trial, fears of a war with Iran, and a global coronavirus scare.
Despite all the gloom and doom, the S&P 500 has climbed 3.0% since the start of the New Year.
There's no guarantee the market will keep up this pace. But if it does, 2020 will be the S&P's best year since 1995.
And an unlikely sector is leading the way: safe and reliable dividend-paying utilities.
-


Leon Cooperman
Chairman & CEO Omega Advisors

What Are the Threats to the American Dream?

Discover what self-made multi-billionaire, investment legend, and outspoken patriot Leon Cooperman has to say about the economy, the nation, and the world.

-
You're Always Going to Pay Your Electricity Bill
Utilities are companies that maintain public infrastructure. They deliver electricity, sewage, and water services to people in a specific area.
As you can imagine, people need these services no matter what's going on in the economy. Most folks pay their gas, electric, and water bills, even if they have to pull back on spending elsewhere. After all, you're not going to get far without lights and a shower.
This makes utility stocks particularly safe and stable.
Utilities Just Had Their Best Month Since 2016
Because utilities are so safe, investors often pour into them when they're afraid of a market downturn.
Market fears stemming from the coronavirus outbreak triggered the latest surge. The Utilities Select Sector SPDR ETF (XLU)—which holds large US public utilities—jumped 7.1% in January. That's more than 6X the return on the S&P 500: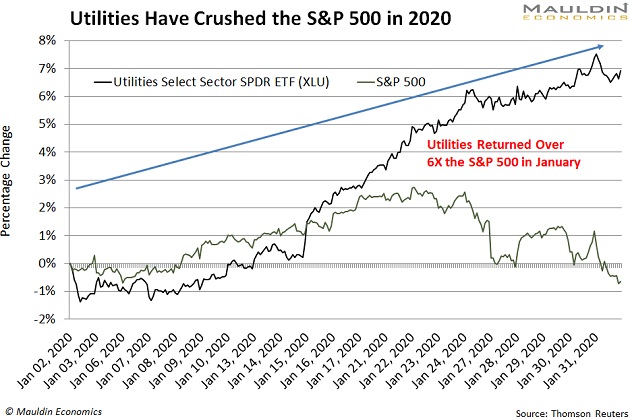 Again, the big jump is coming on the heels of coronavirus fears. The last time utilities were the best-performing sector was the month after the 2016 Brexit referendum.
Readers of my premium investing service Yield Shark were well ahead of this trend. I recommended they buy US gas and electric utility Southern Co. (SO) back in May of 2019.
Southern has nearly doubled the S&P 500's return since: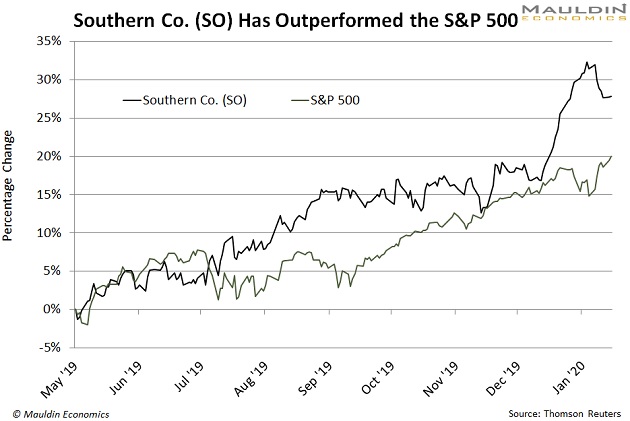 Not too shabby for a dividend-paying utility.
Don't Forget the Massive Dividends
As I mentioned earlier, utilities earn stable revenue and profits, even during rough times. This allows them to pay massive dividends.
The average dividend yield for a utility is 3.0%. That's much higher than the S&P 500 dividend yield:

And some utilities—like the ones I'm about to tell you about—pay dividend yields as high as 4%.
Three Utilities to Buy Right Now
Income investors know that 4% dividend yields are hard to come by. In fact, only 12% of companies in the S&P 500 boast yields that high… and only a fraction of those yields are safe.
But I've trudged through the muck and pulled some great, safe, and reliable dividend-paying utilities for you.
The first option is PPL Corp. (PPL). The company owns and operates coal, oil, and natural gas plants in the eastern US.
Sounds pretty straightforward, but it also owns what's known as "peaking plants." These are high-margin power plants that only come online when the price of electricity spikes.
PPL pays a solid 4.6% dividend yield. And, with a five-year average payout ratio of 65%, the dividend is safe and reliable.
Next, we have natural gas utility CenterPoint Energy, Inc. (CNP). The company's operations are spread throughout the south with key locations in Texas and Oklahoma.
CenterPoint pays a steady 4.4% dividend yield. And, with a three-year average payout ratio of 66%, the dividend payment won't stop anytime soon.
Finally, there's Enel Americas S.A. (ENIA), which operates the largest privately held electricity generation, transmission, and distribution business in Latin America.
The population of Latin America is set to grow faster than that of the developed world. And that means more demand for power, and more business for ENIA.
ENIA has manageable debt, stable free cash flow, and a low payout ratio of 32%. Those are three key things to look for to determine if a dividend is safe. For ENIA, it means the company's 4.1% dividend yield is in good hands.
Utility stocks provide safety in times of uncertainty, but you know what else does: knowledge. And one of the best places to absorb huge amounts of economic and financial knowledge is the Strategic Investment Conference.
SIC 2020, which takes place from May 11–14 at the iconic Phoenician resort in Scottsdale, AZ, is no exception. The lineup of 25+ speakers is truly amazing again this year.
For example, there's billionaire investor and keynote speaker Sam Zell, who chairs more companies than some of my readers invest in and was named one of the "100 Greatest Living Business Minds" by Forbes (along with people like Warren Buffett, Bill Gates, and Jeff Bezos).
Plus Dr. Jonathan Ward, a China expert who has consulted for the US government, think tanks, and Fortune 500 companies.
Then there's billionaire investor Leon Cooperman, a former partner at Goldman Sachs and founder of Omega Advisors.
That's just a fraction of what you can look forward to. Many of the 450 available SIC 2020 seats are already spoken for, and the rest will sell out soon. So don't wait to register. I find nothing works better to inspire you than to be surrounded by greatness.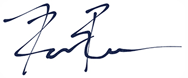 Robert Ross