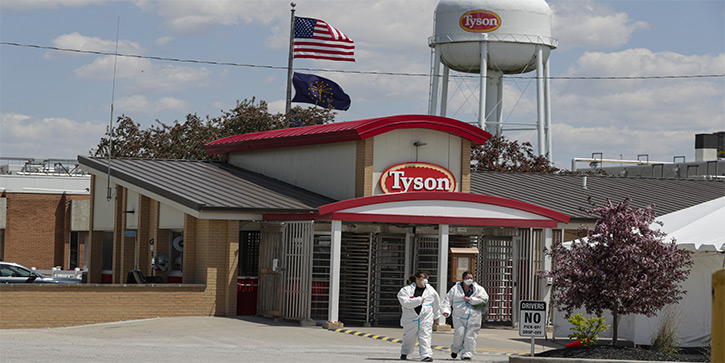 This Artificial Ingredient Will Slice & Dice the Meat Industry
---
One of the silver linings in the coronavirus era is that we're spending more time at home than we were just two months ago.
That's meant getting creative about the meals we are cooking and eating together. Especially when our local grocery stores temporarily run out of our favorite go-to items.
In April, beef and pork production dropped about 35% compared to last year, which has driven fresh meat prices some 8% higher over that same period.
But this is not due to a shortage of livestock. Rather, there is a weak link in the meat-processing supply chain—workers at meat plants testing positive for COVID-19. This resulted in 115 plants closing in 19 states in April.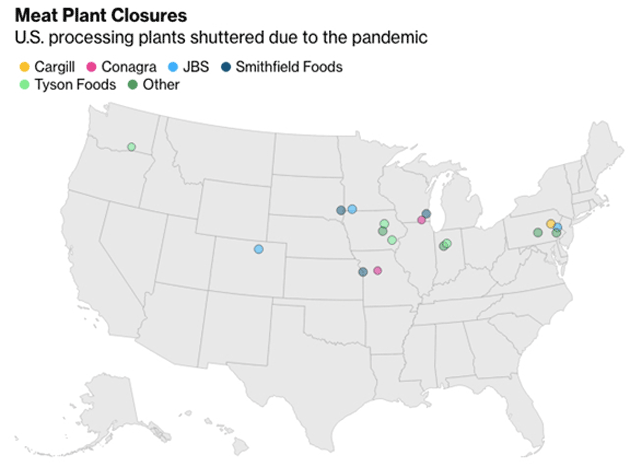 Source: Bloomberg
Last week, Tyson Foods (TSN) and Smithfield Foods (SFD) announced they are reopening two pork processing plants this month that were shut down after employees tested positive for COVID-19.
But these plants, like those that have stayed open, won't be able to operate at full capacity. Not for a long time. Maybe not ever.
That's because some of these big meat processors already had the wheels in motion for a future with fewer human workers. And the coronavirus is driving that future into view faster than planned.
"The Food Supply Chain Is Breaking"
John H. Tyson, chairman of Tyson's executive board, said that about its "responsibility to feed our country" and take care of its workforce, which already struggled to keep up with rising consumption before the pandemic.
That's an industry-wide problem. And it's why big meat processors plan to accelerate the transition to meat processing done by robots.
Tyson said on an investor call last week that its hog processing capacity is down 50%. But before the coronavirus hit, it had already signaled it was working to install robots at its meat-processing plants as it grappled with a shortage of workers.
Meet Your New Robot Butcher
Robots have been used in the meatpacking industry for years.
Today, advances in vision systems and artificial intelligence (AI) make it possible for robots to perform many complex meat butchering operations.
Here's a video of the latest in meat-processing automation.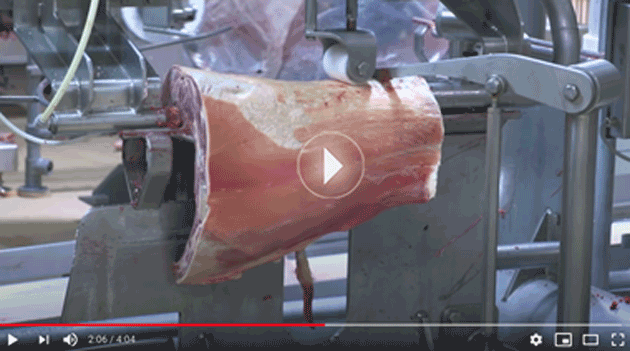 Watch here: https://youtu.be/za2dsB0qrMg
Only a handful of companies manufacture meat-processing robots. This list includes:
KUKA (KUKAY), a German company owned by a Chinese parent company
Yaskawa Electric Co. (YASKY), based in Japan
ABB Automation Co., part of Switzerland-based ABB Group (ABB)
FANUC Corp. (FANUY), a Japan-based robotics company
The largest protein-processing company in the world is Brazil-based JBS S.A. (JBSAY). It produces factory processed beef, pork, and lamb.
Its US operations are overseen by JBS USA Holdings Inc., a wholly owned subsidiary.
JBS is a vertically integrated meat producer, which means it handles the entire process from farm to freezer.
In 2015, JBS completed a deal where it purchased a 50.1% controlling interest in Scott Technology.
Scott Technology, a New Zealand company, is a leader in meat-processing robotics.
The investment brings the technology in house. And this will enable JBS to expand the use of automated meat processing across its 150 plants worldwide. JBS said it will provide the capital needed for Scott to scale up its production.
JBS has sufficient idle capacity at its Brazilian and Australian plants to export meat to the US to close any shortage gaps.
JBS looks set to raise its sales to meet global protein demand. Its acquisition of Scott will accelerate the use of meat-processing robots, and that will lower costs and raise efficiency, which should boost profits.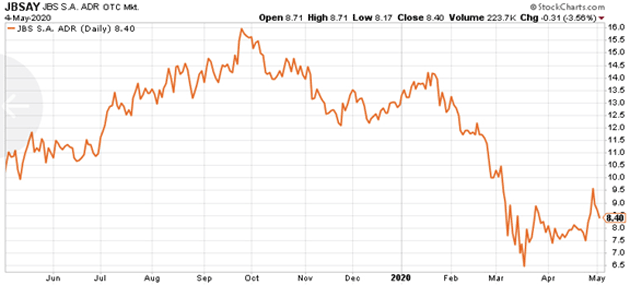 Source: StockCharts
In 2019, JBS had net revenue of US$35 billion, earnings per share of US$0.40, a dividend yield of about 2.3%, and sold for a modest forward P/E of 10.
Plus, the company has shown steady free cash flow over the past decade, which is important, as it means there's money in the bank for operations and dividends. This could be a good longer-term buy.
What will no doubt be a good longer-term investment are the companies that find themselves at the intersection of artificial intelligence, robotics, and the machine learning that makes automation possible.
Let me know if these are areas you'd like to see us dig into a little deeper.
Parting Thoughts
Happy belated Mother's Day to everyone out there who makes this world a sweeter, more loving place.
Almost 80% of people told the National Retail Federation that this year's holiday was particularly important, with two-thirds planning to celebrate virtually.
Flowers, gift cards, special meals, housewares, and technology—for all those FaceTime and Zoom visits—were among the winners. Here are some other winners this week…
Look your video-chat best: We're buying 23% more hair dye and 166% more hair clippers this year, according to Nielsen data. Now, we can hire a professional stylist to walk us through a home haircut.
Brunch at home is back: Kellogg (K) said Eggo waffle sales surged 45% in March, and cereal sales rose 2.7% in Q1 after years-long slump. Meanwhile McDonald's (MCD) saw its earnings slump 17% in Q1, with breakfast sales in steepest decline.
Sweet rewards: Frozen pizzas, chocolate chips, and coffee helped boost Nestle's (NSRGY) sales 4.3% last quarter. But pet food is its fastest-growing category. Its Purina brand saw sales grow 14% in North America, thanks in part to a coronavirus-related surge in fostering and adopting pets.
Speaking of art projects: "Mother's Day gifts during quarantine" searches on Google (GOOGL) surged 600%, and searches for "Mother's Day at home" on Pinterest (PINS) soared 2,971%.
How did you celebrate Mother's Day? Several states, counties and cities are starting to reopen their economies this week. How different will our world look by Father's Day? Share your thoughts at realitycheck@mauldineconomics.com.
That's it for this week. Till Tuesday…