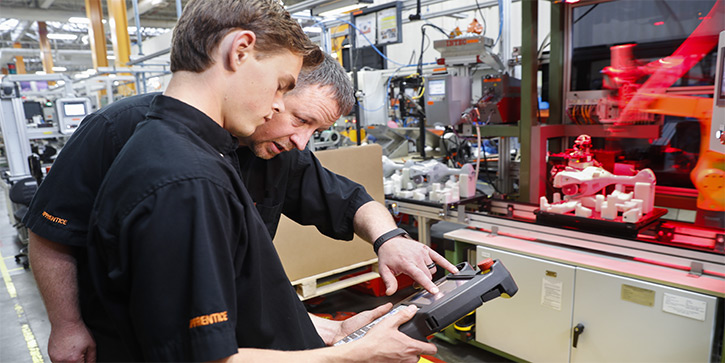 The Eyes Have It (Maybe Even These Two)
---
Our look at automation and robots in last week's issue struck a chord of deep interest among Reality Check readers. We received a huge number of responses asking for more coverage of this area of tech.
We looked at a narrow, targeted application of automation: the meat-processing industry. But great news—there is a lot more for us to cover together, across just about every industry.
Greater efficiency and lower costs are obvious benefits. Machines don't get injured on the job, ask for raises, take vacation days, or need medical insurance.
But there is a lot more to this story than the hardware that slices pork chops or packages Impossible Pork sausage for grocery stores.
What enables robots to perform their assigned task is the ability to "see" what they are doing, and then make task-specific decisions on the fly.
Take our original story about JBS S.A. (JBSAY) and its aggressive move to retool its meat-processing plants with robots.
These robot butchers are fundamentally a high-tech carving system. They determine the best way to achieve the most yield from each section of the animal they are processing.
To do that requires the machine to "see" the section of meat and then make judgments on how it should be carved. Each piece of meat will have a slightly different composition of meat and fat.
The robot uses X-rays to see into the meat and machine learning to judge how best to carve the specific piece for the highest value cuts with the least waste.
Machine learning is essentially programming a machine to learn by repetition and instruction.

Deep learning is a bigger idea, one where artificial intelligence uses algorithms to process images and extract information from them.
Vision + Decision. This is the intersection of deep learning and machine vision that makes robotics and automation possible.
We could all use an artificial helping hand when it comes to putting better stuff in our bodies…
In this example, machines are trained to view coffee beans and judge which are good, which are bad, and what is just debris or junk. This is achieved by have the machine view hundreds or thousands of samples and "learning" what is what.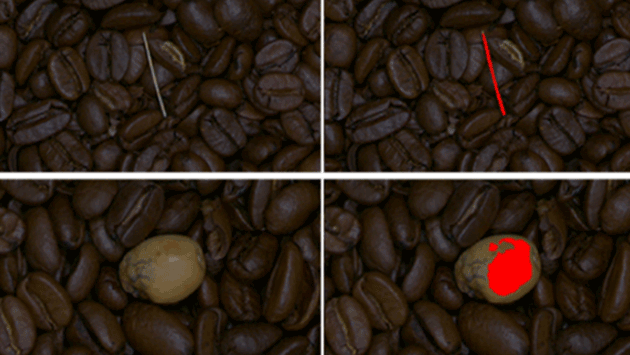 Image credit: Vision Systems
Investing in the companies that are developing and pushing the envelope in deep learning and machine vision technologies is like selling picks and shovels to gold miners in 1849.
Most miners during the Gold Rush left broke and demoralized. But many fortunes were made by the general stores that sold them the tools they needed to mine.
Finding these companies can turn into somewhat of a scavenger hunt. That's because most of the research in this field is being done by small, private companies and university research labs.
And the public companies don't usually offer you a pure play on this technology.
With that caveat, there are some investible choices out there.
Novanta Inc. (NOVT)
This US-based company designs and manufactures photonics, vision, and precision motion components in the medical and industrial markets worldwide. Its photonics-based solutions are used in industrial processing, medical and life science imaging, DNA sequencing, and medical laser procedures.
Last week, the company reported Q1 EPS of 51 cents, just two cents below Q1 2019. The balance sheet is strong, with $74 million in cash and no debt coming due until December 2024.
Novanta is investing for long-term secular trends in healthcare productivity and precision medicine. The COVID-19 pandemic has definitely shifted investor focus onto these two areas.
Cognex Corp. (CGNX)
This company is based in Massachusetts, but it dominates the global machine vision market and has a $10 billion market cap to show for it.
The red flag with Cognex is that it earns about 50% of revenues from the automotive and consumer electronics industries. With the US economy in a recession, and auto sales in a tailspin, now is not the time to be a buyer.
However, management thinks it will hit double-digit growth in its automation and logistics revenue over the longer term. It sees $3.5 billion of additional revenue opportunities in its markets, shown in the next chart: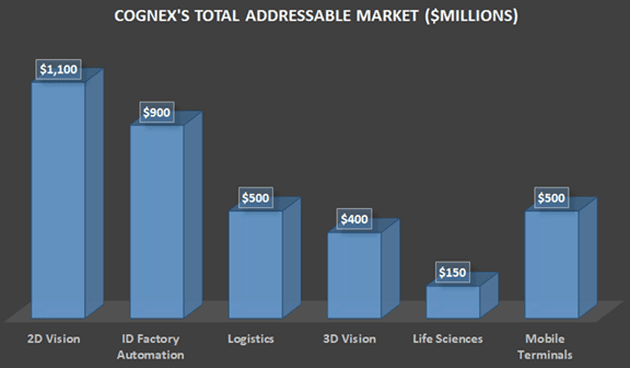 Source: Cognex
For Q1 2020, Cognex reported EPS of 12 cents, 37% below the same period last year, and a gross margin of 75%.
Neither of these stocks are cheap, and we would not be buyers at current valuations.
Under current economic conditions—33 million unemployment claims and counting, a record 16.4% drop in April retail sales, and GDP set to fall some 30% in Q2—the odds are high that the market is headed for another pullback.
Long-term investors could view market corrections as a disruption in the growth stories of both companies, and average into positions.
Parting Thoughts
The artificial intelligence that gives robots "eyes" and the sensors that give them "touch" are more than just the tools of tech experts, scientists, and factory owners.
AI is already out here in the wild. It isn't immune to the coronavirus, but things should get a lot better, faster, because of it…
Thank you to everyone who wrote in this past week. We love this topic as much as you do, and we're excited to be able to continue the conversation. Drop us a line anytime with your comments, questions, and ideas.
Till next time, have a happy and safe Memorial Day weekend!