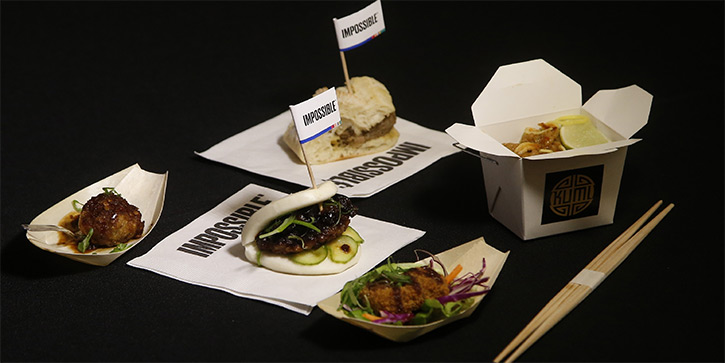 These Firms Are Feeding America's Appetite for Novel Meat
---
The "Quarantine 15" myth appears to be largely that—a myth.
Internet-connected scale maker Withings says the average American weighed in 0.21 pounds heavier between March 22 and April 18. During the same time last year, we gained 0.19 pounds.
These days, we may be less active and more stressed. But judging by our recent grocery receipts, we may be offsetting those effects by eating more veggies… whether or not we planned it that way.
And it looks like some of these recent changes in our diets may become a welcome addition to our old routines, when we can finally resume them.
Planting the Seeds of Change
Our dive into the world of meat and meat shortages—whether real or perceived—evoked some great questions from readers like Annie Z. and Vince W. They asked about the shift to plant-based protein and the outlook for those providers.
Even if you have a hard time digesting the idea of alternative meat, the potential for some of the companies in this space can be pretty mouthwatering.
The plant-based meat market had just under $1 billion in sales last year. IDTechEx forecasts the "novel meat" market to top $30 billion by 2030.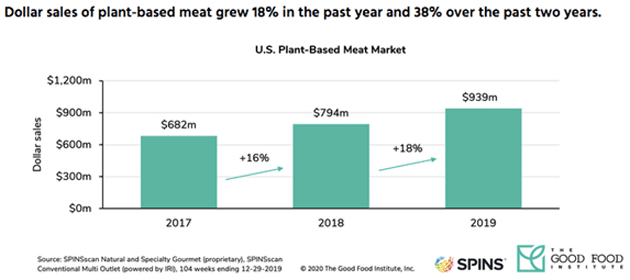 Source: Good Food Institute
But like many other trends, the coronavirus will likely pull that figure into view a lot sooner.
US shoppers—stuck at home and wondering what's for dinner… or perhaps stuck in stores with limited quantities of conventional meat—have flocked to meatless alternatives. We bought 264% more meatless meats since March.
This is the kind of investable trend we love. Especially when visionary companies are on standby, ready and waiting to feed that need.
The whole story is that the supply chains for beef, pork, and chicken have been massively disrupted. The wholesale meat supply channels to restaurants dried up due to forced business closures. Meanwhile, meat demand at retail grocers zoomed higher.
The result was a supply-demand mismatch and temporary meat shortages across the country. These will contribute to American meat consumption falling by 4%, or about 10 pounds, in 2020.
Will We Keep Our Appetite for Novel Meat?
The fractured meat market has been a boon for companies like Beyond Meat (BYND), Impossible Foods, and Tofurky. If you couldn't find the real deal, these were the next best thing.
And JBS S.A. (JBSAY)—the company we covered in the May 12 edition of Reality Check—has also thrown its considerable weight into the plant-based meat arena.
Planterra Foods, a JBS subsidiary, has launched a new plant-based protein brand, OZO. Its product family includes burgers, ground, and meatballs.
Beyond Meat is by far the most notable player and winner. Its shares are trading about 10% above their February 19 high, but still 40% below the July 2019 peak.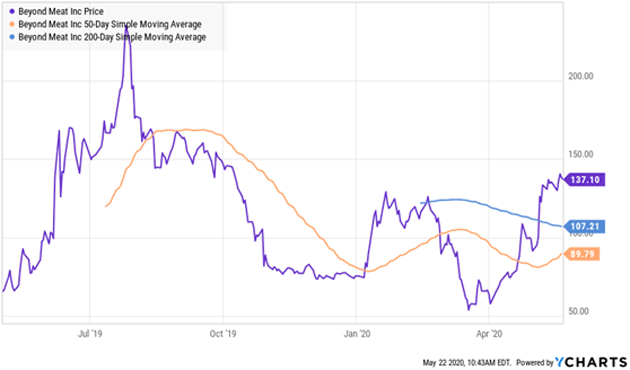 Great caution is the name of the game here. The median analyst estimate for 2020 earnings is around 20 cents. That pegs BYND's forward P/E at an oxygen-starved 650!
Plus, Bank of America analysis pegs a pound of Beyond Meat at $12, versus $4 for regular beef, which may be hard for some families to swallow right now.
The plant protein story does not end here, however.
The High-Tech Future of Meat
Now, the little known "cultured meat" industry has thrown its hat in the ring.
Cultured meat is meat grown in a lab from cultivated animal cells.
And this is not some kind of harebrained idea. The industry has raised millions of dollars.
The California-based food technology start-up Memphis Meats recently raised $161 million. It is the largest investment in the cell-based meat industry to date.
Another start up in the cell-based meat space is Future Meat Technologies. The company raised $14 million to fund its plan to supply the hardware and cell lines to the manufacturers of lab-grown meat.
It is still very early days in this niche market, but there is one way to play it: Tyson Foods (TSN).
Tyson has invested in Future Meat through the venture capital arm of the company.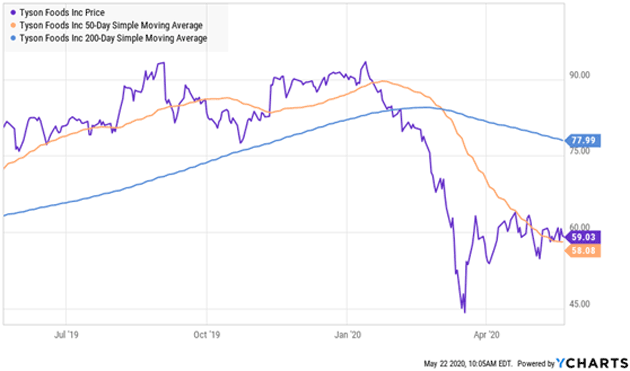 Tyson is also plowing money and clout into the plant-based meat market. It recently debuted a new brand, Raised & Rooted, that offers plant-based proteins.
This makes Tyson the largest US meat company to enter the space with its own brand.
Shares are off 36% from their recent high. At $60 per share, that puts its P/E at a very reasonable 11 (ttm), and the stock offers a dividend yield of nearly 3%.
What do you think about a plant-based protein revolution? Does it have legs, or do the products fall short of what's really appetizing for consumers and investors?
Parting Thoughts
Look for more meatless protein options from Kellogg (K) with its "Incogmeato" burger, Nestle (NSRGY) with its "Awesome Burger," and Tyson's plant-based shrimp via its investment in San Francisco-based startup New Wave Foods.
Fun fact: Tyson invested in Beyond Meat in 2016 but sold its share last year. Could faux shellfish be its next prescient bet?
Here are some other juicy nuggets in the news.
Here's the beef: Danish restaurant Noma is ditching its prepaid reservations and $400 dishes to reopen as a $15 burger joint. The vegetarian version is made from quinoa, tempeh, and "fermentation liquids."
This childhood game is making a sweet comeback: If someone rings your doorbell and leaves you a box of Hostess Brands (TWNK) Ding Dongs, then you're the newest player in a game of "Ding Dong Ditch." Be sure to pay it forward!
Homesick for airline food?: Imperfect Foods is playing the role of flight attendant by selling JetBlue's (JBLU) cheese and snack trays to US customers. It's the perfect complement for anyone who wants to simulate a canceled 15-hour flight like this family did.
Till next week…