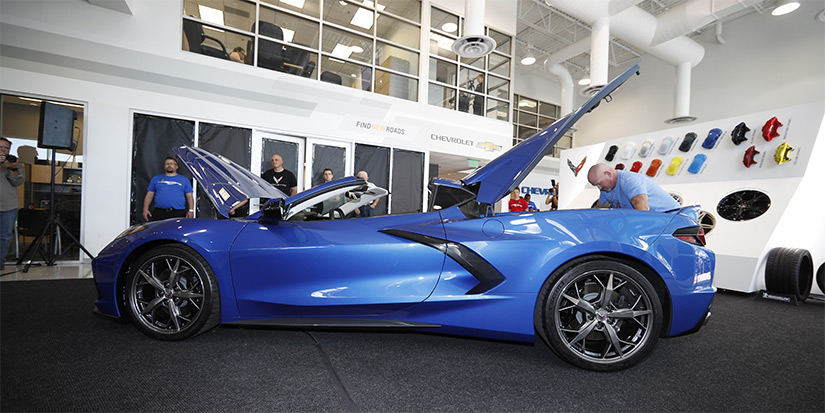 I bought a new car on Monday. It's a 2020 Corvette C8 Stingray, with all the extras imaginable.
I think it is a pretty cool car. I hope you agree!
I had originally ordered a 2020 Corvette back in March 2020. A week later, the pandemic shut everything down and production on Corvettes came to a halt.
In August, I rolled over my order to a 2021. But apparently, I was slow, because all the cars for this year had been made and I was out of luck yet again.
The salesman from the dealership encouraged me to sign up for a 2022, but I told him to stop the madness. It's absurd to wait two years for a car.
That's what I stopped in to tell him over the weekend when I saw this car on the showroom floor: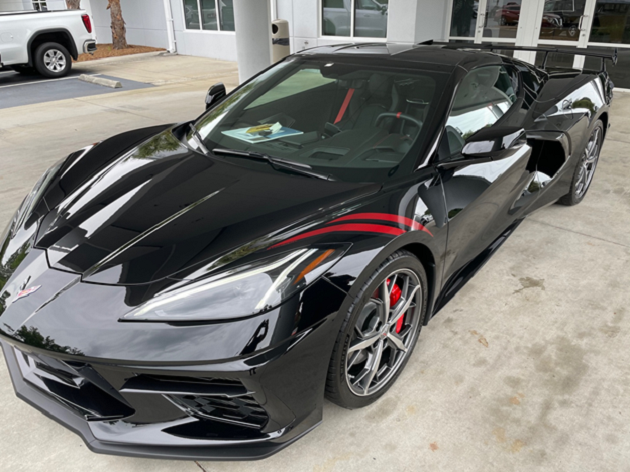 Gosh, I thought, that's even better than the one I ordered. And it's got the high-wing spoiler, which was discontinued for the 2021 models.
So I turned to the salesman and I asked, "How much is this car?" He said, "$113,000."
Now, the car I ordered was supposed to be $81,000. This car has many more extras, and the 2020s are also trading at a premium since they're the first year with the mid-engine.
You might have noticed that all cars are trading at a premium, which is a function of all this money sloshing around the economy.
Well, I thought, you can't take it with you. And thus ended my Toyota buying streak at five.
The Back Room
I'm sure you've had this experience before. When you're buying a car, they take you in the back room to talk about warranties and financing. No cameras in there.
I met a young man who introduced himself as the grandson of the guy who founded the car dealership 44 years ago. He was friendly enough.
I sat down and asked him how he's doing. It turns out he just got back from a week in Mexico where he was swimming with the dolphins. I got to see lots of pictures of him swimming with the dolphins.
Then he started in on the warranty. He explained that my car is technically used (though it only had 1,000 miles on it), and the clock on the manufacturer's warranty has been running for a year. He drew out this needlessly complex diagram about what the warranty covers, and I'm like, look, I'll take the extended warranty, it's fine.
Usually I pass on the extended warranty, but this is kind of an experimental car. So, I figure there might be some gremlins in the transmission. Better safe than sorry.
Though he didn't tell me what it costs!
Then he writes the following number on a piece of paper and slides it across the desk at me:
1639
He says, "That's with the warranty."
"That's how much the warranty costs?" I exclaimed, "$1,639 a month?"
"No, no," he said. "That's your payment with the warranty."
To this point we had not discussed financing at all—not an interest rate or the term of the loan.
I asked him, "What's the interest rate on this loan?"
And he didn't answer! He started talking in circles about banks and car loans and availability, and I finally had to ask him point-blank, again: "What's the interest rate on this loan?"
"5.99%," he says.
"Are you kidding me? 30% of car loans are at 0.0% and you're charging me 6%? When I have 800-plus credit scores?"
"Well," he says, "maybe I can knock a percent off."
"No! That's still too high. I'm going to pay cash."
At this point, I see him slump in his chair. There goes the profit margin on the most expensive car in the dealership.
"Why the hell am I getting a 6% interest rate, anyway?" I asked.
"Well," he says, "It's a used car, and also, you don't have a car credit history." Which is true, because I typically pay cash for my cars. "Also, banks don't like to lend against high-dollar vehicles."
Bizarre. Well, screw those guys, I'm not taking out a 6% loan. So I wrote them a check for 118 grand (including the warranty) and drove off with the car.
This Is Outrageous
I identify as a libertarian here. I should point out that the car dealerships were left out of the Consumer Financial Protection Bureau regulatory framework. It's the Wild West out there.
This jacknuts was trying to get away with showing me a number—my monthly payment—without ever disclosing the interest rate or term of the loan. If I didn't ask, he wouldn't have told me. He doesn't have to. This has happened to me before.
How many times does this happen across the country, every day? They're preying on people's innumeracy.
I am fond of saying that when you walk into a car dealership, you are taking your life into your hands. They are also very sophisticated financial engineers. They will find a way to get you in that car—and that car will likely find its way back to them after six months. But they get the sale, which is what they are incentivized to do.
I'm not calling for full-scale regulation of car dealerships, just disclosures. Disclose the interest rate and the term of the loan, up front, on a piece of paper, which the customer has to sign.
They literally tried to pull that crap on someone who is allegedly one of the leading experts on personal finance in America. I told them no, because I don't mind telling people no.
But some people are people-pleasers. They feel pressured into saying yes. And they are intimidated by the back room. And that is how people's financial lives get destroyed.


Jared Dillian
subscribers@mauldineconomics.com
Tags
Suggested Reading...