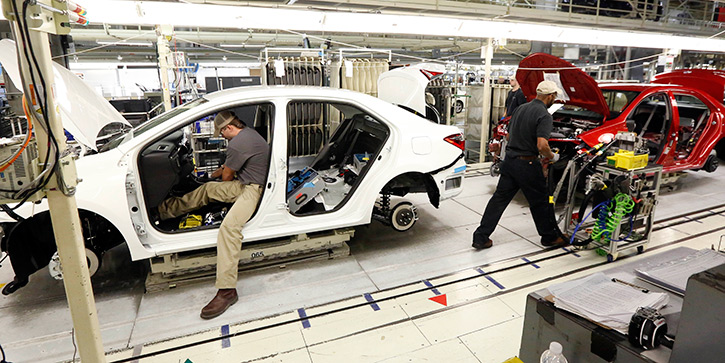 Buying a car is a pretty terrible experience. The last car I bought was in August of 2017—it took about six hours, the salesman was a bit like the pool boy in Extract, and I had to sit through the extended warranty rigamarole.
You can order pretty much anything else off the internet and it will show up at your doorstep. Not cars. Tesla is trying to do this, but Tesla has its own issues.
Anyway, I had done plenty of research on what my trade-in and the new car were worth. My pool boy car salesman put together what I thought was a pretty good offer, so I took it. In spite of being Master-of-the-Universe-trader-guy, I am not much for haggling over car prices. I will haggle for stuff if it's on a computer screen, but not face-to-face. A cultural thing, I suspect.
The car I bought before this one, I got on cars.com, which eliminated all the haggling and got me a good price. That actually was a good experience.
Not including the car I inherited from my grandmother when I was 16 (which was a POS), I have driven four cars in my lifetime. All Toyotas. A Toyota Tercel, a Toyota Camry, and two Toyota Highlanders. I am brand-loyal to Toyotas.
In 23 years of owning Toyotas, I have never had mechanical issues. I have never had (aside from me leaving the lights on and running down the battery) an instance where I walk out to the car and it won't start. That is pretty much what I want in a car—I want it to start when I turn on the ignition. The only other thing I care about is the sound system. I pay extra to upgrade the sound. In my last Toyota Highlander, I blew out the speakers twice.
There is a school of thought that you should buy gently used cars, since you drop a few thousand bucks in value once you drive a new car off the lot. Maybe. I have my system and it works for me—I buy new Toyotas (which are not terribly expensive) and put hundreds of thousands of miles on them, then trade them in for new Toyotas.
Because they are new, I know they don't have any mechanical issues. Because they are Toyotas, I know they
won't
have any mechanical issues. Buying a used car is a false economy if 6 months later it craps out on you, and you have to take it in for $3,000 in repairs.
I don't think this works for other kinds of cars. BMWs have a reputation for having maintenance problems. They are cool cars, but… I'll be a dork and drive my Toyota because I know it will start when I turn on the ignition. I suspect I will continue to drive Toyotas even if I become the richest person in town. I am just not much of a car guy.
Being a "car guy" is an expensive hobby to have. I like to think about car expenses in terms of how much you pay per year for the privilege of driving your car. I paid $40,000 for my current car, with a $9,000 trade-in, so an all-in cost of $31,000. If I own the car for 8 years, it costs me $3,875/year, not including gas, insurance, or maintenance, which is basically zero outside of replacing tires and brakes.
$4,000 a year to own a car is not bad. Unless you buy some beater car, $2,000 a year is probably the minimum it will cost you. If you make $80,000 to $100,000 a year, you can afford $4,000 a year to own a car (even after including gas and insurance).
If you make $40,000 a year, you will probably want to get a cheaper, used car. This is one of the ways that life is unfair to people without money, because in order to save money, you necessarily have to run the risk of dealing with mechanical problems. And the worst part of that is not the money, but the time. Everyone knows the lamest excuse for missing work is "car trouble."
What's missing here is a discussion on financing.
-

What's better than lifetime membership to our most exclusive club?

If you're the "right kind" of special person, lifetime access to all our subscription services is just the beginning of what you'll appreciate as an Alpha Society member.

That's because Alpha Society membership adds a priceless, personal touch to make your life much richer.

Membership isn't for just anyone, though. Click the link below to learn why the benefits of this private club are available to only a few new members today.

-
Car Loans
Don't get one. Pay cash.
I have had two car loans in my life. They worked out fine, but I paid a lot of interest.
Paying interest is bad, as we have said many times here in The 10th Man. It is unproductive.
The last car loan I got was for the Highlander I bought in 2010. It was a 5-year loan at 4%. The car cost $32,000 and I paid $8,000 in interest over the life of the loan. Useless.
This especially applies if you are a subprime borrower, in which case you will be getting a car loan of 6 or 7 years at a much higher interest rate. You will buy two cars with all the interest you are paying.
I know some of these car salesmen. They are very creative with financing. They say, "I can get you in that car." One way or another, they will structure the deal so that you can buy the car. And that is not going to be a very good deal for you. Which is the understatement of the century.
The cars guys are not acting in your best interest. They can put you in the car. It will just not be a car that you can afford.
I am a big fan of paying cash for stuff. Technically, I put $5,000 of my last car on my credit card to get points (more on this at a later date). Then I paid it off the following month. I wrote a check for the rest. From here on out, I will always pay cash for cars.
People get screwed when they buy cars because they are not financially sophisticated. They also do not have a healthy respect for debt. A lot of misery is spread this way.
One final jab about cars and self-image. People who end up in debt often do so because they care too much about what people think about them. I drive a Toyota. It might as well be a moped.
2019
I sent you an email on this yesterday, but it's important enough that I'm going to briefly mention it again here—please check out your invitation to join the Alpha Society!
It's a pretty great time to join. For one, you get access to every service published by Mauldin Economics, for as long as it's published. And you pay a one-off membership fee (plus a small yearly maintenance fee).
It's a brilliant deal. The alternative is either to go it alone, which is not very wise in the current environment, or to pay yearly subscriptions to a hodge-podge of newsletters, which is not very streamlined. Plus, it's not unlike the issue I have with car loans—it won't be long before what you've paid in yearly subscriptions will be more than the one-off Alpha Society membership fee.
And that's not even getting into the membership perks that aren't available to non-Alpha Society members, at any price: our members-only Quarterly Conference Calls… our online community (the Alpha Society Council)… Alpha Society-only discounts for one-time events including online conferences, emergency summits, and more…
As I said in my email, what's happening in the markets requires real discussion and debate. We want interesting thinkers and doers in the Society (not just financial professionals) so we can figure this out together.
But there's only a couple of days left before the doors close before another year. So I encourage you to come and join us (and get 2019 off to a great start).
Suggested Reading...