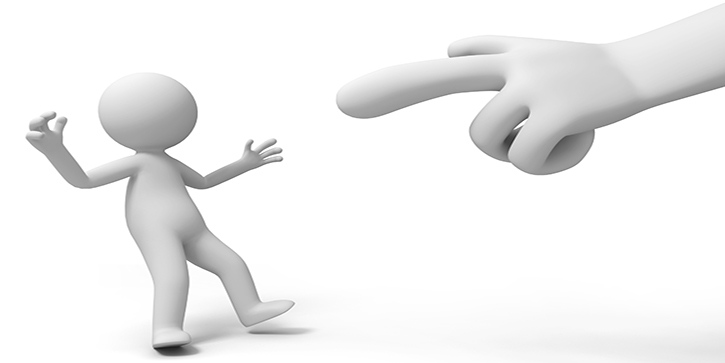 When I was an ETF trader, if a client came in to trade a few hundred thousand shares of an ETF and the price moved abruptly against him right after the trade was consummated, the client would request a price improvement. This was to prevent embarrassment when the client (an execution trader) reported the fill to his boss (the portfolio manager).
The embarrassment was so acute that if we refused to grant him an improvement, we might never hear from that client again.
It is generally true, though, that people who work in the capital markets do not embarrass easily. You win some, you lose some. You have to be willing to lose money in order to make money. Most people understand this. (If you ever find yourself in a trading job where your boss screams at you for losing tiny amounts of money, leave immediately.)
Government folks, well, that's a different story. They fear embarrassment more than death itself.
Le Fed
I am thinking about the Fed in particular. I was about to say that the Fed doesn't have a P&L, but they actually do have a P&L, it's just that they don't care about it. Nobody is going to get paid or promoted based on how much money the Fed returns to the Treasury. People will get paid or promoted based on how much heat the Fed takes from the press and the general public.
If nobody knows what the Fed does, even better. That's why Ben Bernanke's public outreach campaign, including the 60 Minutes piece, was so puzzling. But he pulled it off, as he pulled off most things as chairman.
As it stands, nobody knows what the Fed does, or who Janet Yellen is, except for the press pool, who are a bunch of drool buckets. The journalists are in the business of selling newspapers, so they try to create drama, as they do around this Fed hike.
Atlanta Fed President Dennis Lockhart was out Tuesday making the case for a rate hike, and the Wall Street Journal sent out an alert, which is a very big deal, but trust me, there is not going to be any rate hike.
"Dillian Is Dumb Because He Said There Would Be No Rate Hike and There Actually Was One"
And this is sort of the game that the newsletter writers play, too—many of them try not to say anything falsifiable, because God forbid someone could go back on the Internet and point to something where you were wrong. And if you are wrong, there is shame associated with that. So I am saying on the Internet that I do not think there's going to be a rate hike, and I might be proven wrong.
I'm a trader at heart. You win some, you lose some.
There is one, maybe one and a half reasons why I think there will be no rate hike:
The Fed will always choose the path of least embarrassment.
If the Fed hikes rates too soon, they tank the economy, and we get a recession, and they are squarely to blame for it. The Fed incurs reputational damage. This is the worst thing possible.
If the Fed hikes rates too late, there is some possibility that we might get inflation very far in the future, and nobody will be able to pin it on them. Not as much embarrassment.
So the Fed will always err on the side of raising rates too late.
Except there is one problem. They have been yapping about raising rates for so long, that now it will be a little bit embarrassing if they don't raise.
But still not as embarrassing as the original scenario, where they inadvertently cause a recession. That would be a disaster (for them).
What About the Financial Crisis?
Didn't the Fed act boldly during the financial crisis?
No. Another case of ass-covering by the Fed. Bernanke is no different. In a crisis of that magnitude, you cannot be seen as doing too little.
Bernanke had two choices: act cautiously or pull out all the stops. He correctly estimated that it was better to be seen doing too much rather than too little. Remember TAF and TALF and all that nonsense? He would have kept coming up with lending facility acronyms if he had to.
The Fed will always, always, always pursue the path of least embarrassment.
Come to think of it, any government anywhere will always pursue the path of least embarrassment.
Whoops, I just gave away one of my trading secrets. Now you are in possession of it.
There Is One Other Possibility
The Fed could do half a rate hike and just be done. You see, interest rates are not at zero right now—they vary between 10 and 15 basis points. The Fed could just do half a rate hike up to 25 basis points and call it quits.
Not even the dippy journalists think that we're going to have a protracted rate hike cycle. So all this drama is about 10 basis points. How incredibly useless.
It might not be useless, though. Weird things happen with interest rates around the zero bound. I'm being serious. Even a small rate hike might cause more havoc than people think.
If the Fed does hike, and it does a poor job of communicating that rates are on hold indefinitely, the market will not react well.
But anyway, my call is they chicken out again. I'm not afraid of being wrong. I don't embarrass easily.
Suggested Reading...