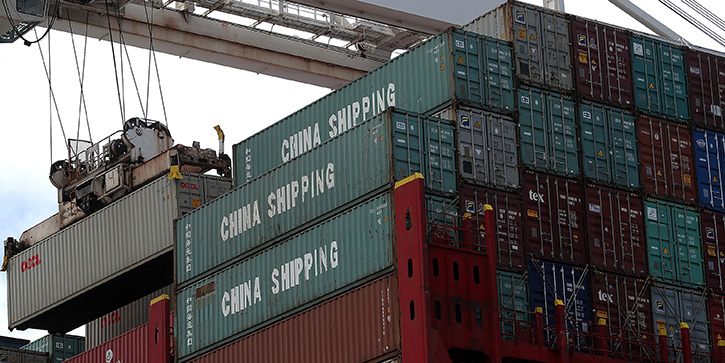 The Allegory of the Sandwich
---
Donald Trump is proposing really big tariffs, and the stock market doesn't like it.
Let's keep this really simple.
Most of us here understand intuitively that free trade is a good thing, but maybe can't articulate why. Let me help, using the allegory of the sandwich.
Say you want to make a sandwich, in a jurisdiction where trade is not allowed. A ham sandwich, with lettuce, tomato, and mustard. But you don't have the ingredients. And you're forbidden from buying the ingredients at the store.
But you really want this sandwich. So you have to raise a pig for slaughter, butcher it, and cure the meat. You need to grow the lettuce and tomatoes. You need to grow wheat, I guess, mill it, turn it into flour, and bake it into bread. Lord knows how you make mustard.
-

Exclusive offer for 10th Man readers...

For a limited time, you can get Street Freak, The Daily Dirtnap, and ETF 20/20 at a ridiculously low price… And find out how to:

Get rich in a slow but sustainable way using ETFs
Build a portfolio out of high-performing stocks targeting the best risk-adjusted returns, and
Get positioned in the contrarian plays Jared Dillian himself invests his own money in

If you want all of Jared's research at the lowest price you'll ever see, you have to act now.

-
After a few thousand hours of dealing with this crap, and a lot of physical labor, you have a sandwich. And it probably doesn't taste very good.
All of capitalism revolves around trade. I play my tune on the computer keyboard, and you play your tune on the jackhammer, and we receive money for the things we create which we can exchange for things we want.
Now, Trump hasn't erected barriers to trade, per se, but he is making it more expensive. You can have your sandwich, but it will cost more. And domestic makers of sandwich ingredients will have difficulty exporting them overseas.
So you get higher prices, and lower economic activity.
The argument for tariffs usually centers around this: other countries already place them on our goods, so we are just getting even.
Well, you know what they say about an eye for an eye leaving the whole world blind.
Tariffs Are Dollar Bullish
They are, because the US imports a lot more than it exports. For example, we import about $500 billion in goods from China and export to them only about $140 billion.
Think of it this way: the US has a lot of resources. We can make a sandwich on our own better than any country in the world. With difficulty—but we can do it. China (and pretty much everyone else) will have a much harder time making a sandwich.
So the dollar will probably rally for a while, but it would have been nice to be long back in April. But who would have been long back in April?
Well, on March 14 in The Daily Dirtnap, I said "…in the grand scheme of market mispricings I've seen over the year, [EURUSD] is the biggest."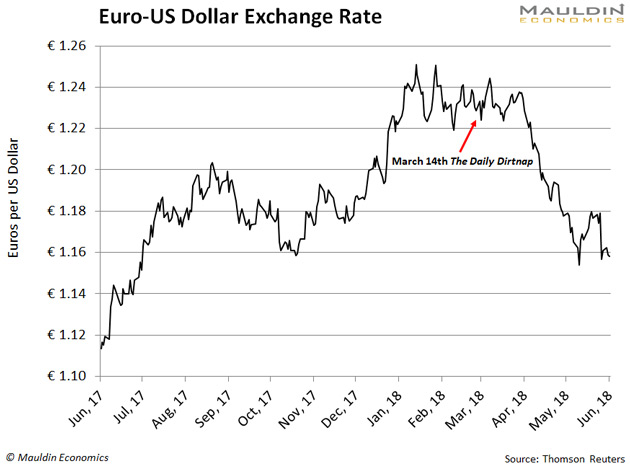 And on April 24, also in
The Daily Dirtnap
, I said: "I'm going to make a bold statement and say that we've made the turn in the dollar. Stronger dollar from here on out. That's what the chart is telling you, and that's what the bond market is telling you."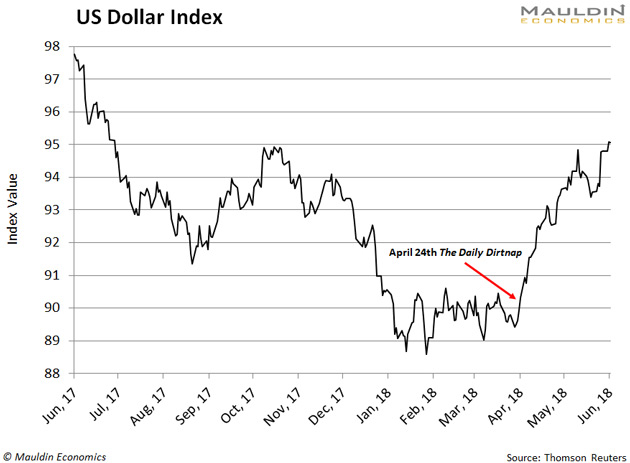 I point this out for a couple of reasons. One, because I want you to subscribe to The Daily Dirtnap, but mainly because this particular example illustrates my entire philosophy of investing.
Long the dollar in March/April was the scariest trade on the board. It had just sold off for months, even with interest rate differentials between Europe and the US blowing out to record levels.
In the US, rates were going higher. Everywhere else in the world, monetary policy was getting softer. But the trade was too scary; Trump's unpredictability was intentionally or unintentionally keeping the dollar weak. Treasury Secretary Mnuchin was explicitly calling for a weak USD.
Maybe not too many people here trade FX directly, but your opinion on a move in USD might have informed your opinion on Emerging Markets, which would have been helpful.
Next Time, the Price Will Be Even Higher
A note on the ad in this letter. On July 1, the prices of The Daily Dirtnap, Street Freak, and ETF 20/20 are going up—to $795, $495, and $99, respectively.
I've thought a lot about this. Even though I've known that all three publications are underpriced, I have a strong status quo bias, so it took me months to reach the decision.
Here's the thing. I have been writing The Daily Dirtnap since 2008. Since then, the price has always been the same: $600/year. Even with low inflation, it adds up.
And people frequently tell me that I don't charge enough—for any of the publications.
Anyway, I just I wanted you guys to be the first to know what was happening, and why.
The Good News
Ahead of the increase, Mauldin Economics is offering
an amazing deal to 10th Man readers
. You get all three publications… and you get them at a 43% discount off the new price… and you get 30 days to try all three out.
It's not only a large discount off what the new price will be, it's also a pretty big chunk off what the old price is. Whatever way you spin the math, it's a hell of a deal. And one thing's for certain—the prices will never go back down.
So if you've been reading The 10th Man for a while and considering taking a step up, now is the time.
Getting all three publications is kind of like getting the best ham sandwich: I spend the time to do all the slaughtering and growing and researching and sweating, and you benefit from the end result.
Except instead of a ham sandwich, you get me talking to you almost every business day in The Daily DIrtnap, about how to invest and where I'm putting my own money.
And you get access to Street Freak's stock portfolio, which aims to beat the market while minimizing volatility.
And you get my monthly ETF 20/20 guidance on safe-yet-profitable ETF investing.
The offer is good through June 30, and you can check it out here.
Suggested Reading...