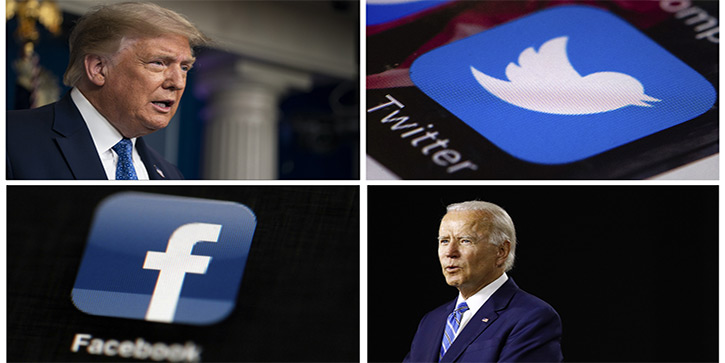 Advertising Will Win the November Election
---
Mark Zuckerberg reportedly wants to pay some Facebook (FB) users to log out until after Election Day so the company can measure how social media impacts voting.
Facebook also just announced it will ban new political ads the week before the November 3 election. So, it's clear Zuck & Co. already know their platform's power.
Other platforms are also happy to serve up some of the record $15 billion in political ad placements that media investment firm GroupM expects we'll see this election cycle.
Get ready for the deluge. And read on for a non-partisan way to profit.
No FB, No Problem—Targeted Ads Will Target You
For the first six months of 2020, TV ads on streaming services exploded past $1 billion. That's up 205% compared to the first six months of 2019.
That's because the coronavirus helped to advance the cord-cutting trend. Which took our collective eyeballs off traditional TV programming… even if we streamed our new favorite shows to our traditional TVs.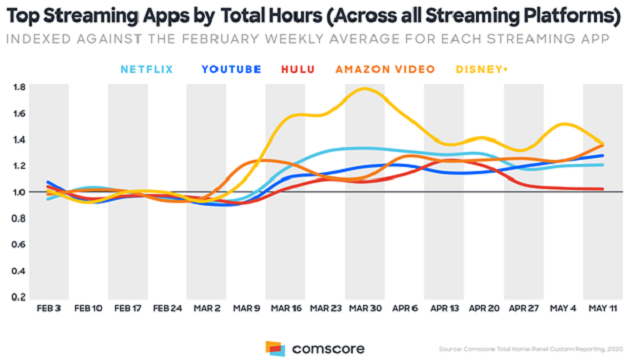 Source: ComScore
So, digital ad buyers are getting in front of more eyeballs. But how do they get in front of the right eyeballs?
For starters, they can buy more media. A digital ad spot is usually cheaper than the same 30-second spot during a prime-time TV show. Advertisers can even pay extra to the platform to make their spots "unskippable."
This equates to "guaranteed views." It helps advertisers determine whether an ad is working, especially if there is a clickable call to action included.
And second, the ability to track clicks isn't the only advantage to buying ad space on social media and streaming services.
The Old Rules Don't Always Apply to New Media
Candidates are largely unable to campaign in person because of the coronavirus. But something else makes streaming ads attractive…
Digital is still a no-man's land where the old rules of engagement don't always apply.
Broadcast television stations must maintain publicly available files that detail who paid for ads and their costs, along with the day and time they appeared. They also need the "I approved this message" stamp on them.
Political ads on digital platforms can hide behind a cloak of secrecy. That's because the Federal Election Commission does not provide guidance on advertising and disclaimers.
So even though voters and legislators wanted to see more transparency in 2020… the result will probably end up being less.
But not all digital platforms want in on that action.
Some Techs Are Trying to Fight City Hall
Last year, Twitter (TWTR) stopped allowing politicians to run ads. And Spotify (SPOT) has also suspended political advertising. In Spotify's defense, it makes more than 90% of its sales from premium users… who pay not to see ads.
Google (GOOGL) has banned campaigns from microtargeting their ads with custom lists of voters or to geographic areas smaller than a ZIP code.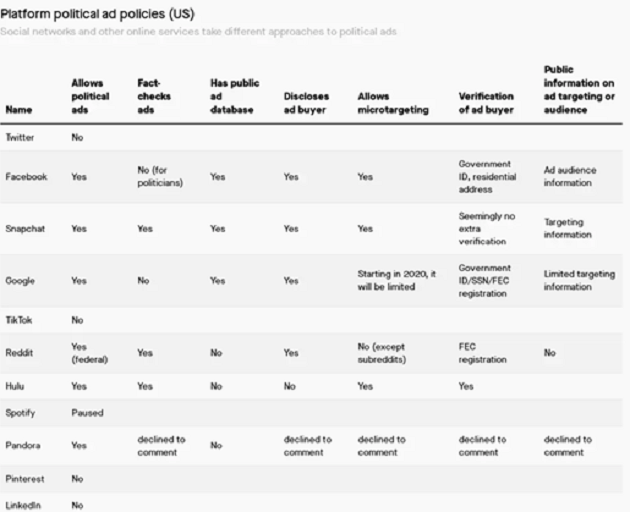 Source: Quartz
If you don't want to see political ads, you're better off sticking with Netflix (NFLX). They don't even run outside advertisements except during major TV events such as the Super Bowl or awards shows.
If you are open to seeing ads, Hulu—owned by Disney (DIS) and Comcast (CMCSA)—is among ad buyers' favorites. It allows ads and microtargeting.
During the first half of the year, Hulu racked up nearly 9 billion impressions, up 200% from the previous year. Plus, Hulu is ad-supported—meaning that you can't skip or fast-forward through its ads.
Even if you don't want to see ads, plenty of others will.
And we see value in a company serving up those ads to just about anything not named Facebook or Google which, together, command two-thirds of all digital ad spending in the US.
This Company Shines at Monetizing Your Time
The Trade Desk (TTD) is poised to profit no matter where political advertisers are funneling their money. This Ventura, Calif.-based company has become the fastest-growing demand-side platform in the industry.
It doesn't own any media outlets. Rather, it strikes deals with content providers like Hulu, Amazon (AMZN), and even Alibaba (BABA), the Chinese version of Amazon. In addition to booking media placements in advance, TTD also works in real time to scoop up ad spots as they become available.
For example, awards shows, sports events, and political debates often run longer than expected. Content providers might give away spots during this "overtime" at a discount or even free… and TTD can use this to optimize the cost of its ad buys.
The COVID-19 pandemic caused many advertisers to cut spending temporarily. But the most recent earnings numbers show TTD's revenue was up 7% for the six months ending June 30.
And investors have been noticing the trend.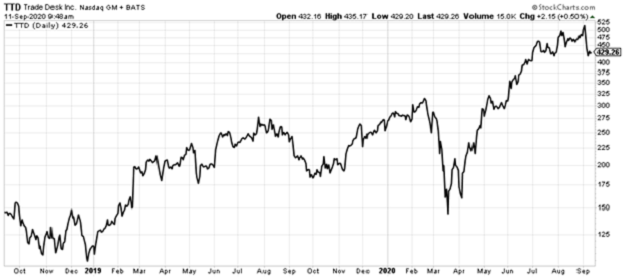 Source: StockCharts
Shares are up 63.7% since the beginning of the year. But you'll see that they dipped 18% in the past week and a half.
This could be a great buying opportunity if you're looking to profit from the billions that are sure to move during this political advertising season.
With the coronavirus largely keeping candidates from doing in-person campaign events, advertising is more important than ever. The more money that floods the digital airwaves… the more profits digital platforms will ultimately pocket.