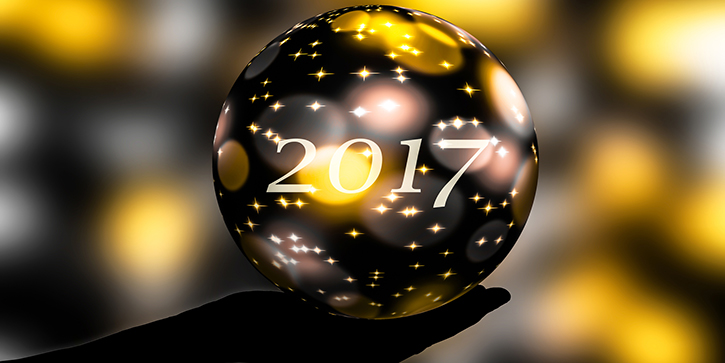 I don't.
Did you ever notice that when you look at all the failed predictions in any given December, what ended up happening was the opposite of what everyone predicted?
Given that most predictions end up being wrong, why not just take a look at what passes for conventional wisdom and do the opposite?
Warning: many of these involve Trump.
Trump is going to nuke somebody in 2017.
It is true that Trump wants to increase, rather than decrease, our nuclear capabilities, which runs pretty much counter to anybody's idea of what constitutes peaceful behavior in 2017.
The interesting thing about the nuclear threat is that as the popular perception of it has waned since the Cold War, the actual nuclear threat has increased as the number of nuclear weapons has declined.
What if the opposite happens—what if peace breaks out all over in 2017? And what if it is because of Trump?
Trump's billionaire cabinet is going to turn the United States into a vast plutocracy.
The interesting thing is that inequality massively increased under Obama, who was allegedly concerned about the poor. Trump seems concerned about the rich—what if the opposite happens? What if inequality decreases?
There are a lot of good reasons why this would happen, particularly the composition of the Federal Reserve, which is about to get more hawkish no matter what happens. Raise interest rates to something approaching equilibrium, and a lot of this stupid risk-taking activity comes to an end.
We are due for a recession.
What if we're not? Recessions, probabilistically speaking, are independent events. Just because we haven't had one in eight years doesn't mean we're going to have one tomorrow. There's no reason the expansion can't continue. The only way we get a recession is if the Fed causes one by ripping rates.
The Fed is full of crap and will never raise rates.
People are starting to come around to the idea that the Fed might hike rates some more, but the consensus opinion is that the Fed has a history of overpromising and underdelivering. There is a big blind spot here. It's the classic boy-who-cried-wolf fable.
International trade is going to collapse under Trump.
What if the opposite happens? What if there is actually more trade?
What if Trump doesn't simply tear up existing treaties but renegotiates them? If we've learned anything since the election, it's that a lot of the things we thought were true about Trump have been all wrong.
The BOJ is out of tools.
USDJPY went from 100 to 118 in a heartbeat. It would appear that the BOJ has finally found its most powerful tool—the 10-year rate cap. People have been predicting endless deflation in Japan as long as I can remember. They missed the move in the Nikkei and USDJPY in 2012, and when inflation comes, it's not likely anyone will get that right, either.
The ECB will continue to do whatever it takes.
What if they don't?
We saw on Tuesday that German inflation is starting to rip.
You can read in Street Freak the implications of a Fillon presidency.
The Eurozone might be breaking out in growth—which might mean the end of radical monetary policy.
Healthcare and education costs will continue to skyrocket well into the future.
People are so used to healthcare and education costs going up 15-odd percent a year, that they feel there is no way for the trend to be reversed. Again, a pro-growth, pro-business president introduces some market reforms (in the case of healthcare) and ends subsidies (in the case of education)… problem solved, or at least improved.
Global temperatures will continue to skyrocket.
What if they don't? I understand perfectly well the science behind it. But when everyone believes something, it is almost always wrong.
France, Italy, etc., will never grow.
The French workers now have a government-approved right to ignore work-related emails outside of business hours. I'm guessing this is the top tick in stupidity. Wealth is the direct result of work. If you want wealth, you have to work. If you don't work, you won't have wealth. I think Europe is getting closer to figuring this out.
There are some really cool trades to put on with this idea.
Mexico is screwed, because of Trump.
Probably not.
China is going to blow up the world.
Everything you read about China is probably false.
The Cubs are going back-to-back in the World Series.
I actually believe this. The Cubs will be a dynasty for years to come.
File this 10th Man issue away and look at it a year from now. I bet a lot of my dumb contrarian predictions actually come true, because whatever is the consensus is usually wrong.
Here's a great tweet: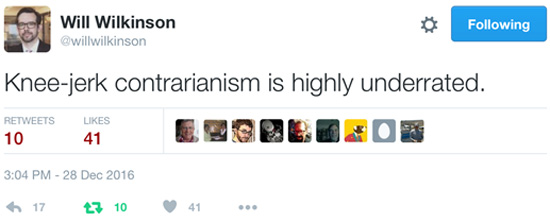 It's better to be contrarian for the sake of being contrarian, than to be consensus for the sake of being consensus.
So for 2017, question your assumptions—always, always question your assumptions. Question what people believe to be true. Find the blind spots. Trade accordingly.
subscribers@mauldineconomics.com
Tags
Suggested Reading...