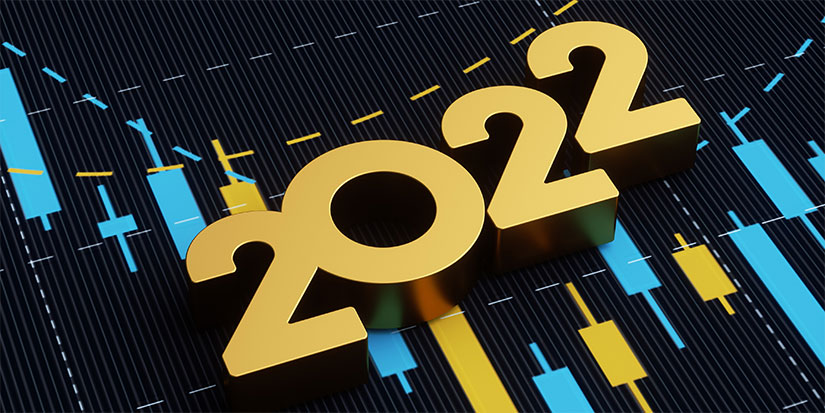 Off in a Flash Like a Herd of Turtles
---
I always like to begin the year expecting some fireworks in the market. There were none, unless you count the spike in rates and the small rip in the dollar.
The mood seems very apathetic. I can't get people excited about anything. Nobody cares. For my subscribers in New York, lockdowns are looming again, and the mood is very bleak, as is the weather.
Neil deGrasse Tyson would probably make some comment about how January 1 is just an arbitrary date in the orbit of the earth around the sun, and we should not ascribe too much significance to it. Still, I'm seeing a lot of commercials for weight loss programs and Planet Fitness on TV.
From an investment standpoint, a lot of people are starting with a clean slate. If anyone had gains in the first half of last year, which a lot of people did, they were careful not to screw it up in the second half of the year. So, the theory goes that at the turn of the calendar year, investors would become a lot less conservative.
I see no signs of that. On the first trading day of the year, people tiptoed around.
I had a very good year in 2021, and I have a hard time believing 2022 will be even better. Still, I made a couple of mistakes. It's hard to bat 1.000, but I really, really don't like losing money on trades. When I do, I spend the next year thinking about what I could have done differently. In this particular case, my two mistakes occurred when I got beer muscles.
Beer muscles is a relatively common phenomenon in investing. You have a thesis, the thesis is working, then you get bigger, and bigger, and bigger—until it suddenly reverses. Really, this is a problem in position sizing, though I tend not to regret large positions when trades work out well.
If only I had a way to know I was going to make a mistake before I made it. That's where the beer muscles come in. "You know, Jared, maybe you shouldn't make this trade so big," says the voice in my head. If you are going to make mistakes, and you will, it is best to keep them small.
Of course, 2021 was a big bull market year, and let's just say it's hard to lose money on long positions in a bull market. Yes, I lost money on short positions. But that is kind of the purpose of short positions. Not to lose money, but to reduce your volatility and net exposure. In any hedge fund investor letter in 2021, their biggest losing positions would have been Short A, Short B, and Short C. Does that mean they shouldn't have shorted those stocks? Or is that just the nature of having something resembling a market neutral portfolio? Maybe we should give up having a market neutral portfolio, because out of the last 10 years, there haven't been many good ones for that strategy.
Out of Ideas
I don't have much in the way of ideas or investment themes for the New Year, other than the Fed is going to hike rates into an uncomfortable orifice. If that was your base case, for 2022, what would you do? Buy stocks? Buy commodities? Buy bonds?
You would buy none of the above. And that is the predicament I am in. I write a couple of investment newsletters with trade ideas, typically long trade ideas, and nothing looks especially attractive. Besides, the only thing that has worked in the last two years was the same five mega-cap tech stocks, so why should 2022 be any different?
Will 2022 be different? It's hard to beat the index when the index is basically 5 stocks, and you don't own any of those five stocks.
For a lot of people, buying Apple (AAPL) at a $3 trillion market cap is their best idea. That is pretty sad. If you wanted to spend your time on something productive, you would find the handful of businesses or industries that were countercyclical and invest in that. You would want to invest in the repo man. There is a way to do that in the capital markets: distressed investing, and those guys have been pretty bored for the last few years. Maybe it will make a comeback.
I don't have any ideas at the moment, but I'm sure I will get some.
I just wanted to put in a plug for my new book, which will hopefully come out in 2023. I spent a great deal of the holidays cranking on it. It is going to change the way people think about personal finance—forever. I can't wait to get it in your hands.
Music
One other thing I did over the holidays—I recorded a
fantastic
DJ set. Very progressive and uplifting, and seamless throughout. Check out
Ascension
.


Jared Dillian
P.S. Until January 10th ONLY – upgrade to Alpha Society and get full credit for all of the subscriptions you already have. Today you have one more chance to book your savings and claim access to all of our finest research – for life! Click here now to view your unique offer now.
subscribers@mauldineconomics.com
Tags
Suggested Reading...