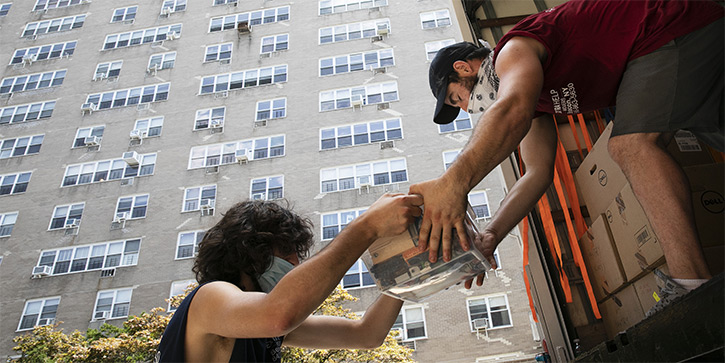 People are moving out of New Jersey, New York, Connecticut, California, and Illinois.
They are moving into Tennessee, Texas, Florida, and other places in the South.
This is a fact.
My brother is from Ohio—he was recently visiting his son (my nephew) in New York. While he was there, he was approached by a gypsy cab—a random Lincoln Town Car. The driver offered to take him to the airport for 50 bucks.
If you're an observer of markets, economics, and politics, there is literally nothing better in the world than talking to drivers. Uber drivers and cab drivers have insights into human behavior that you or I cannot possibly comprehend.
Anyway, the driver said that not too long ago, he was a driver for the rich and famous. He rattled off a list of celebrities he used to drive around—definitely people you've heard of. Said he was making $250,000 a year as a driver.
Post-COVID, all of his clients disappeared. They all moved to Florida, mostly to get away from the taxes, which are going up. He's been reduced to gypsy cab work, taking Ohioans to the airport.
The driver is thinking about getting out of the driving business altogether and buying some rental properties. He has to do something to survive.
He was angry and blamed it all on Governor Cuomo and Mayor de Blasio. He called them a "mafia," and said they had permanently destroyed the city.
"The city will bounce back," my brother offered.
"No," he said, "it is dead forever."
The South Will Rise Again
A few years ago, I wrote a piece for Bloomberg about the 2017 Tax Reform called "The South Will Rise Again Under GOP Tax Plan."
I wrote:
My prediction: Over time, New York City will lose its status as the intellectual and cultural capital of America. The real estate market in California, at stretched valuations, will suffer. Minnesota, Oregon, Iowa, Maine and others will also feel the pain. Florida and Texas will become the new centers of finance and innovation, with real estate values in Austin and Miami -- and even Nashville -- reaching valuations once reserved for California and New York over the course of a few decades.
All of this—literally all of it—has come to pass.
It is all about incentives—rational economic actors seek to minimize their tax burden. You probably saw that taxes in California are going up, not down—to a top rate of 16.8% a year. You probably saw that Governor Phil Murphy just passed a millionaires' tax of 10.75% in New Jersey, and that New York and Connecticut are considering similar taxes.
The dynamic is as follows: taxes go up, people leave, which causes the tax base to dwindle, which forces states to raise taxes on the remaining residents, then more people leave, et cetera.
Eventually, it results in financial collapse.
The policy question here is whether the federal government will ride to the rescue of the states. That will be decided in the next election.
The states should suffer the consequences of their reckless tax-and-spend policies—there is a chance that they won't.
Only the Beginning
My fear is that the population migration is only in the early innings.
One of the consequences is that it will redraw the electoral map in ways that we do not fully understand. Red states will get more votes at the expense of blue states. But they may vote in ways that are impossible to predict.
Where I live, in South Carolina, the state is not as reliably red as it used to be. Senator Lindsey Graham may lose his bid for re-election. But that might be less of a function of demographics, and more of a result of the massive amount of campaign contributions that his challenger, Jaime Harrison, has received from out of state.
In my investing life, I like to say that I like businesses with evil genius business models. Planet Fitness probably has the best evil genius business model in history. Charge people $12 a month, get 10,000 people signed up for a single gym, and then watch as only 300 of them use it. The other 9,700 will be too lazy to cancel a $12 monthly payment.
In the process, Planet Fitness puts all the $90-a-month black-iron gyms out of business.
The cap on state and local tax deductions was also an evil genius political masterstroke. By limiting the deduction to $10,000, it increased the incentive for people to move out of high-tax states, which also happen to be blue states.
Philosophically, I agree with it. The federal government shouldn't subsidize high-tax states. I say this living in a state where taxes are not especially low.
You probably saw the back-and-forth between comedian Jerry Seinfeld and whatever-he-is James Altucher, about the future of New York. As much as I hate to say it, I agree with Altucher—New York is done, stick a fork in it.
At this point, if I told you that New York will
never
open up, you would probably believe me. But, of course, it will open up—long after it is too late.
You probably won't be surprised to find out that people don't like paying taxes. And if the emotional hurdles and frictional costs of moving are not too great, they'll move. People aren't always rational, but when it comes to taxes, they usually are.
It will take decades before anyone figures this out.
As an aside, please check out my new mix Ecstasy on Soundcloud. It's sure to change your mood for the better.


Jared Dillian
Suggested Reading...