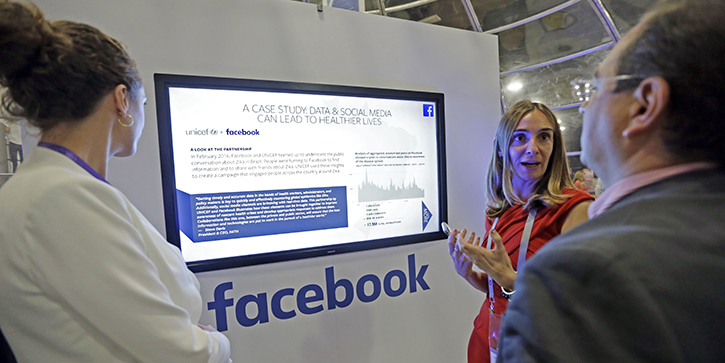 People Should Know When They're Conquered
---
Two weeks ago, I took a shot and called the top of the stock market. If you are a newsletter writer and you aren't trying to call major turns in the market, you are not really doing your job.
If you missed that issue, I suggest you go back and take a look at it. My argument is that speculation is getting out of control. And not just on stocks—on bitcoin, comic books, all kinds of stuff.
When you have one bubble, you usually have others, concurrently.
But the one that people are most focused on is the bubble (if you want to call it that) involving Facebook, Amazon, Netflix, and Google. Throw in Apple and Tesla for good measure, and maybe a few more.
A handful of tech stocks have gone bananas. So, let's do some basic blocking and tackling.
I actually spend almost no time on charts in The 10th Man, but I think technical analysis is really important. The quality of the analysis often depends on the abilities of the analyst, and one of the best is Frank Cappelleri at Instinet.
He has pointed out that on a short-term basis, the NDX (which largely tracks large-cap tech stocks) has formed a head-and-shoulders top and is breaking trend.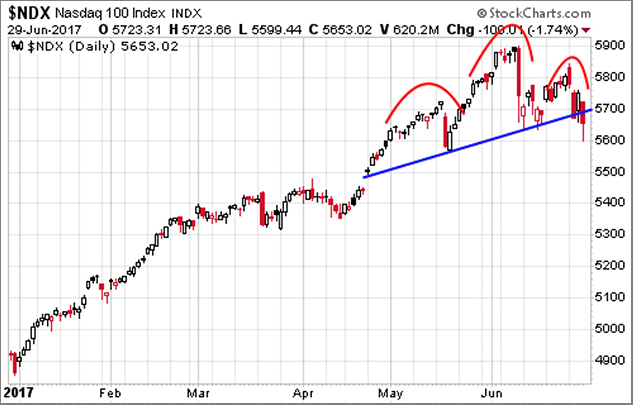 Source: Instinet
This is the first real weakness we've seen in tech in a really long time…
Though Frank is quick to point out that on a longer time horizon, the trend is still firmly intact: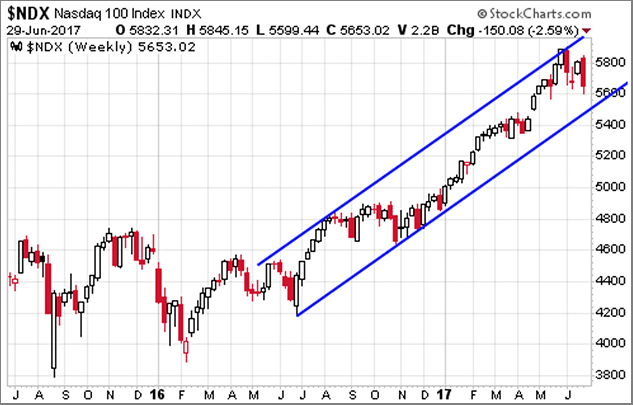 Source: Instinet
I don't think it is a coincidence that the short-term breakdown is happening concurrently with tumultuous times in Silicon Valley.
Uber is disintegrating before our eyes. Unless they go public (which they can't), they're going to have to do a down round, and it's not out of the question to think the company might cease to exist one day. That likely has implications for private valuations everywhere.
Also, the news broke of some pretty big sexual harassment allegations recently in tech-land. This is significant because public opinion matters—I can foresee a time when tech executives are viewed about as favorably as Wall Street was in 2011, when Occupy Wall Street began.
The Longest Bull Market… Ever
Keep in mind that Silicon Valley never really had a recession like the rest of the country did in 2008.
Sure, the VC business slowed down, but do you remember what was happening in 2008? Facebook had about a $15 billion private valuation, and it was spawning a whole ecosystem of tech startups that latched on to Facebook, like Zynga.
Silicon Valley went down the cleantech path for a few years, which was a dead end, but moved on to apps like Yo!, which apparently was not.
So Silicon Valley hasn't had a real, honest-to-goodness downturn since the dot-com bust. That was 17 years ago! Probably less than a quarter of people currently working in the valley were even around when that happened.
That's the funny thing about cycles—they usually repeat when nobody remembers the last one.
Most people have no idea the sorts of excesses that are happening in tech world. I don't either, but I have spies.
About a year ago, a friend of mind visited LinkedIn headquarters, went to their cafeteria, and told me of the incredible opulence there. The types of luxuries that are available to people in Northern California—you or I cannot even conceive of it.
Quick story. I went to graduate school at the University of San Francisco, and took a Venture Capital class, which was basically a series of lectures from executives in the VC industry. These were very important people. I was surprised that they were taking time to come speak at USF. Stanford sure, but USF?
It was April of 2000. The stock market had just crested. A very senior guy from New Enterprise Associates came to talk to the class about optical networking.
He spoke of the great promise of optical networking. He drew a nearly vertical line shooting off into space, and called it "Moore's Law Squared."
He might have been the most bullish person I have ever seen in my entire life.
The next day I went out and bought a bunch of put spreads on optical networking stocks. They were some of the greatest trades I ever made.
Nobody believes their own bullshit quite like venture capitalists.
Having Said That
I wrote a piece a year or two ago in The 10th Man about how tech was overpriced. Tech responded by going straight up.
Plus, if you shorted tech when things started getting stupid a few years ago (think Yo!) you would have been carried out.
But it's hard to argue that things haven't gotten excessive, especially in startup financing (seed and pre-seed). Seems like all you need is a pitch deck and a dream, and you have yourself a $10 million valuation.
The old-timers know that's not normal.
The old-timers know there is a cycle.
The Fed keeping interest rates at emergency levels has allowed this to go on a lot longer than it should have. The down part of this cycle will be instructive, for a lot of people.
And I hate to pick on the FANG stocks, because at least they make money (more or less).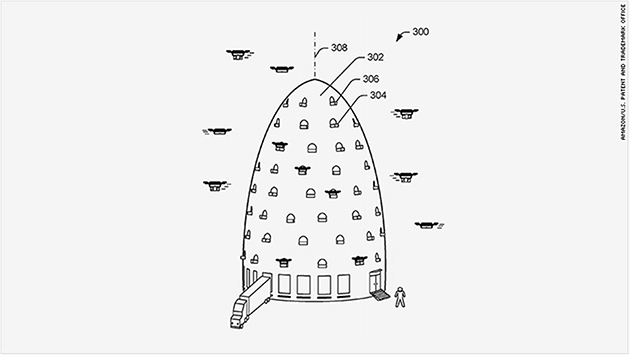 Source: CNN Money
But dreams are always biggest on the highs. I'm sure some of you saw the patent application for Amazon's drone beehive fulfillment center. Now, companies apply for patents for all kinds of crazy things, but come on.
Even if you're not bearish on the overall market, I would bet strongly on tech underperformance. It seems likely that value will strongly outperform growth, for the foreseeable future.
That one is easy enough to implement.
Suggested Reading...