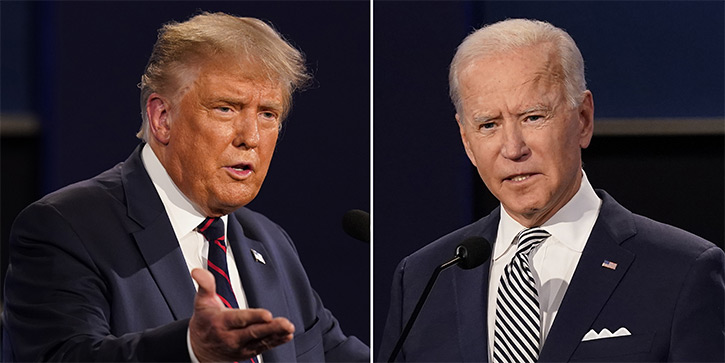 This is the last issue of The 10th Man before the election.
Do you remember what the 10th Man is all about?
The name comes from the movie World War Z, with Brad Pitt. It took me a few years to watch the movie—I'm not much into zombies—but my wife saw it on a flight and said it was pretty good.
Basically, the world is overrun by zombies, but one country, Israel, built giant walls around its borders well in advance to prevent the zombies from invading. Brad Pitt travels to Israel to find out why.
After the wars, Israel implemented a 10th Man rule at the highest levels of government. If nine men all agreed on something, it was the duty of the 10th Man to disagree and consider the alternate point of view.
In this particular case, Israel had intercepted some communication from India and learned that they were fighting zombies—literally, the undead.
Everyone in government thought they were kidding—the zombies must be a metaphor for something else. The 10th Man said no, wait—what if they are actually fighting zombies?
It is the duty of the 10
th
Man to disagree.
Doubt
When it comes to this particular election, it is impossible to make a call. Most of the polls show Biden with a sizeable lead—but not all. Rasmussen, earlier this week, showed Trump with a 1-point edge. Also, if you dig down into the data, and look at things like gun registrations, it paints a different picture.
Depending on who you talk to, you get wildly different opinions on who is going to win. Yet everyone makes these predictions with 100% certainty. The Biden people are convinced Biden is going to win, and the Trump people are convinced Trump is going to win.
Our experience in 2016 shows that the polls matter less than we think. They systematically undercount Republicans, and anything can happen.
I have doubt. And that is my 10th Man response to this election. I have doubt when everyone else has conviction.
Volatility
In finance terms, you would say that the implied volatility of this election is high. Which is interesting, because the volatility of Trump's approval ratings over the last four years is nonexistent.
Some people like Trump, some people hate Trump, and nobody has really changed their minds. Other presidents saw wild swings in their approval ratings during their terms.
Correspondingly, equity volatility is also high. For months, people have been talking about all sorts of adverse outcomes, like electoral college ties, long delays in counting mail-in ballots, and things like that.
Keep in mind that equity volatility is elevated with stocks pretty close to their all-time highs—which doesn't make any sense. The trade here may not be in stocks—it may be in volatility—for those brave enough to put it on.
If you have confidence in the outcome of this election, one way or another, chances are that it is colored by your political views. I've never been afraid to risk my reputation on a prediction, but I won't in this particular case.
How to Protect Your Portfolio
I'm sure you've received a number of emails over the last six months about how to protect your portfolio during the election. You are probably sick of them by now.
Ironically, it might turn out that the best way to protect your portfolio during the election is to do nothing.
That's what I'm doing—nothing. Yes, I bought a small tail-risk hedge four or five months ago, but that's good practice anyway. I haven't brought down net exposure, and I haven't de-risked. I haven't hedged with options—all the hedges are too expensive. And it's pointless to hedge with Treasury bonds at this point.
If you are a long-term investor, the best thing to do is to hold on and keep compounding those gains. There is bound to be some short-term volatility, which could be scary (and is an argument for more thoughtful portfolio construction). But for people with many more years until retirement, it's statistical noise.
Doing nothing is obviously easier if you have a solid portfolio to begin with. If you're going into this election with something close to the Awesome Portfolio, which I've been encouraging people to set up for months now, you're going to be fine. And short-term volatility shouldn't be a major concern.
That's really the whole point of the Awesome Portfolio: better long-term gains (it's up over 16.4% since March) with less risk and less volatility—and you don't need to scramble to make last-minute adjustments.
On the other hand, if your portfolio is jimmy-rigged, you're going to want to fix that quickly—ideally by setting up your personal Awesome Portfolio, which is quick and easy. Get all the details, and a grab the 30% discount available exclusively to readers of The 10th Man, by clicking here.
There's also the idea (which currently does not have a lot of sponsorship) that stocks will go up after the election. I talked about this last week. I think that's an easier call to make, that stocks will go up after the election, than who will win the election.
I will leave you with a thought. Turnout is projected to be at 65% this election, the highest since 1908. Lots of people think that high turnout is a good thing—it means that people are politically engaged.
I'll take the other side of that view. I think that high turnout is a very bad thing. The most peaceful, productive times in our history were when people were completely disengaged from politics because it had no bearing on their daily lives.
In 1996, the year of the Macarena, turnout was an abysmally low 49%. It also preceded a period of rising stocks, huge technological advancement, and general happiness.
Paraphrasing Hegel, the happiest times are the times in which the pages of history are blank.


Jared Dillian
Suggested Reading...