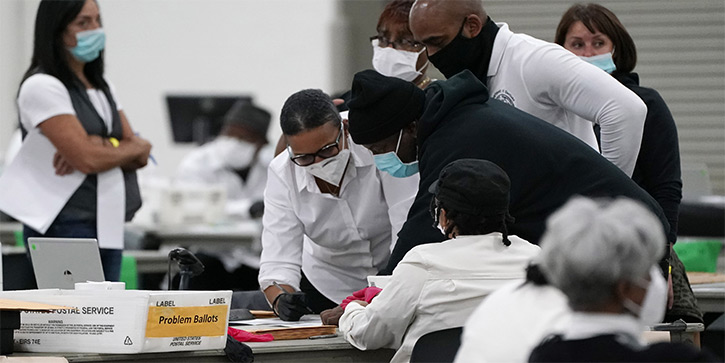 Was It as Good for You as It Was for Me?
---
At the time of writing, we still don't know who the next president will be, though it's trending towards Biden.
The blue wave never materialized—incredibly, the Republicans lost only one Senate seat and even picked up a few seats in the House. It's kind of a cliché that gridlock is good for markets, but… gridlock is good for markets.
Biden will be a weak, caretaker president with not much in the way of a mandate. Crucially, there will be no tax increases. There will be spending—of the sort that Republicans in the Senate approve of. The administrative state will take on a new life. Assuming Biden is president, of course.
I don't want to spend a lot of time on this, but as you know, the polls were wrong by a lot. Republican Susan Collins, a US Senator from Maine, managed a decent victory over her challenger Sara Gideon—and trailed in every single poll leading up to the election.
Meanwhile, there were national polls showing Biden with margins of 14, 16, and 18 points, with less than a month to go. And Nate Silver was offering Trump 10:1 odds on November 2. I'll leave it to the political scientists to figure that one out.
Everyone seems to be breathing a sigh of relief that the loony left didn't take over the machinery of government. And for sure, there is some satisfaction in that. But a Biden administration still has the ability and the willingness to radically intervene in the financial sector through Biden's choice of Treasury Secretary and the composition of the Fed.
Danger Will Robinson
Biden recently said that he will not name senators to positions in his cabinet. That would seem to rule out Elizabeth Warren, but you never know. With limited or no ability to raise marginal tax rates, the new Treasury Secretary will turn to the investigative and enforcement powers of the Internal Revenue Service to shake more tax revenue from the money tree.
Audits are at a record low right now. And there is some chatter about how poor people are audited at higher rates than rich people, though I have a hard time believing that.
A newly energized IRS could take us back to the days of, well, Obama, when the IRS was allegedly being employed for political purposes. With that precedent set, I always wondered why Trump, who is famously litigious, never used the IRS to carry out similar enforcement actions against his adversaries.
My advice to all of you is to be less loosey-goosey with your tax returns going forward. There is a new sheriff in town. And if it's Elizabeth Warren, it'll be Robespierre.
From a macro standpoint, the Treasury Secretary is in charge of US debt issuance, and we certainly have issued a lot of it—with almost no consequences since interest rates are low. However, the average maturity of our debt is incredibly short. Most of the issuance in the last year (to pay for stimulus, etc.) has been done in bills, which must be refinanced periodically.
Steven Mnuchin is a smart guy, probably smarter than I am. But I have never been able to figure out why he can't issue 50- and 100-year bonds.
He says there is no demand for it—bologna. Out of all the G10 countries, we are the only ones with significantly positive interest rates. The pickup in yield from ultralong maturities would be more than sufficient to attract foreign buyers. 100-year bonds are essentially permanent capital—why not lock it in at two-and-a-quarter?
I don't doubt that Mnuchin has made sincere efforts to do this, but gee whiz—this is a no-brainer.
At a minimum, Mnuchin should be dumping supply on the 10-, 20-, and 30-year sectors, to try to lengthen the average maturity of our debt.
Nobody is spending a lot of time thinking about interest expense right now, but someday, they might. Jay Powell seems to think the next rate hike is coming in four years—at least, that is what Eurodollar futures are telling us.
One possibility out of a range of possibilities is that we get a vaccine, the economy runs hot, and interest rates rise. It's the possibility that seems the least likely, which means it will probably happen. It's important that we get a Treasury Secretary that understands how markets work, not a political hack.
Carpet Change
Biden also has the ability to alter the composition of the Fed. Not to be too cynical, but I'm not sure how you could make it any more dovish than it already is, short of nominating Stephanie Kelton as Fed Chair. I'm sure they will find a way.
I don't have a shortlist of potential Fed Governors under Biden, but those lists will be compiled in the coming weeks. And there's no guarantee that Biden will keep Jay Powell around in two years, either—my bet is on San Francisco Fed President Mary Daly becoming the next Fed Chair, for the same reasons that Just Sam beat Arthur Gunn in American Idol earlier this year.
Life goes on. When Barclays bought Lehman Brothers, the first thing they did was change the color of the carpets from green to blue. Cosmetics first.
The real action will be in 2022, when a billion dollars pours into Senate races to try to turn it from red to blue. Then the tax hikes will be large and ideological. Until then, speculate to your heart's content.
Oh, and please take a second to reserve your spot for the premiere screening of Mauldin Economics' brand-new mini-documentary, AI: The Invisible Revolution. It's a movie! And a great way to kick back and discover how AI could hand enormous gains to investors who get in now. You can sign up to watch the premiere on Monday, November 9, 2020 by clicking here.


Jared Dillian
Suggested Reading...