Let me put it this way: Just a few weeks ago we were all sure, 100% positive that the US dollar would continue to appreciate against the euro, because the Fed was more hawkish, and the ECB was going to have negative rates and QE forever.
In this town, your luck can change just that quickly.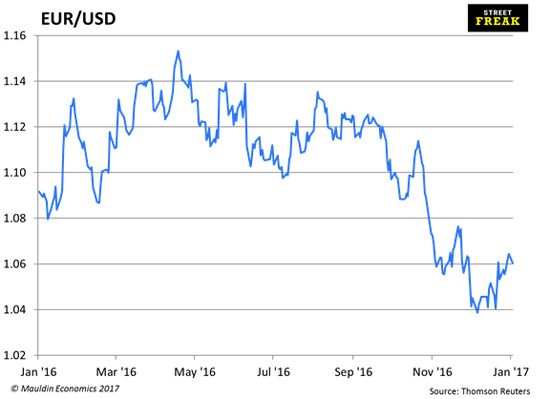 Now people are not so sure. What changed?
Well, there have been a bunch of Fed speakers, and none of them sounded like raising rates was particularly urgent1.
There also has been a backlash building in Europe about zero/negative rates and how they are destroying savings.
Plus, inflation is starting to ramp, especially in Germany.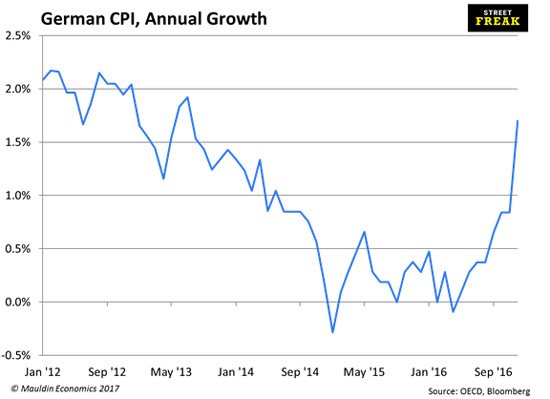 Going long the euro could end up being the trade of the year.
If I had said that three weeks ago, you would have told me I was insane.
What Changed?
We have to ask ourselves: what really changed, from one month to the next, aside from a few Fed speakers?
Really, not much—in December, everyone believed one thing, and in January, everyone believed the opposite thing.
You see why trading is so hard?
A few thoughts on this:
This is the primary reason why so many people study technical analysis. The fundamentals are no help.
Price is all that matters.
Stocks that stop going down on bad news are a buy. Stocks that stop going up on good news are a sell.
I don't spend a great deal of time looking at charts, but when sentiment gets a little one-sided, I pay attention.
The bull market story is always most compelling on the highs. The bear market story is always most compelling on the lows.
I have made pretty much zero money doing things that "make sense." I have made the most money doing things that people have said were insane.
If you bought EURUSD in the 1.03 handle, you were insane. But it would have been the right trade.
The Dollar Narrative
Getting back to the euro and the actual point of this piece, one of the things the market has had a hard time understanding is the idea that we might get tighter monetary policy elsewhere in the world. The Fed will hike. Probably three times. But what people were not counting on was the ECB hiking. Or the BOC hiking2. Or the BOE hiking. Heaven forbid the BOJ gets hawkish.
Last month, we were operating under this model that the US was the most hawkish central bank in the world. And it sure looked like Yellen was going to rip rates on Trump, no matter how strong the dollar got. And then all this happened.
All of this is connected. And it all comes down to Trump and his ability to reset inflation expectations higher.
If the market believes that we'll grow north of 4% on Trumponomics, bonds sell off, the Fed hikes rates, and the dollar gets stronger. Yield curves steepen, the banks rally.
If the market begins to doubt that will happen (like now), bonds rally, the Fed goes slow, and the dollar gets weaker. Yield curves flatten, the banks sell off.
If Trump doesn't stick to his campaign promises—if he doesn't…
cut taxes
cut regulations
deliver growth
…you might as well kiss the strong-dollar trade goodbye. And my personal account.
Amplifications
I got some feedback that I had flip-flopped from one week to the next. Two weeks ago, I said there was no way that four years of a Trump administration were fully priced in. The following week, I said it was priced in.
Changed my mind!
Paraphrasing Daniel Kahneman, it actually gives me a thrill to change my mind. To come to a new conclusion based on the arrival of new evidence. I pretty much do it all the time. Sometimes I whipsaw my subscribers. But I have been known to be pounding the table on something for months and then start pounding the table for the opposite to happen.
The one thing I will say is that one of the benefits of subscribing to The Daily Dirtnap is that you get to see my thinking evolve in almost real time (it comes out daily, as the name implies), rather than once a week or once a month. A week is an eternity in the financial markets.
Oontz Oontz Oontz
Save the date: Thursday, February 23. I'll be DJing in downtown Manhattan at Nexus Lounge (the corner of 1st St and 1st Ave), if you're into that sort of thing. And when I say "that sort of thing," I mean progressive house and techno.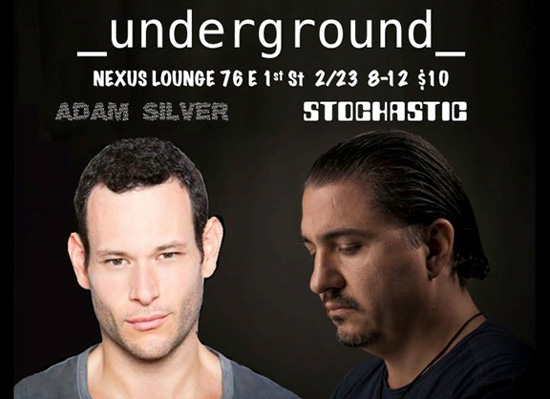 It's a great space to listen to music, underground and cozy with a pretty good sound system. I've played there a couple of times before.
The music is going to be amazing, but feel free to grab me and say hello when I'm not playing. I love meeting subscribers.
Cover is $10, but I'm pretty sure you can handle that. I'll remind you again in a few weeks.
________
1 I was wrong.
2 Please no.
subscribers@mauldineconomics.com
Tags
Suggested Reading...