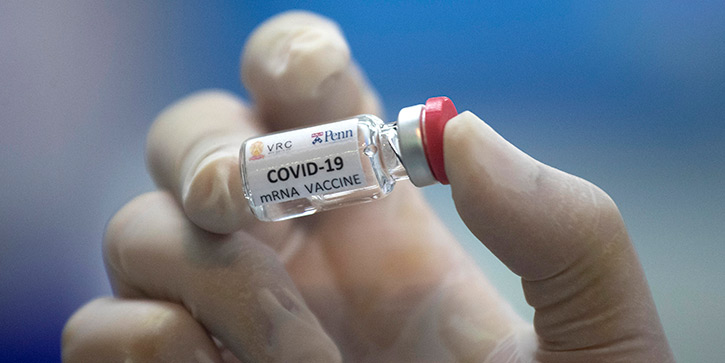 You know, people are not that smart.
I am not that smart.
How easy would it have been to see this coming? We were going to get a vaccine eventually.
What has the pandemic done? It has made growth stocks like Amazon, Netflix, Peloton, and Zoom go up, and it has made value stocks, like energy stocks, box retail, and airlines go down.
How easy would it have been to predict that when a vaccine was announced, we would have a humongous reversal in value and growth? Not that hard. And yet nobody predicted it.
I'll give you a visual depiction of what is going on. This is a scatterplot of the iShares Russell 2000 Value ETF (IWN), a small-cap value fund, versus the Invesco QQQ Trust (QQQ), a large-cap tech fund.
IWN just outperformed QQQ by 9%. It was the biggest outperformance… in the history of the ETFs.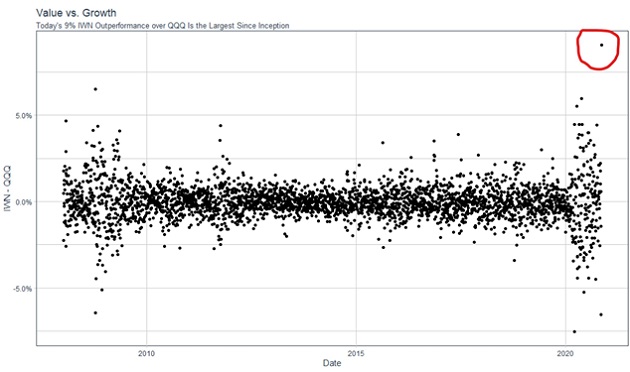 Source: @Quant_Value
Grandma got run over by a reindeer. Or more accurately a factor rotation.
There are winners and losers here. The winners are the long-suffering value investors, like AQR Capital Management and a lot of other hedge funds. The losers are all the momo junkies, the pandemic stocks, and of course, Environmental, Social and Governance (ESG) investing.
ESG is going to get throttled for the next six months, for reasons that have nothing to do with ESG. Of course, ESG went up in the first place for reasons that had nothing to do with ESG. It's all one big factor trade.
Factors are more important than you think. It's tough to pick stocks in a market dominated by factors. I've added two growth stocks to my personal portfolio in the last few weeks, since the portfolio was dominated by value. And the growth stocks are already struggling. They're great companies, but it's going to suck for a long time.
I would like to be able to tell you to do your bottoms-up fundamental analysis and pick the stocks that you want and forget about the factors, but that's impossible. You have to take factors into account. And if value is going to outperform for the next 10 years, just like growth outperformed, then you're going to want to confine your investing activity to the value space.
In investing, we go with the flow. We don't fight it.
Cheap Options
As for the pandemic trades, this was kind of a layup. We had several of these in the Street Freak portfolio, and they all worked out, with one exception.
The airlines weren't just cheap options—they were free options. The government wasn't going to let them fail, which truncated the downside, and shareholders got all the upside. Of course, that isn't a great deal for taxpayers, but we're not going to get into the ethics of that here.
One thing I've learned over the years (and that I've had to relearn several times) is that it's much easier to buy stuff than to short stuff. Short ideas are easy in concept—the pandemic is ending, let's short Zoom! In practice, they are a nightmare. It is much easier to play the long side of that thesis.
Another thing I've learned is that the market does not price things in immediately. The day after Trump was elected in 2016, when the market gapped up, you might have been tempted to say, well, Trump is priced in, back to business as usual. But stocks went up another 40% over a period of months and years.
It takes the markets a long time to digest big, important events. We have a vaccine, and we will get more vaccines over time. We will have a smorgasbord of vaccines, and a year's worth of positive catalysts. This trade isn't over; it's just getting started. Your Peloton may end up being a clothes rack.
The Election
We haven't even talked about the election, and all its derivative plays. Trump's tariffs hammered agricultural commodities. I went to a conference two years ago where a presenter referred to soybeans as a "multi-decade problem."
Not anymore. I am hearing rumblings about beans in the teens.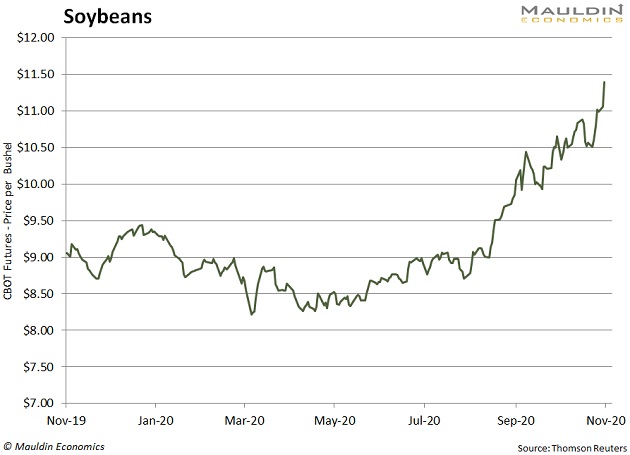 And the interesting thing is that the result of the election—divided government—was the worst possible outcome for the inflation trade.
Like a lot of people, I was preparing for the possibility of a blue wave—unlimited government spending. Guess what—the blue wave didn't happen, but nonetheless, the inflation trade is working. If there's one thing that Republicans and Democrats can agree on, it's spending money. We will spend haystacks of it, which the bond market seems to recognize.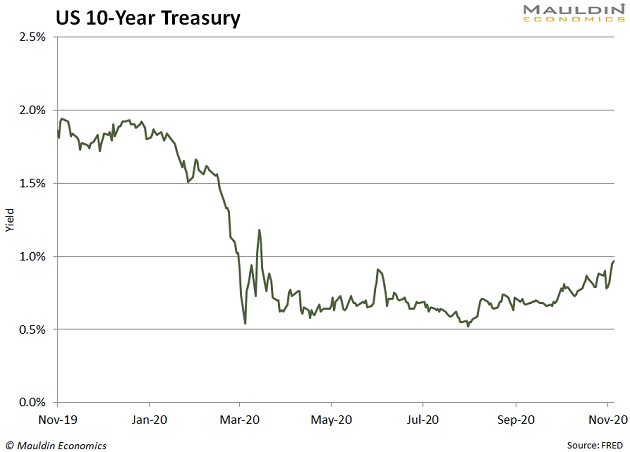 We've had a huge dump of information in the span of a week, and it's going to take a while for the market to sort all of this out.
I'm comfortable with the assertion that the days of value underperformance are over. I'm also comfortable with the assertion that the inflation trade will work for years to come. You want to be the windshield, rather than the bug.
Of course, none of this means that all growth opportunities are dead. You just have to be a lot more selective about where you look.
To that end, I encourage you to check out Mauldin Economics' new AI Masterclass—a five-day series where you'll get eight artificial intelligence stock recommendations from my Mauldin colleagues (turns out, there are a few smart people out there). Lock in your spot at a 60% discount here.


Jared Dillian
Suggested Reading...