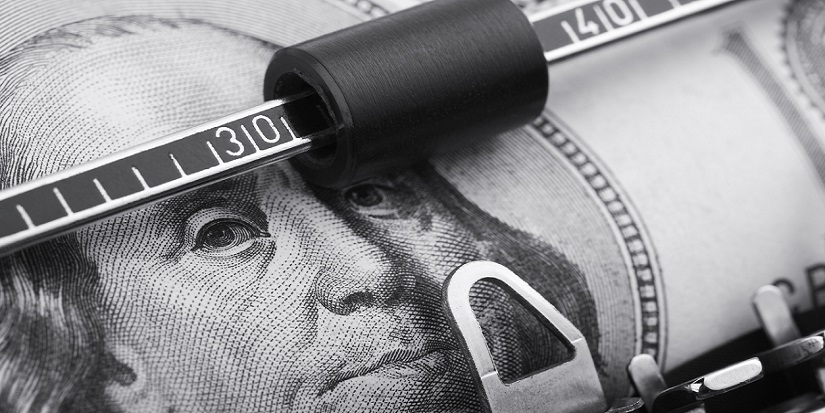 How to Write About Finance
---
I have been writing about finance for 18 years. That's a long time.
It started when I was named head of the ETF desk at Lehman Brothers. They didn't really tell me to make money trading. Instead, they told me to market the business. Market the business? How? Take out ads in Times Square? The best idea I could come up with was to write market commentary on Bloomberg and send it out.
As it turned out, I was pretty good at that. Keep in mind that Bloomberg notes, back then, were very short—just one page of the Bloomberg screen, two hundred words at most. A few years later, it added the option for multiple pages. So really, I was learning to write micro nonfiction pieces, and the language and word choice was very important. I would spend a lot of time on these things, time I probably should have spent trading. But they went viral, and after some time had passed, I had a few thousand people on my list—and business was booming. We made $22 million in 2004, and we were on track to make $90 million in 2008. Advertising works.
Some people, like John Mauldin, are very good at writing about finance. Some people suck at it. They tend to bog down their readers with jargon, with the intention of obfuscating rather than informing. It's said that you don't really understand a concept until you can explain it to a third grader. Think about Stephen Hawking and all his knowledge of physics, which he turned into a picture book. That is more genius than the genius itself. So, while I'm comfortable using a word like "convexity" in The 10th Man, where readers are more sophisticated, if I am writing for the popular press, I break it down into simple, easy-to-understand terms. If no one understands what the hell you're talking about, what is the point?
A lot of successful finance writers write semi-autobiographical stuff, talking about their families, their avocations, and what they like to do in their free time. That's good if it's not self-indulgent. What is more important, though, is giving the writing a voice, and voice is something that is very difficult to teach. Does your personality come across on the page? What kind of personality is it? Is it cranky, whimsical, left field? The best way I can explain it is that there's a direct connection between my brain and my hands—whatever I think ends up on the page, sometimes in stream-of-consciousness fashion. I have no filter. Lots of finance writing is heavily filtered, usually by one's ego, in an attempt to make the writer appear smart. And that is at the bottom of all crap finance writing—ego.
As market participants, we are faced with a derecho of uncertainty on a daily basis. We try to predict things, sometimes successfully, usually not, and when we get it wrong, we experience shame. One thing I've been trying to accomplish in my writing career is to reduce the stigma associated with being wrong. Because if there is no stigma associated with being wrong, then we are free to make guesses without fear of embarrassment. And the more people we have predicting things, the better off we all are. It adds to the discourse.
SIC 2022: The Countdown Begins...
We're less than one week out from the start of SIC 2022.
Six action-packed conference days where over 50 top money managers, economists, and geopolitical experts provide their timely analysis and insights into current events and markets.
Watch Dr. Henry Kissinger, Ron and Michael Baron, Tom Hoenig, Joe Lonsdale, Cathie Wood, Danielle DiMartino Booth, Charles and Louis Gave, David Rosenberg, George Friedman, Jared Dillian, Felix Zulauf, former NATO Deputy Commander Richard Shirreff, and many more in over 40 live presentations, panel discussions, and fireside chats.
The conference kicks off on Monday, May 2. There's still time to secure your
Virtual Pass.
Most people write from a place of fear—what happens when I am wrong? But they should write from a place of humility—you know, I really don't know what the hell I am doing, I am just another bozo on the bus, but I am going to take a stab at this, and here is my rationale. That's good finance writing.
Last week, I wrote that I thought interest rates would go down. They have, incrementally. But if I had been wrong, the internet is forever, and anyone who wanted to Google "Jared Dillian Bonehead Interest Rates" would find that article in a second. I took a giant dump on Bitcoin back in 2014 on ETF.com, and boy, have I heard about that one over the years. I said that Bitcoin "faces obsolescence." We can't get 'em all right—but we can argue. May the most articulate forecaster win.
The rest, honestly, is just writing. Can you teach someone to be a better writer? I've been thinking about this a lot since I'm angling for a job teaching writing at my local university. What makes you a better writer is
practice
. Writing emails doesn't count. You have to expend creative energy. And it has to be much more than 400 words a week—you really have to crank it out. Then you will get better over time. If I were to teach a writing class, it would involve
lots
of writing.
Let me put it this way. Most people procrastinate about writing because they find it unpleasant—they will put it off until the last minute. I procrastinate by writing. I am procrastinating on doing something else right now because I find writing enjoyable. When you get to that point, you know you have made it.


Jared Dillian
subscribers@mauldineconomics.com
Tags
Suggested Reading...