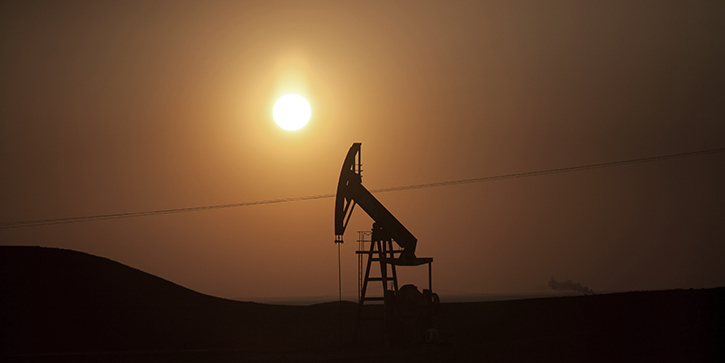 It worked like this:
Oil Producer A produces 1 million barrels of oil at $100 a barrel, which generates $100 million in revenue.
The price of oil declines to $50 a barrel.
Oil Producer A will now have to produce 2 million barrels of oil at $50 a barrel to make the same $100 million in revenue.
Basic economic theory would tell you that as the price declines, there will be less oil supplied. But the opposite turned out to be true—as the price went down, people pumped more!
Take a look at a chart of WTI: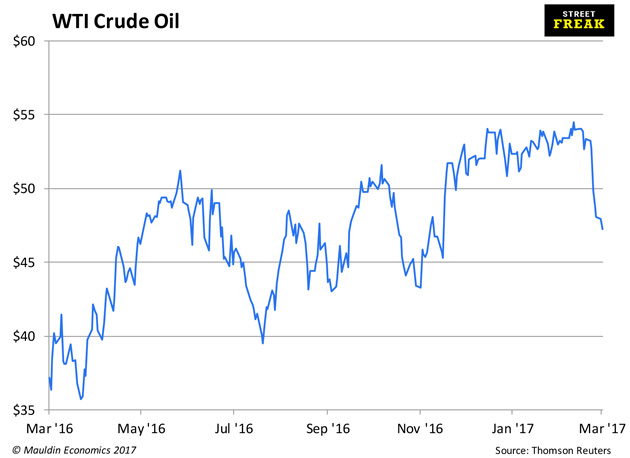 You will notice that oil takes a while to go up, but goes down in a hurry. In the business, we call this "going up on an escalator, down on an elevator."
But this isn't usually the case with commodities. Usually, the high-velocity move is to the upside—especially with oil, which has geopolitical risks. Iran does something bad, and the price of oil gaps up three bucks.
But the price action has totally reversed. In layman's terms, we would call this a bear market. Oil has been in a bear market for a while now, and just because it bounced from the panic lows does not mean that the bear market is over.
Disclosure: I am a bit of a permabear on oil.
It's easy to be a permabear on commodities. Being a bear on commodities is like being a bull on the human spirit.
| | |
| --- | --- |
| Video: We're Not in Bubble Territory Yet | |
If you think people are clever and properly motivated, they will figure out ways to deliver more oil at cheaper and cheaper prices. Or corn. Or cattle. Most people have no idea of the advances that have been made in agriculture, even in recent years. Yields just keep going up and up.
I was a permabull on commodities for a while—precisely because I was bearish on humans.
Good luck being bearish on humans for any extended period of time. Don't get me wrong: humans have the ability to blow up an entire economy (like in Venezuela and other parts of the world), but it generally doesn't happen in a coordinated fashion across the globe… or at least, it hasn't happened in quite a few decades.
There may come a point in time to be bullish on commodities, betting that people will screw things up and cause the prices of consumer staples to skyrocket. But in spite of all the so-called "political instability," it never seems to happen.
For sure, some commodity markets are highly manipulated and distorted (like sugar, and let's face it, corn is hardly a free market), but it's better than the alternative—rationing.
Back to oil. We literally have it coming out of every orifice, because of human ingenuity. Because of one very simple invention: learning how to drill sideways.
Do you remember your elementary school textbooks that said the world would pretty much be out of oil by the 2000s? That we only had 20–30 years left? Those textbooks told me we would run out of oil in our lifetime. Bzzzt, wrong answer. Now we have a few hundred years' worth. My guess is that it will last longer than that.
1
As for alternative energy, we will use it when it gets cheaper than fossil fuels and not a moment sooner.
I have nothing against Tesla. I like Elon Musk. In fact, I know someone who put SolarCity solar panels on his house. He is quite happy with them. But at current prices (sans tax credits), it is uneconomic to do so. There will come a point when it is not. And then the 300 years' worth of oil can stay underground.
People should spend less time trying to jam alternative energy sources down people's throats and more time trying to make them more cost effective. People buy Tesla cars because they are great cars, not because they are electric. The goal is to get people to buy them because they are electric.
I have no position in oil, but on balance, my portfolio stands to gain if it declines further.
Gasoline is cheaper than water. Does that make you mad? It shouldn't. It should make you stand there, mouth wide open, and gawk at the miracles of capitalism.
Virtual Summit
So as I mentioned last week, I filmed the Virtual Summit on Monday in New York (John Mauldin filmed his portion in Dallas). I called my wife afterwards and said, "I can't wait for you to see this. These interviews are better than 60 Minutes."
I'm not kidding. I'm proud of my three guests—Com Crocker, Brad Bechtel, and Devin Anderson—and I think you'll be amazed at the amount of knowledge floating around on Wall Street that you ordinarily don't have access to. Through the Virtual Summit, you are getting access to it. It is an exceedingly rare opportunity.
One thing a lot of people don't realize about financial media is that many of the folks you see on TV are trained to go on TV—but these aren't necessarily the most knowledgeable people in their field (a bit of an understatement).
On the other hand, we got the best guys, the smartest guys to go on camera (and they were rather polished at that).
I hope you will check it out.
Just go here to get started
.
_________
1
The only thing we seem to be running out of, from a geological perspective, is gold.