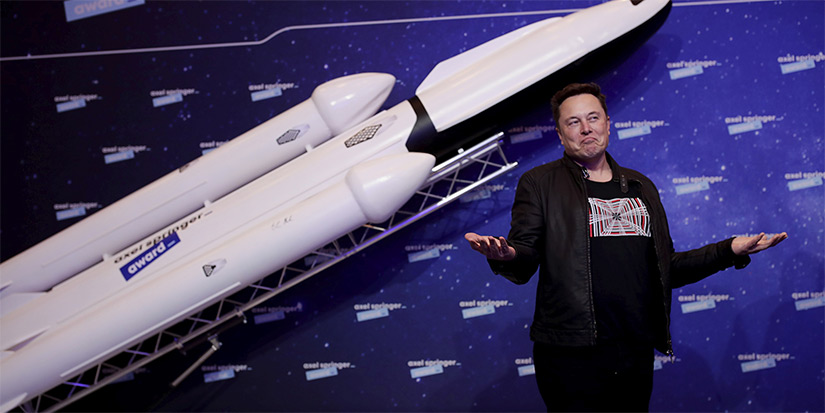 Elon Musk is now the richest person in the world, at least on paper. Jeff Bezos would still be in the lead, had he not had a divorce.
Have you ever noticed that financial journalism is absolutely obsessed with who the richest person in the world is?
Bloomberg and Forbes both maintain lists of the top billionaires, and news outlets line up to report on it. It's a bit of an unhealthy obsession.
For sure, there are rich people who don't even show up on the list, because they take pains to stay anonymous.
If Musk fell off his money, he'd still be falling. Of course, he doesn't seem to have much need for his reported $200 billion fortune. Not long ago, he renounced all his material possessions, unless that was just Twitter bravado.


Source: Twitter
I have a college friend who worked for Musk for a few years. He never said much about the experience other than, "Elon wore me out."
We're not talking about an average person here. Musk is a guy who says he plans to spend his fortune colonizing Mars. And that's the impression I get about what it's like to work at SpaceX or Tesla (TSLA)—it's just nuts.
Forget how he plans to spend his money. Does he even deserve 200-odd billion dollars? Let's have a healthy debate about that.
He does send people into space. And he produces 500,000 cars every year. They're good cars, and people seem to enjoy them. My brother just got a Model Y, and he loves it.
But Tesla, the car company, doesn't make any money. But let's not make the same mistake twice. Back in 2013, I famously shorted Amazon (AMZN) because Amazon didn't make any money. Fast-forward eight years: The stock is up 1,000%, and now it makes money. People still give me grief about that trade. I actually didn't lose much money on it because I had very tight stops.
These days, it almost seems as if there is an inverse correlation between how much money a company makes and its stock price.
The most profitable companies have low valuations. The most unprofitable companies have high valuations.
Take a company like Alphabet (GOOGL), the parent of Google. It is a cash-generating machine and yet it only has a P/E of about 19, basically the market multiple.
So don't get too hung up on whether Tesla is profitable or not. Someday, it probably will be. If not, maybe investors will lose patience with it. But investors had patience with Amazon for 20 years.
I Am Not Bullish on Tesla
It feels as though market risk is peaking here. There are dozens of SPACs going public each week, the ARK funds are getting record inflows, and Tesla now has an $800 billion market cap.
I really hesitate to call things a bubble, but we are getting pretty close to a bubble in growth and innovation.
TSLA is reflexivity in action. That should be a lesson to us all, to find the stocks that have the greatest exposure to reflexivity.
If you don't know what reflexivity is, that's the concept that prices are a self-reinforcing process. If you go back to 2019, Tesla was widely believed to not have enough cash to retire its convertible bonds outstanding. It did, and the stock was off to the races.
[If you have questions about investing, call my radio show any time, day or night, at 1-888-DILLIAN (345-5426), to leave me a message. And tune in Monday through Friday, 6 pm to 8 pm Eastern—I might play your message on the air and you'll be able to hear me answer it live.]
I wish I could say that Tesla is strictly a retail phenomenon, but that wouldn't be true. Especially since it has been added to the S&P 500 Index, all the indexers and closet indexers are forced to own the stock or risk underperforming the index.
Last week, on Friday, Tesla had $62 billion of trading volume in one day. This was the second-highest day for any individual stock in history, only behind the day of the index inclusion. Those weren't all retail investors.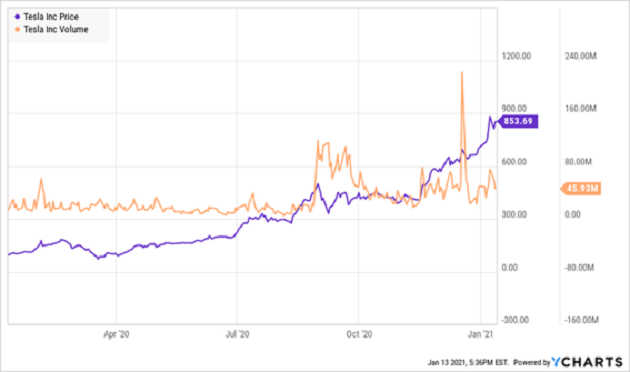 Source: YCharts
Here is my recommendation to you: If you made 60X on this stock, and you are sitting on $10,000,000 in gains, I encourage you to sell, pay your taxes, and have a nice life.
Congratulations if you caught the biggest single stock trade of the last 100 years. That phenomenon is not repeatable, and there is a time to sell everything.
Big Imagination
Of course, there are people who are planning for another 10X move in Tesla. They say that Elon Musk will become the world's first trillionaire.
As a grizzled veteran of trading, I will say that we cannot rule that possibility out. But it's not likely. This bubble is already pretty big, and while it's usually a safe bet to bet on bubbles getting bigger, I think we're reaching the limits of how far the stock can go. Of course, the shorts are nowhere to be found, having blown themselves up a half-dozen times along the way.
I wish I had the next Tesla in my portfolio, but I probably don't. I like to hit singles and doubles in my newsletters. Over time, those singles and doubles add up to a lot.
There are 10X opportunities out there, and my guess is that they're not going to come from SPACs, or Tesla, or the ARK funds. It's going to be something you never expected. Probably something boring.
2021 will be the year when boring gets exciting and exciting gets wrecked.


Jared Dillian
Suggested Reading...