Pronóstico 2013: Insostenibilidad y Transición
January 14, 2013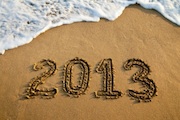 "Hay décadas en las que no pasa nada y semanas en las que pasan décadas". – Vladimir Ílich Lenin
"La gente sólo acepta el cambio en tiempos de necesidad y sólo reconoce la necesidad durante las crisis". – Jean Monnet
"Si algo no puede durar para siempre, algún día acabará". –Herbert Stein
Con el inicio de un año nuevo, volvemos a entregarnos al rito anual (aunque un poco vano) de prever el año que comienza. Este año miraremos un poco más allá de un solo año con el fin de pensar en los cambios a los que pronto se verá obligado el mundo desarrollado. Todos tendremos que hacer una muy rápida adaptación a un nuevo entorno económico (y que aceptaré favorablemente). La transición provocará crisis y pérdidas a quienes están sumidos en el sistema actual, que debe evolucionar o perecer; y oportunidades para los que pueden ver la necesidad de un cambio y aprovechar las ventajas de la evolución.
Por otra parte, esta es mi carta más leída y, si todavía no están suscriptos, pueden unirse al "millón de amigos míos" para recibir Thoughts from the Frontline y mi otra carta semanal, Outside the Box, como así también la apasionante Things That Make You Go Hmmm…, todas de manera gratuita, con solo ingresar su dirección de correo electrónico en mi sitio: http://www.mauldineconomics.com/go/bwbsl/MEC
Remontémonos al año 2001. Era el comienzo de un nuevo milenio. Si bien eso era de por sí auspicioso, sobrevinieron luego varios eventos que configuraron el futuro para las décadas venideras. China fue admitida en la Organización Mundial de Comercio, lo que produjo una revolución en su producción y comercio global. El euro se lanzó con bombos y platillos – y un pequeño coro de críticas. Estamos ahora en…
To continue reading, subscribe for free.
---
Or login below.